Time running out for Premier sides under relegation watch
It is going to feel like the Wall Street crash for whichever three teams drop out of the English Premier League on the final day of the season.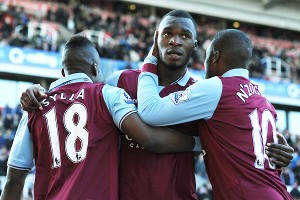 Chris Brunskill/Getty ImagesChristian Benteke, arguably the signing of the season, has provided Aston Villa with the momentum needed to avoid relegation.
With the most lucrative TV deals in history in place for next season, a conservative estimate would be a $150 million black hole for those who slip through the trap door.

That's why the scrap at the bottom is always a thriller to rival the title race and the battle for Champions League spots.

So who is for the chop this season?

Reading have never looked good enough and needed to spend bigger. They have lost their last eight games, and from what I saw against Southampton on Saturday, the players have accepted their fate.

Likewise, I see little hope for Queens Park Rangers, who were always up against it when they took only four points from the first 12 games.

And while Harry Redknapp's spending has brought about an improvement, Rangers still average only a point per game under his command.

QPR are a team with an apparent death wish. They followed a suicidal defensive display at Fulham by finding a way to throw away a must-win game against relegation rival Wigan. Deservedly leading on a sensational Loic Remy strike, Redknapp's team -- playing heroically with 10 men for most of the game -- contrived to give away a brainless free kick in stoppage time, from which Shaun Maloney equalised courtesy of Adel Taarabt ducking in the wall.

I see no way out now for QPR, seven points adrift of safety with six to play, including Everton, Arsenal and Liverpool.

Predicting the third team for the ax is harder. Newcastle and Norwich are still not clear, but both probably need only a point or two and I don't see a problem for either. Wigan are the ace escapolgists, of course. They play bright, adventurous football and look capable of again getting the points needed. The only snag might be their FA Cup distraction if, as seems likely, they beat Millwall in this weekend's semi.

Aston Villa are the team with momentum, winning three out of four. They are playing with energy and dynamism, led by the goals of Christian Benteke, surely a candidate for signing of the season.

The inexperience which looked to be a negative for Villa may now be working for them. These young players are fresher-legged than most and, as young guys do, are performing without fear. I take them to stay up.

Stoke, who have stayed in the Premier League for five seasons without a problem, are suddenly in free fall and only three points above the drop zone.

Manager Tony Pulis has never been relegated in a long managerial career and says defiantly: "I am not about to start now."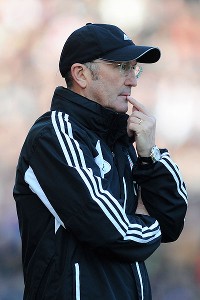 Chris Brunskill/Getty ImagesTony Pulis has never managed a club that has been relegated, but Manchester United's visit this weekend doesn't bode well for Stoke City.
But times have changed at Stoke. Fans who tolerated the team's direct style while it brought success are now turning on Pulis, and the once-intimidating Britannia Stadium is a place of mutiny.

With champions-elect Manchester United in town this weekend, the crisis may be about to deepen.

But the team that look to be in most peril is Sunderland, who have gambled on Paolo Di Canio's volcanic style to ignite a late-season rally.

The trouble is he has inherited a disappointing, paceless team whose supposed creators -- Stephane Sessegnon, Adam Johnson and James McClean -- simply have not been creating. And top scorer Stephen Fletcher is out for the season, which is a hammer blow.

Di Canio talks of getting the players fitter -- an insult to previous boss Martin O'Neill, and in any case a cliche from newly appointed managers. It is not fitness holding back Sunderland, it is quality and lack of inspiration.

The controversial Italian's dictatorial style worked well in the lower divisions with Swindon, but whether it works at this more rarified level is another question.

Sunderland could sneak a point from a huge North East derby at Newcastle on Sunday, but even bigger are the relegation clashes away to Villa and at home to Stoke. Those matches will be pivotal.

Predictions generally make fools of us all in this game, but if you pressed me I would say it will be Reading, Queens Park Rangers and Sunderland for the dreaded drop.