Postgame rancor shouldn't eclipse Malaga's season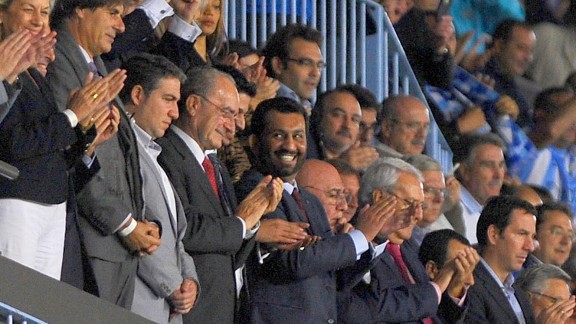 Jorge Guerrero/Getty ImagesWith Malaga owner Abdullah Al Thani taking to Twitter, he's become the big story as opposed to Malaga's fine season.
Deep down, hand on heart, most would probably agree that Borussia Dortmund are a better team than Malaga.

Over the two legs, Dortmund created more chances and (arguably) showed it on the pitch. And if you really want to go there, Dortmund pay their suppliers on time and don't have a slew of financial irregularities hanging over them (which is why Malaga, barring an improbable reversal from the Court of Arbitration for Sport, won't be playing European football next season).

Tyler: Stunning game at Signal Iduna Park
Cartlidge: Malaga can hold head up high
Uersfeld: Dortmund and beauty of football

(Oh, and by the way, it's not as if Borussia Dortmund are some blue-blooded royalty who have never had financial difficulties. They nearly went bust a decade ago as a result of overspending and mismanagement. But they took it on the chin and dug themselves out of the hole through sound decisions, hard work and the passion of their incredible fan base. Having screwed up, there were no shortcuts for them on the way back.)

But you can't help but feel for Malaga fans, players and, especially, coach Manuel Pellegrini.

Whatever you think about how Malaga got into this position in the first place -- and let's face it, rules were broken as the club spent money it didn't have -- the fact that the club did not go in meltdown this season is a testament to Pellegrini's leadership and man-management skills.

This club lost its top two goal scorers over the past nine months -- Santi Cazorla (who also happened to be their best player) and Jose Rondon -- plus half their starting defense in centre back Joris Mathijsen and left back Nacho Monreal. Their transfer campaign was classic "waifs and strays" type stuff. They acquired no-names (Antunes, Manuel Iturra) and aging guys whom many had consigned to the scrap heap (Javier Saviola, Roque Santa Cruz) while raiding their youth academy for bodies. All this against a backdrop of financial chaos, amidst recriminations and stories of unpaid invoices.

Football folks are supposed to be an egotistical, self-serving bunch. But these guys weren't. They rallied behind Pellegrini, who vowed to have a go despite the fact that he had enough reasons to walk out and enough mitigating factors that nobody would blame him for it. And they developed the kind of unity and spirit that -- corny as it sounds -- allowed their fairy tale to come to life, with credit also due to one of the sharpest tactical minds out there in Pellegrini himself.

Does it hurt more to go out the way they did? Sure it does. Because when you concede two goals in injury time, you bet it smarts. And when the latter strike, the one that sends you crashing out of the competition, comes after two massive blown offside calls (the first on four guys -- three of whom become active -- when the cross comes in and the second a textbook decision on Felipe Santana) you're not just hurt, you're angry.

And -- guess what? -- the fact that Eliseu was also offside when he scored Malaga's second doesn't make you feel much better either.

Pellegrini talked about not just the blown offside, but also a few fouls that, in his opinion, went unpunished in the final minutes.

His boss and Malaga owner, Abdullah Al Thani, went even further, citing "racism."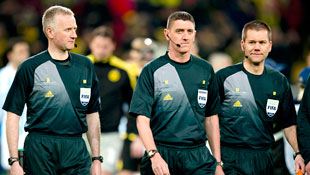 Odd Andersen/Getty ImagesWhile it's true that the officials did miss two crucial offside calls on Dortmund's decisive third goal, the truth is they were inconsistent and poor all game long.

"Yes, we were targeted from the beginning of the season by corrupt UEFA and based on racism," he tweeted. (If you're so inclined and promise not to giggle at his Twitter handle, you can follow him @ANAALThani.)

He may have his grievances, but racism is a serious accusation. Racism against what? The Spanish? The league that sent three teams to the quarterfinals and could well have two in the semis? The Qataris? The folks who sponsor Barcelona and PSG and are guaranteed to have some presence in the semifinal?

If you're going to pursue that line, you need to bring specific accusations and grievances. Not just generic guff compressed into 140 characters.

It's a shame that Al Thani -- who is very vocal now but was curiously silent when the lawyers and investigators were crawling around his club trying to make sure contracts were honored and taxes were paid -- is now hogging the headlines. The reality is that Malaga ran into a mediocre referee in Craig Thomson who had a shockingly bad day, though not as shocking as his assistants, Derek Rose and Alasdair Ross.

Yet none of this should take away, though, from the club's remarkable achievements this season. If Al Thani runs Malaga into the ground, many of these guys -- starting with Pellegrini and Isco, of course -- will move on to bigger things. Better things too? Hard to better what they've done this year, not in terms of results but in terms of against-all-odds achievement.

As for Borussia Dortmund, they're worthy semifinalists. But they can also count themselves fortunate that Thomson & Co. were equal opportunity offenders when it came to incompetence Tuesday night.