Dortmund sting Malaga in another famous European night
Games like the one at Signal Iduna Park don't lend themselves to the written word, as what transpired in the Champions League quarterfinal had to be seen to be believed.

A superb counterattacking performance by Malaga -- scripted by a manager deep in mourning the passing of his father some three days prior -- earned them two goals (one of which was offside) and had the beleaguered Spanish side within four stoppage-time minutes of a famous spot in the semifinal.

Cue Dortmund with a double of its own in the waning minutes to send the home fans into delirium.

Yes, Borussia's decisive strike had several players offside when the final cross was whipped in low across the box, but it's hard to begrudge such a comeback. After all, you can't benefit from contentious calls if you don't get yourself in such positions from which to profit. And given the German side's wastefulness for much of the contest, it was even more miraculous.

For two-thirds of the home-away set, Dortmund lacked the sheen and ruthlessness that saw it march to its first-ever league/cup double last season. Robert Lewandowski and Mario Gotze were at fault for a string of wasted opportunities at La Rosaleda, repelled the rest of the time by Willy Caballero's agility and bravery between the posts. Having been eclipsed in both the Bundesliga and DFB Pokal by Bayern Munich this time around, Dortmund had one last shot at glory in the Champions League.

And so it proved; playing from behind for much of the game after Joaquin's elegant first-half finish -- set up by his spin-drag of the ball from right foot to left that made room for the final shot -- Marco Reus & Co. didn't wilt. Neither did the fans, for that matter.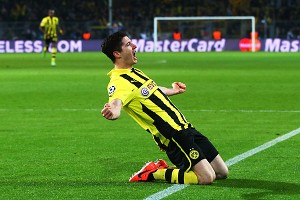 Alex Grimm/Bongarts/Getty ImagesRobert Lewandowski scored Dortmund's first goal in the 40th minute before the German side stunned Malaga with two stoppage-time goals.
First came Robert Lewandowski's goal on the verge of halftime -- after Malaga lost it wide on the left, two sharp passes from Gotze to Reus and Reus past Martin Demichelis, a meme-worthy bit of skill, set the profligate Pole in on goal for a cool finish. The entire move was a blur, capped by Reus' backheel, no-look flick, and showed just what BvB had been lacking for much of the quarterfinal.

Yet one sensed that the interval came at just the right time for Manuel Pellegrini, who rejoined the team with mere hours until kickoff following a trip back to Chile. He kept the shape that worked well in the first half, with Joaquin, Julio Baptista and Isco pressing Dortmund high up the pitch in a bid to stop the likes of Jakub Blaszczykowski (who had a poor game) from getting the ball in the attacking third. Jeremy Toulalan kept the same pressure applied in midfield, cutting off passing lanes and forcing turnovers while Demichelis anchored a shaky back four just enough to keep the tie level.

Then came the pandemonium of Malaga's second goal: a sharp break down the left was capped by Eliseu's close-range, empty-net tap-in from an offside position, one of several calls missed by the linesmen on the night.

It was the segue for a trio of substitutions that would prove crucial in the end result. Pellegrini withdrew his two hardworking forwards, Baptista and Joaquin, in favor of fresh legs. Yet neither Roque Santa Cruz nor Francisco Portillo supplied the same kind of aggression offered by the starting pair, and as Malaga withdrew deeper and deeper into its half, the pressure eventually told.

Finally back from injury, Mats Hummels was inserted by Jurgen Klopp and defender Felipe Santana pushed up front where his assertiveness would be best served. And wouldn't you know it? A free kick thumped into the box was poorly defended by Demichelis and Neven Subotic's low cross was almost bundled home by Santana before Reus applied the finishing touch.

91st minute. 2-2 on aggregate but Malaga still with a boot in the semifinals.

Barely 60 seconds later and the tie was flipped upside down as Lewandowski's left-flank cross found at least four Dortmund players offside before Santana, behind Caballero, swept it home. Cue the madness from Signal Iduna Park's famous "Yellow Wall."

Though the officials have much to answer for, to focus on their errors would detract from a game that showcased much of what we love about the Champions League: two well-matched, endlessly entertaining teams going toe-to-toe in an incredible atmosphere. So many superb individual performances, too: Reus using the space behind Lewandowski to continually create; Demichelis/Toulalan forming a robust spine to Malaga's defense, threatened time and again by Sergio Sanchez's unreliability at center back; Joaquin's artistry and hustle.

Both goalkeepers, Roman Weidenfeller and Caballero, put on shot-stopping clinics worthy of Ph.D.-level study. It's a shame one of them has to go home, and Malaga did deserve better given their heroics over the 180 minutes. (Oh, not to mention the potential mirth and impending schadenfreude of seeing UEFA sweat over a team it has banned from Europe next season thanks to Financial Fair Play rules being within three games of winning Europe's elite competition.)

Malaga can hold its head high, albeit fearful of what the summer might bring to its gritty but shallow squad. (After the casual sales of Santi Cazorla and Nacho Monreal in the past two windows, there's concern about who might be next.) Meanwhile Dortmund can rejoice in its persistence being rewarded with a Champions League semifinal against anyone from Bayern Munich, Real Madrid, Barcelona, PSG or Juventus, albeit chastened by the fact that its finishing will need to be much, much sharper.

In the end, another famous European night, offsides and blown calls be damned.