Football's Thatcher years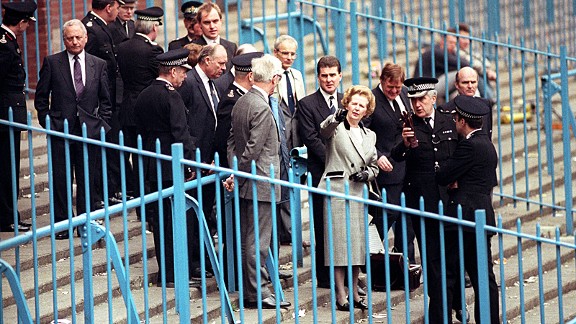 GettyImagesMargaret Thatcher inspects the Leppings Lane end of Hillsborough after the disaster in 1989.
It's Christmas time and Sir Alex Ferguson is enjoying himself in the MUTV quiz. It's his turn to provide clues for his teammates. He reaches for the next card and then his face drops. The smile has gone. "The worst leader this country has ever had," he spits.

His teammates, fitness trainer Tony Strudwick and club doctor Tony Gill, answer instantly. "Margaret Thatcher," they say in unison. Ferguson has never hidden his contempt for the late prime minister.

"Do not compare me to that woman!" Ferguson once blasted an ill-advised and unfortunate hack. Nowadays he is accused of being something of a champagne socialist, but Ferguson is from a background that will never forgive or forget Thatcher and Thatcherism. The one-time apprentice toolmaker from Glasgow has never absolved Thatcher of blame for her leading role in allowing the shipyards of his home city to become barren, unused wastelands. She also repeatedly attacked the game he continues to love.

The greatest managers of British football -- Bill Shankly, Bob Paisley, Don Revie, Brian Clough, Sir Matt Busby and Ferguson himself -- all came from the regional communities that felt the harshest winds of the Thatcherite hurricane. None of them betrayed their roots. She was no friend of football and much of its working-class heartlands. In turn, football was no friend of hers. There will be no minutes of silence for her this weekend.

That Thatcher was a divisive figure has become a quick cliché. Division is in the nature of politics itself, but to divide and rule was her modus operandi, except when it came to those she wanted to crush completely. Football was on her hit list, some way behind the IRA, trade unions and militant socialists in local government but a target nonetheless. Supporters could count themselves as part of the "enemy within" she sought to smash forever.

Hooliganism dated back to the late 1960s, but it got worse under Thatcher and became a particular irritant to her. The year of 1985 was a high point for Thatcherism, the dark days of her early reign had been ridden out and a new type of prosperity was on its way. A timeline of football-related unrest and disaster was upsetting the applecart. A full-scale riot at an FA Cup quarterfinal between Luton and Millwall in March shocked the nation. Thatcher was especially angry that police were attacked at Kenilworth Road.

The Bradford fire on May 11 had little to do with hooliganism but was further grist to the mill for an establishment that wanted to kill off football's affront to law and order. May 29 brought the Heysel disaster at the European Cup final, where 39 Juventus fans were killed when a charge of Liverpool fans caused those fleeing to force a wall in a dilapidated stadium to collapse. Two days later, Thatcher urged the Football Association to withdraw English teams from European competition, a move compounded by UEFA imposing an "indefinite" ban that would last until 1990.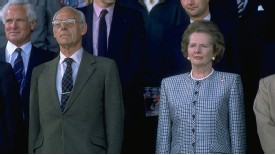 GettyImagesMargaret Thatcher attends the 1988 Scottish Cup final with her husband, Dennis.
Thatcher would not tolerate any further continental embarrassment. She turned her attentions to domestic football with measures that threatened to ruin the game as supporters had known it for a century. Luton chairman David Evans, a rabid right-winger of the political type and a Conservative Party Member of Parliament, did his mistress' bidding in introducing an ID card scheme for fans wanting to attend home matches at his club. All away fans would be banned. Luton became the most unpopular club in the country but provided a blueprint for a proposed government scheme.

The Conservative government wanted to rush through ID cards for the start of the 1985-86 season but it was delayed ahead of a season that suffered a TV blackout until January 1986. Football was running out of friends in the media, too, and there were yet darker days to come. The ID scheme, as proposed by an Act of Parliament, would make it an imprisonable offence to attempt to attend to a football match without requisite ID. It was draconian, demonising and would serve to stop clubs gaining the lifeblood of new support. That was not Thatcher's problem. Her only concern was quelling civil unrest. Protests from football authorities and fans' groups were dismissively waved away.

The horror of the Hillsborough disaster of April 15, 1989, drew direct lineage from Thatcherite attitudes to football supporters. Instead of working on improving conditions for spectators, fans were treated ever more like cattle, brutalised by police whenever they were perceived to step out of line. A lack of investment meant stadiums were antiquated relics. Hillsborough was a death trap waiting to happen and 96 Liverpool fans perished in a stand built for the 1966 World Cup, and without a valid safety certificate. Hooligans, the folk devils of the time, were initially blamed, and especially so by a series of press briefings by a bungling South Yorkshire police force desperate to cover its tracks.

The first Taylor Report, released in August 1989, exonerated fans, instead leveling blame at policing of the FA Cup semifinal, but Thatcher, in memos released as part of last year's independent inquiry, was appalled. "The broad thrust is devastating criticism of the police. Is that for us to welcome?" she asked Home Secretary Douglas Hurd. Law and order always had to come first but she was forced to accept that her ID scheme would never come to fruition.

When Thatcher departed the political scene in November 1990, tarnished by the stench of her disastrous 'Poll Tax' policy and having alienated one grandee too many, football was beginning to regenerate. Hillsborough's harsh lessons were being heeded, the ideas that founded the Premier League were bubbling up. Thatcher's deregulation of television gave Rupert Murdoch, a passionate admirer, the means by which to fund the 1992 revolution with the wash of Sky money. The game's gentrification has had its definite downsides, but those fans who can afford to attend matches are at least safe in their seats.

Nowadays, the game is used as a political football, a key to the hearts of the common man. Thatcher's successor, John Major, was a very public pre-Abramovich Chelsea fan. Tony Blair pretended to support Newcastle, Gordon Brown is a lifelong supporter of Raith Rovers and David Cameron flies the flag for Aston Villa, where his uncle was chairman when they were European champions in 1982. Last year, former Home Secretary Jack Straw embroiled himself in the Venky's saga at Blackburn. Thatcher saw no need for such involvement. Hometown club Grantham Town never received her patronage, though it is doubtful that Martin O'Neill, manager from 1987 to 1989, would have wanted it. Her appearances at matches were very rare indeed, the most high profile being her acceptance of a supremely ill-advised invitation to present the trophy at the 1988 Scottish Cup final. Celtic, the club associated with Irish republicanism, was the victor.

Thatcher neither tried nor wanted to understand the national game. It too often provided an impediment, a menace to her vision of her country. She presided over its darkest days and those in the game did not miss her when she was gone.