Summer will bring the true defining moment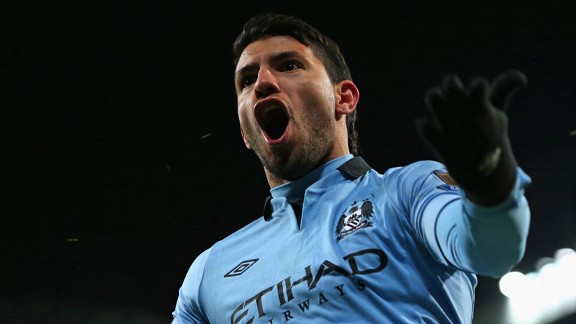 GettyImagesSergio Aguero celebrates after scoring the winner in the Manchester derby
It wasn't exactly the statement Manchester United wanted to go with their staggering lead. For Manchester City, it wasn't a performance in keeping with a frustrating season.

Such were the contradictions of the season as a whole in Monday's 2-1 derby win for City that the result can only allow short-term analysis. The dynamics of next season have already been set.

Past defining moments, such as Sergio Aguero's title-winning goal last May or the ripple effect of Robin van Persie's transfer to Old Trafford, can only be viewed as punctuating punches in a longer arms race.

A defining moment, in fact, has been one of the key elements missing from this campaign. It is one of the reasons that the result appears to have unsettled the narrative.

For Sir Alex Ferguson's team, there hasn't really been any pivotal moment where it's all come together to make the title seem like destiny. We haven't seen anything like Eric Cantona's goal against Newcastle United in 1995-96, John O'Shea's against Liverpool in 2006-07, and certainly nothing to rival Federico Macheda's winner against Aston Villa in 2009 or Steve Bruce's double to beat Sheffield Wednesday in 1993.

Wayne Rooney's strike at Craven Cottage this season feels a little too long ago, while the 2-0 win over Everton was stuttering rather than strident and devoid of any drama.

A Van Persie-inspired victory or even late equaliser against City this week would have been the most appropriate way to seal the title given how this season has gone and 2011-12 ended. Something like that, however, did come much earlier in the campaign - which is of course part of the problem.

None of this is to say United do not deserve credit for the efforts that put them into this position, or that they will not be rightful champions. It does, however, change the tone of the entire run-in.

City will already know the kind of changes they have to make. In many ways, Mancini's side find themselves where United were last season - requiring an appropriate response.

They are relatively clear about what they must do. Most obviously, they must make signings that bring the side on rather than just back it up. It was that failure that partly explained their faltering start to this season and allowed United to surge ahead. Similarly, there is the surprising paucity of attackers after the inability to purchase someone of Van Persie's quality or replace Mario Balotelli. Mancini will also know not to overly tinker with an already evolving team.

The only real uncertainty regards the position of the manager himself. City are set to review Mancini's work at the end of the campaign, but he can greatly influence that by following up the derby win with a strong finish and FA Cup success. Sunday's semi-final against Chelsea will say a lot.

For United, things are a little more uncertain - right down to how to feel now over a league-winning response and campaign that should have been cathartic.

That is reflected by their lead. By rights, a team 12 points ahead of the opposition in early April and still capable of smashing a Premier League record should not need too much surgery or have too many concerns. That lead, however, is complicated by the stuttering nature of the last few months. This defeat to City may have been the first time United dropped points since January 20, but it was in keeping with a failure to beat any side of a similar or superior status.

In all five games over that period against the Premier League's top three or a European rival in Real Madrid, Ferguson's side have not enjoyed a single win. And, just as the unfortunate red card for Nani in that Champions League tie seems to have sapped United of their momentum, that recent record reflects a team going through the motions.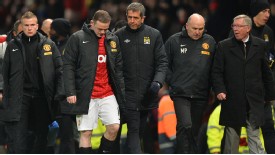 PA PhotosThe future of Wayne Rooney may yet be away from Old Trafford despite the manager's claims
They have met the minimum of their requirements rather than playing to the maximum of their ability. Talk of a treble has quickly turned to relief that the lead is still so large.

It also illustrates one of the reasons points hauls aren't always the best barometer of the quality of a side. Leaders, for example, can simple develop a necessary rhythm to maintain their status rather than true ability. United's failure to sufficiently raise themselves for their biggest games reflects that.

A season that should have crescendoed with the joyousness of 2006-07 is instead ending with the jadedness of 2000-01.

Interestingly, the response may well be the same. One United source pointed to how Ferguson generally makes any significant overhaul of his squad in summers that don't involve a major championship, and all indications are that this will be the same.

Just as the Old Trafford side's lead may obscure the exact quality of the squad, Ferguson's comments may have masked his true satisfaction with his pool of players as well as Wayne Rooney's future.

The United boss has already stated that his options "are as good as I've had in my time here" and that the England forward will definitely stay. There are reasons to at least doubt both, with all of it interlinked.

The stories about Rooney, for example, have simply not gone away. So much is bubbling under the surface. Although it is by no means certain that he will leave Old Trafford, a mutually dependent chain of events could yet bring his departure. United would favour that if it also meant securing a suitable, younger replacement in Borussia Dortmund's Robert Lewandowski. Paris Saint-Germain are expected to make a formal offer as soon as the season ends, while Bayern Munich's interest has been piqued.

The attacker Ferguson would prefer above all, however, is Cristiano Ronaldo. Make no mistake, a return is not impossible, but it is still a more unlikely prospect than Rooney's departure and involves many more complications.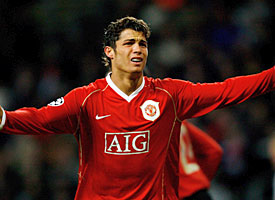 GettyImagesCristiano Ronaldo is thought to favour a return to the club where he made his name
Ronaldo himself is very much open to the idea and is understood to be concerned about the aftermath of Jose Mourinho's inevitable departure from Real Madrid, but stumping up the necessary cash is one of a number of issues.

United have already approached their sponsors about funding but, while Chevrolet does have an interest, Nike is unwilling.

It is the club's range of sponsorship deals, as well as the Premier League's increased TV money, that mean everything is up for grabs.

What is certain is that Ferguson has decided to make changes. Anderson is expected to leave for FC Porto and the club are still seeking a buyer for Nani. Paul Scholes and Darren Fletcher could retire, while the progress of Ashley Young, Antonio Valencia and Alex Buttner will be reviewed. The Dutch full-back, of course, was something of an emergency signing after United failed to sign Leighton Baines, and the club will revive their interest in the Everton player in the summer.

As well as Wilfried Zaha arriving, Ferguson will also target a ball-playing centre-half and a midfielder. As regards the former, both Mats Hummels and Ashley Williams have been monitored by scouts, while Ezequiel Garay remains an option. United aren't enamoured with the Argentine centre-half's agent, however, which has also been an issue with their interest in PSV Eindhoven's Kevin Strootman.

Otherwise, the club's interest in Victor Wanyama and Thiago Alcantara has been widely reported. The Barca player, however, is understood to favour a link-up with Pep Guardiola at Bayern Munich.

Even if this season hasn't yet had a defining moment, it is set to be another defining summer - for both clubs.