Defense is Barca's best form of defense rest of way in Champions
Messi's fitness. Alexis or Fabregas. Bartra, Song, Adriano, Busquets with Pique at the back.

The opinions, the headlines, the choices will all flood at you until the teams are announced at the Camp Nou on Wednesday evening. What state is Messi's thigh in; should he play; is the bench too much of a risk? Seize the moment and damn the risk? Damn the temptation and opt for the risk that this team can defeat Paris-Saint Germain without their genius?

Well, stop for a minute. There may well be a bigger issue for the Spanish champions-elect.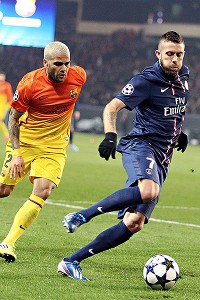 Xavier Laine/Getty ImagesKeeping PSG -- or any remaining Champions opponent -- from another score would be historically beneficial for Barcelona.
Depending on how much faith you place in stats, Barcelona may not have room to concede even one more goal -- in this tie, or in the semifinal should they get there.

History says so.

Barca have won this tournament (old and new format) four times. On each occasion -- 1992, 2006, 2009, 2011 -- their last four matches (quarter and semifinal in the Champions League, crucial group games in 1992) have yielded only two goals or fewer to their opponents.

When Johan Cruyff's Dream Team won at Wembley 21 years ago they conceded just once in their last six matches (final included). Fourteen years later, Barca reached Paris and defeated Arsenal, having conceded just once across the quarter and semifinals (Benfica and AC Milan). For Pep's trophy treble in 2009, the Blaugrana gave Bayern Munich and Chelsea two goals across the last four ties and in 2011 they were stingy again -- two conceded in four matches against Shakhtar Donetsk and Real Madrid.

By contrast, take elimination in the semifinals of 2010 -- three goals conceded while beating Arsenal in the last eight, three in defeat to Inter. The quarter and semifinal of 2002? Two goals conceded to Panathinaikos, three while losing a Clasico semi final to Vicente Del Bosque's Madrid. Yes, I know, there's a mathematical equation that doesn't take a genius to explain: Concede more = exponentially raise the chances of going out. Thanks for that reminder.

But the point is (A) it isn't always the three- or four-goal splurge that sees a team through at the determining stage, and; (B) history hints that, at least for Barca, two goals conceded across the last four pre-final matches is the maximum they can cope with.

Thus, another truism. Should they not concede against Carlo Ancelotti's team, they are in the draw for the semifinals.

Frankly, I'm not wholly sure that's likely. It was achieved against AC Milan on a remarkable comeback night -- but only those blinded by club colours and devotion can ignore the fact that Milan's Niang was through one-on-one and hit the post while Jordi Alba produced a mind-blowingly good tackle in the six-yard box to prevent Robinho scoring.

Moreover, the overall defending, not simply the back four, has deteriorated this season.

At this stage of 2011-12 Barca, then trailing Real Madrid in a distant second, had conceded 10 goals fewer than at the moment. Like in the Champions League, Tito Vilanova and Jordi Roura's side have eight goals against instead of six by the midway point of the quarterfinal last term.

Thus, objectively, it seems far more important that those players available to Vilanova are prepared adequately and selected with the task of making it hard for PSG to enjoy comfortable possession than it is to try to force Messi into a performance in which his thigh muscle may not be capable of giving.

Sure, if he has somehow managed to cut his recovery time so dramatically that he's between 95 and 100 percent fit (top pros almost never play 100 percent fit these days) then fine -- he's selected.

But if not then his availability or otherwise can't become the principal topic.

Aside from the beauty of the goals against Milan, particularly Villa's and Messi's firsts, what separated the sides was that Barca played with a pace, intensity and possession/pressing that was world-class.

It has become increasingly apparent from 2008-09 onward how great an achievement it was for Pep Guardiola's first side to press, harass and harry opponents like they did.

It doesn't just take fitness and tactical co-ordination but a major psychological commitment to vast effort -- especially in moments when, otherwise, a player can take a tiny little breather.

Over the seasons the pressing has dropped its level, partly as the team ages, partly as a certain degree of rust has set in.

If they can dust off the old skills that will be a major step toward the last four.

Also, there was a performance Saturday that was striking. And I don't mean the five goals shared between Fabregas and Alexis.

Alex Song produced a flawless display deputising for Sergio Busquets something that, given his pressing, tackling and increasingly good use of the ball via first time pasess might argue for his inclusion Wednesday.

The most likely team is Valdes, Alves, Bartra, Pique, Alba: Xavi, Busquets, Iniesta: Alexis, Fabregas, Villa, but I'd not be shocked if Song either played next to Pique instead of Bartra or, indeed, with both in a three-man defence.

Whatever, PSG are a better side than Milan. They hold specific threats (pace and aerial ability) which Barcelona don't enjoy, and it's easy to envisage them getting an away goal.

Long before a decision about whether Messi gets game time or not, Barcelona's squad and staff will have to make a resolution that their defending, all over the pitch, needs to be taken up a level or two if they wish to proceed.

Imagining life without Alonso

Obviously, the only priority for Real Madrid in Istanbul is to qualify for Jose Mourinho's third straight Champions League semifinal with Real Madrid (his own fourth if you take Inter Milan's 2010 campaign into account).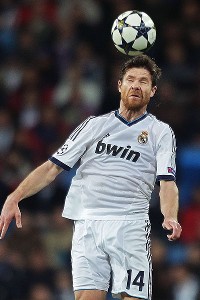 Gonzalo Arroyo Moreno/Getty ImagesReal Madrid isn't itself when Xabi Alonso is absent for whatever reason.
The healthy lead established in the first leg plus the distance between the two sides in terms of pace, intensity and class suggests that however bumpy the night at the Turk Telecom Arena, they'll do just that.

However, what looked like a deliberate decision to rid Xabi Alonso (and Sergio Ramos) of the bookings hanging over their heads and threatening their participation in the semifinals has left another intriguing sideshow.

-- Ball: Replacing Alonso

Season after season while he has been at Madrid it has become increasingly clear that when Alonso doesn't play for one reason or another the reigning Spanish champions are less astute, less well organised, less resilient, less streetwise. And less likely to win.

This is a special player, but also a man of immense determination. He's bright in terms of his personal intelligence but he also sees football with crystal clarity and that couple of seconds ahead of your average midfielder.

Is it a coincidence that things began to go off the boil at Liverpool when he left? No, it isn't.

Nor is it a surprise to see things in greater disarray when he isn't there to anchor Madrid in their "double-pivot" defensive midfield formation.

(Ditto Spain -- his presence alone would have probably blocked the move for Finland's recent goal in their shock 1-1 draw in Gijon.)

Enough of the encomium.

Alonso is absent and, given the three-goal advantage, I'll be interested to see what Mourinho opts for in order to cope.

Given the influence that both the manager and his senior midfield partner have had on Sami Khedira over the past two seasons, plus the high level of football expected of him for Joachim Low's German Die Mannschaft, it's little wonder this is a player who is showing power, confidence and maturity right now.

But he's not Alonso's equivalent, nor his equal.

Then there is Luka Modric. One of the unheralded successes of Mourinho's season has been the ways in which he plucked Diego Lopez from Sevilla, snatched Michael Essien on loan from Chelsea (when it turns out the Ghanaian is a player the Blues could most certainly have used these last few months) and the way in which Modric has been taught how to adapt to the demands of being at Madrid.

So much more is being asked of the Croat. Better stamina, more positional rigidity, more consistency, the ability to alternate between two completely different positions. It's to his own credit that he came up with that awesome, game-changing goal at Old Trafford. Jose Mourinho didn't teach him how to do that. But it was a shrewd substitution by a coach who had educated the "new boy" what was expected of him and Modric simply produced some of his magic.

However, the same thing applies to him as it does to Khedira. Modric is not a player with the same power, vision, aggression, command and organisation as Alonso. Nor, I'd argue, could the 31-year-old Basque play in the front three behind a single striker as Modric can do and it may be that the Croat has a greater range of creative short- and mid-range passing simply because he's very good at that.

But you'd imagine that Tuesday night in Istanbul, whether Modric or Essien partners Khedira (Pepe would be another candidate but he played poorly at the weekend and then pulled up during Monday's training session) we are going to see more evidence as to why another midfield purchase, of someone who can potentially succeed Alonso, is going to be needed in the summer.
Personally, I think Alonso will stay for at least one more term at Madrid but whether he then leaves for free or renews his deal is, I'd guess, up in the air right now

Short-term, what will fascinate me is whether Mourinho opts to compensate for his linchpin's absence by returning to the "Trivote," which is how he christened the powerful and attacking three-man midfield which often worked for him across his first two seasons at the Bernabeu.

Over recent weeks, Mourinho has transformed himself from, arguably, a negative factor on his team's performance to a decided plus. Better decisions, better reactions, cleverer words, fewer rows.

How he populates his midfield in Istanbul and how he reacts to what happens there will be an enjoyable advancement of learning for all of us who understand he's talented but would like to be able to respect him more.

Hard times For Pellegrini

There has been so much emotion, so much loss in Spanish football since last summer when Villarreal coach Manuel Preciado and Betis defender Miki Roque died, Florentino Perez lost his wife at a relatively young age and Tito Vilanova and Eric Abidal battled different types of cancer.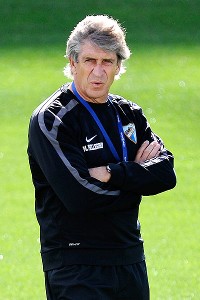 David Ramos/Getty ImagesManuel Pellegrini did not inform his players that his father had died before Malaga's match against Real Sociedad.
Maybe it doesn't affect everyone, perhaps most find it easy to assimilate the news, shrug and get on with coping with the fast pace of life. Nothing against them.

But I find it affecting. You lose yourself a little in this addictive, compelling, entertaining, mucky, sometimes treacherous but usually heroic sport of ours to such a degree that bolts from the blue like these were can be like a great big bucket of cold water.

As you come to, you wonder: Worth it? Skewed values?

At very least you stop to think about the sacrifices that a kid like Roque made in order to reach the top and how much of him we were robbed of given that he died at 24. Preciado was, to my way of thinking, a decent human being, a man who had borne enough personal troubles for 10 guys and who was a rip-roaring, life-affirming character. Gone way too soon. Vilanova and Abidal have often featured in this column but, in contrast, I didn't know Pitina Sandoval personally.

Then, at the absolute peak of his personal achievements, Manuel Pellegrini loses his father Emilio.

Pellegrini is one of eight kids, all of whom had a superb upbringing -- indeed the Malaga coach isn't really nicknamed "The Engineer," he really did study and practice that profession. His dad insisted.

Don Emilio, once his second son had a professional skill, was happy to back his boy's footballing ambitions and supported him firmly.

But last month, during the FIFA break, Pellegrini went back to visit his folks -- some comfort now that his dad has passed away.

Typically, Pellegrini told none of his players when he found out on Saturday morning and accompanied the team to the match against Real Sociedad in San Sebastian. The result went against them but almost all the key players were rested and, in any case, Tuesday is the vital match.

So, why make such mention of it all? The football community loses parents, brothers, footballers and children all around the year and I'm only focusing on this one because Pelllegrini has been so absolutely heroic this season.

I guess that had he been so disgusted at the behaviour of the club's owner, Al-Thani, that he walked away last summer there is at least a chance that he'd have taken a sabbatical back home where his wife and children have lived throughout his coaching career in Europe. (Mrs. Pellegrini visits Spain every few weeks.)

There he would have spent what he couldn't have known was extra-valuable time with his parents. It wasn't to be, que sera sera.

But when Malaga go out for a significantly against-the-odds tie at Signal Iduna Park, requiring a score draw or win against a Dortmund team that could easily have taken three goals off them last week, Manuel Pellegrini will carry extra good wishes from me. And from many in the football world. A great guy, a wonderful coach, but a man approaching a significant professional date with other, more important, things occupying his thoughts.