Manchester City restores a bit of pride with win over United
Right before kickoff between Manchester United and Manchester City, Sir Alex Ferguson said that derby games can turn out to be stinkers. He was stating the obvious, as they often do fail to live up to our expectations. But given the attacking intent in each side's starting 11 -- and especially for United, with Danny Welbeck, Ashley Young, Wayne Rooney and Robin van Persie all featuring -- you had to expect the exact opposite. Which is exactly what we got at Old Trafford, a pulsating match of attacking football that ended with Manchester City winning 2-1.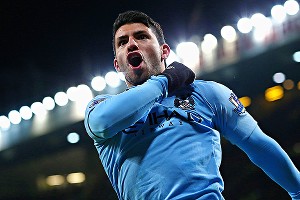 Alex Livesey/Getty ImagesManchester City defeated Manchester United 2-1 at Old Trafford.
The first half was played out to furious effect, with plenty of chances being created on both sides. Roberto Mancini's men had particular joy down the right, thanks to Pablo Zabaleta bombing forward and overwhelming Young and Patrice Evra. David Silva was strong in and around the box, his touch rarely betraying him, while Carlos Tevez was the main scoring threat. For much of the match, this was the City -- fast, strong, single-minded -- that has been MIA for much of this season, the City that won the league title last season. Where have they been? Their supporters will be asking that question.

On the other side of the ball, Phil Jones stepped into the back four (with Nemanja Vidic and Jonny Evans out) and played very well, with some excellent tackles. His wayward header in the second half -- well, Vincent Kompany spared him blushes when the off-target ball deflected off the defender's shoulders for the equalizing own goal. (Props to Rafael, too, for his excellent block on Yaya Toure's shot in the second half.) Rooney, meanwhile, didn't appear in tip-top shape (to be expected). While Welbeck motored around the pitch, Rooney mostly jogged, timing his infrequent bursts of energy in a Dimitar Berbatov-like fashion. It wasn't good enough.

The first goal wasn't exactly textbook, either. Ryan Giggs was robbed of the ball by Gareth Barry, who sped down the left to find Samir Nasri, who in turn found Barry's lunch-bucket brother-in-arms, James Milner. His blast took a deflection to beat David de Gea.

But it was the winning goal that will be remembered, a moment of individual brilliance by Sergio Aguero (on for the subpar Nasri; is there any other kind of Nasri these days?) who dummied three United players in a run across the box before lashing the ball into the roof of the net. The shot, which was singular in its execution, will give Manchester United supporters unwelcome flashbacks to Aguero's goal against QPR last season that nipped the league title from the Red Devils on goal difference.

Winning the league this season will be a balm on that wound for United, but the intensity of this rivalry -- invigorated with the influx of petro-dollars -- will continue to heat up, as proved by the dustup toward the end of the second half. City (well, Barry) took umbrage that United didn't play the ball out when Silva was struggling with his hamstring, even though Ferguson's side was under no obligation to do so because it wasn't a head wound. More yellow cards, Tevez subbed off to thunderous boos, the final whistle. Pride somewhat restored for City, which has the FA Cup semifinals coming up.

In the end, Aguero's winning goal was even more impressive than the one he hit against QPR -- the Argentine had a lot more work to do, and he did it all himself, without the aid of Mario Balotelli -- but it will be considered less meaningful, given the 12 points that still split the two sides of Manchester.

City fans will shout that while the league title may be lost this season, the balance of power -- in terms of money and players -- continues to shift to the blue side of Manchester.

Meanwhile, United will continue their march to their 20th league title. But there's also no question that being crowned champions will feel less satisfying for the Red Devils after having failed to achieve victory over their archrival at Old Trafford. As Phil Jones said after the match when asked how he felt, the answer was simple and to the point: "Gutted."