City can look to United for blueprint on how to rebound
This is no title decider. The title was decided long ago. The odds of Manchester City retaining the Premier League are now roughly the same as the odds of being hit on the head by two meteorites on the same day.

-- Curtis: Manchester power shift still on way
-- Payne: United ready to play ot final act
-- Curtis: Typical Manchester City
-- Brewin: Reaching for credibility
-- United vs. City: How will they line up?

This is about pride.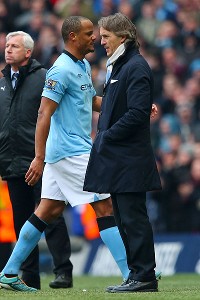 Alex Livesey/Getty ImagesCity's ability to rebound next season is tied to the fate of manager Roberto Mancini, who's not afraid to tell it like it is.
You learn more about a club when they lose than when they win, and this season has been a case in point. Manchester United were humiliated on the final day of last season, left helpless as the title was snatched away from them, jeered from the pitch by jubilant Sunderland supporters. It might have been taken as a sign that Sir Alex Ferguson's powers were on the wane. In some quarters, that's exactly the conclusion that was reached. But United responded emphatically, dusting themselves down and driving onward toward their 20th title like a tank battalion across a golf course. Perhaps it hasn't been their most stylish year, but few of their titles have looked so inevitable for so long.

If City want a lesson on how to respond to failure, it will be wearing red Monday night.

Much will depend on the fate of Roberto Mancini. There is obvious disappointment at his failure to retain the title and there is discontent with another appalling European campaign. Even an FA Cup, sadly devalued over the last decade by the rise of the Champions League, will not save him if the board decide to act. But they should be cautious. They should look south to see what happens when a club with almost limitless resources starts to sack managers for finishing in second place.

Down at Stamford Bridge, the press react to any minor setback like sharks to a swimmer's nosebleed, and rightly so. They did not create the precedent, they only feed off it. Jose Mourinho's final full season ended with an FA Cup, a League Cup and a second-place finish. He was sacked after just six of the following campaign's league games. Of his successors, only Carlo Ancelotti won a title and was thus granted a second season. When Ancelotti finished second, he too was sacked.

The result of this ruthlessness? A club perpetually wreathed in speculation, managers too scared of losing a game to experiment with the expensive youth system and squad unbalanced by years of short-term solutions. City should tread carefully. Perhaps the success of United over the last past two decades has fooled us into thinking that retaining a title is easy. It's not.

There are other reasons for Mancini's enemies to clamour for his removal. The Italian's approach to man-management has much in common with King Herod's approach to child care. While Sir Alex Ferguson keeps his criticism firmly in house, Mancini seems happy to let everyone know what he thinks. Goalkeeper Joe Hart has been the target for a series of barbed comments, while Samir Nasri picked up the Sunday papers last weekend to discover that his manager wanted to hit him.

But authority is not a resource to be squandered lightly. It takes time to acquire. Mancini has earned the right to castigate his players by converting many of them from Europa League chancers to Premier League champions. Modern football has allowed the balance of power to shift too far from the manager to the players. While Mancini's one-man attempt to reverse the slide may not make him popular, it's hard to defend the players against the criticism. City have slipped this year because too many players have offered substandard performances. Given the money they take home every month, they should expect to be held publicly accountable.

Besides, Mancini is hardly the only person who wants to punch Nasri in the face.

If City are to reclaim their title, the players will need to stand up and prove themselves again. That may seem more difficult than making a drastic managerial change, but that's how they've worked at United and it's a policy that seems to have paid off. Stability counts for a lot.

City can send out a message Monday. They're down, but they can tell the world that they're going to get back up again. They can keep their faith in the manager who made them champions and start clawing their way back. The fight for this year's title is over, but perhaps the first psychological blow in the fight for next year's title will be landed here.