Who could be inside Rodgers' envelopes?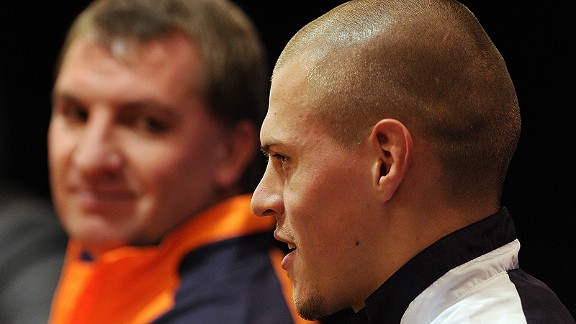 John Powell/Getty ImagesClashes with Brendan Rodgers and simple errors on defense have made Martin Skrtel look dispensable at Anfield.
As the light from his projector illuminated the back wall of the conference room, Brendan Rodgers readied his first battle cry of the season.

An opportunity to truly motivate his players. In his hand, three white envelopes. "I think there's three people that will let us down this year; the cause, the fight, everything," He said, the tension hanging over the room. "I've wrote them down already, now my point to you as players and staff is make sure you're not the one in the envelope."

- Walsh: Dilemma for Rodgers for final seven games

It divided opinion. For some it was a masterstroke of man-management as Rodgers redefined the genre in front of their very eyes. It meant no player was allowed to rest on their laurels. Stood firmly at the opposite end of the spectrum were those who perceived it as further cringe-inducing methodology from a man who was beginning to earn his moniker as, "Brentan Rodgers" -- a reference to David Brent, the lead character in the UK version of The Office.

Shot during the making of Being: Liverpool, it became the moment that most resonated with the audience. Regardless of which camp you found yourself in, there has been much conjecture over just who was in those envelopes -- if anyone at all. Yet just like Schrödinger's cat, the fun is discussing the potential outcome rather than actually seeing it.

One of those potential envelope candidates wasn't actually in the room during the speech. Oussama Assaidi represented a potential bargain for Rodgers when he joined the club for £2.4m from SC Heerenveen. Almost nine months on and the exciting winger is still awaiting his first Premier League start.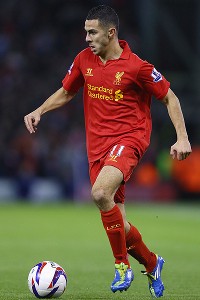 Michael Steele/Getty ImagesOussama Assaidi had the potential to contribute at Anfield yet is still waiting for his first Prem start.

Contrast his situation with the ease at which Philippe Coutinho has slotted into the Liverpool side and the air of frustration surrounding Assaidi grows stronger. An equally diminutive and technically gifted player, his skill on the ball and speed of thought should have seen him flourish in the tactical ideology Rodgers has tried to instill at Anfield. Meekly accepting his current role at the club, one can only wonder why the Moroccan international has not garnered more than his three appearances in the league or challenged his manager to afford him more opportunities.

Spotted in the stands during Heerenveen's victory vs. FC Twente in February, he quickly denied rumours of a return to the Eredivisie, stating: "It's nice when I get to play games and there will be no return [to Heerenveen]," he said. "I just need to be patient and impress when I get the chance."

In many ways, the January transfer window served as redemption for Rodgers after a difficult summer in terms of club business. It is for that reason that Joe Allen could easily find himself in an envelope beside Assaidi but for wholly differing reasons. At £15 million, opinions varied when Allen held up his new red shirt with a beaming smile. Fans had seen this potential disaster before at other clubs and feared that the Welshman was a one-season wonder who would never match those dizzying heights again. The advantage Allen had was that his new home would be attempting to recreate the football of Swansea, which would mean a potentially seamless transition. He knew the manager better than any of his teammates and the style would seem second nature.

Yet for some reason it just hasn't clicked. His talent is not in question -- Allen is a potentially brilliant midfielder -- and to say that his metronomic style is too cautious is a misnomer. After all, a midfielder who quickly recycles possession is often the catalyst for a deadly counter attack. But it is his alarming downturn in form at Anfield that means he has not just let down his manager but also himself this campaign. As mentioned, Allen was attempting to prove that Swansea's was not just a holistic model, that his displays at the Liberty stadium were not merely midweek passing drills played out in front of a crowd.

Still just 23, time is firmly on his side. However as he recuperates from shoulder surgery, he will be uncomfortable at how impressive Liverpool's middle has looked recently -- Lucas Leiva and Steven Gerrard possess the kind of experience he simply doesn't have, while Jordan Henderson's workrate and energy has complemented the pair nicely. The summer represents an uphill task for Allen, but one that will truly define if he has the quality that is claimed.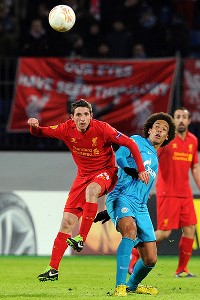 John Powell/Getty ImagesJoe Allen has played well for Liverpool but will rue how good the Reds' midfield looks without him. As such, it'll be a tough road back to the starting XI.

With Liverpool's midfield now flourishing, thoughts inevitably turn to the backline. Pepe Reina has made some uncharacteristic mistakes, and Jamie Carragher is calling time on an illustrious career that has him firmly woven into the club's iconic tapestry. It leaves but a trio of contenders in Seabstian Coates, Martin Skrtel and Daniel Agger, only the latter of whom has actually been impressive this year.

Yet it is the man in the middle who may find himself in the final envelope. The strong-jawed centre-back had already let down Brendan Rodgers long before their reported spat in February. Then, his careless back pass vs. Manchester City prevented Rodgers from cementing his first big achievement as Liverpool manager and allowed their nearby rivals to engage in a healthy dose of schadenfreude.

To further disrupt matters, Skrtel's recent intimation that Rodgers was not being honest with him called into question his manager's integrity as an individual -- not a wise move. "We have (spoken) but it is not ideal," Skrtel told Denik Sport when asked if he had received an explanation for being out of the team. "He (Rodgers) told me something on this, gave me some explanation, but it's hard to tell if it was the true reason he gave me. I don't think it was and think there is something else behind it."

Provided the perfect opportunity to forge a legacy at Liverpool in the wake of Carragher's impending retirement, his head seemed turned by suggestions that both Anzhi Makhachkala and former club Zenit St. Petersburg were chasing his signature. Unlikely to survive the summer, his drop in performance has been the biggest disappointment given the mutual admiration he has shared with the Kop since arriving from Zenit in 2008.

Unfortunately it is unlikely the contents of the three envelopes will ever be revealed. Maybe the envelopes were empty all along. An example of Rodgers' less-than-conventional approach to coaching, only the players will know if it garnered the intended results of breeding mental alertness and inter-squad competition. One thing it did guarantee was numerous hours of debate, and further scope through which to evaluate his newly forming side.