Friday Four: Action at top and bottom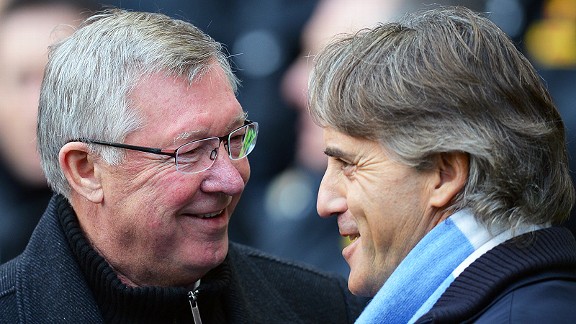 Andrew Yates/AFP/GettyImagesThe 15-point gap between Sir Alex Ferguson's Manchester United and Roberto Mancini's Manchester City has taken just a bit of the lustre off Monday's match.
Most weeks, we carefully sift through the football marginalia for something interesting to serve as our Friday Four introduction. But sometimes we just roll out of bed and like a forest fire limned against the night skyline, the opening blazes its way to the foreground.

As such, we thank you, Joey Barton and Jack Dorsey (the creator of Twitter), for your magnificent communal effort, although we doubt that PSG's all-world center back, Thiago Silva, would share our appreciation of your 140-character trolling magnificence. While the rest of you wiki the meaning of "lady boy", those of us in the know are ready to forge ahead with our week 32 predictions.

Manchester United vs. Manchester City

United has been nothing short of magnificent in the league this season, a statement resoundingly confirmed by its runaway 15-point lead. After an early-season patch that saw the Red Devils leaking early goals at an alarming rate, the return of Nemanja Vidic has seen the league leader win its past six EPL matches without conceding a goal.

And yet, Sir Alex Ferguson is still wracked by misery. (Say what you want about the perennially surly Scot, he hates losing more than Sepp Blatter enjoys an honest vote.) With the putative EPL winner's possible trophy haul reduced from an impressive treble to an in-the-bank single -- thank Nani's Real Madrid red card and Chelsea's Easter Monday victory for that -- it's no wonder. The effect upon Sir Alex's wits has been devastating. His cerebral counsel for Robin van Persie's nine-game goalscoring drought? Just kick the ball harder.

In the other technical area stands the immaculately attired City boss, Roberto Mancini, a man with enough sagacity to realize that next week's FA Cup semi against an exhausted, fixture-full Chelsea outfit is his most obvious path to a third consecutive trophy-winning year in British football. Lift the FA Cup in May -- though some might say Yaya Toure's monstrous contract extension is even sweeter than silverware -- and a lot of the season's tribulations and disappointments simply glide away. We recommend that Arsenal tries it sometime.

In spite of both teams' established defensive prowess, they rarely engage in low-scoring encounters when playing one another. The past five contests have yielded 23 goals (almost a season's worth for Stoke or Norwich) and with very little to play for other than pride, this will probably have all of the defensive commitment of a Community Shield match. After all, United is going to win the league while City has a Champions League spot all but locked up.

Since Monday's game is effectively meaningless -- albeit potentially highly entertaining -- you can certainly expect Wayne Rooney to feature in Sir Alex's starting XI. He tends to bring his best in such games, as evidenced by his iconic bicycle-kick goal in 2011. It will be interesting to see if Nani is selected or whether Ashley "Scuba" Young re-enters the fray. Neither has been impressive of late, although Young showed flashes of his hibernating talent in his Monday morning FA Cup cameo against Chelsea.

There should be goals, and you can be pretty certain that with seven strikes in his last six matches against United, Carlos Tevez will have at least one of them.

United 2, City 1

Reading vs. Southampton
(ESPN2/ESPN Deportes/ESPN3/Watch ESPN)

We shift from the Penthouse to the basement, as the writing is on the wall for all for fans of Reading (and reading). The Royals currently loll seven points clear of safety and are in the midst of a six-game EPL losing streak. It is the second-longest exercise in top-flight futility this season and, unfortunately for Reading, they're chasing their own earlier seven-game string of defeats for the honors.

Newly hired manager Nigel Adkins -- no, he's not the fascist; that's the other guy -- has now had a full week of training with his Championship-bound lads but brings an even juicier advantage to this tete-a-tete given that only a couple of months ago, he was the man who supervised Southampton's return to the Premier League from the bowels of League One. The fact that he managed the trick in just two seasons speaks volumes about the former physiotherapist's connection with his former players.

Now, he'll get to put that encyclopedia of knowledge to use for his new employers. Southampton embraced a high-pressing, high-pressure philosophy under Adkins that has been replicated brilliantly under Mauricio Pochettino, one that disrupts those teams that prefer time on the ball. It's worked well at home, including last week's scalping of Chelsea, but tends to be less effective when playing in less friendly confines. It also means that the Saints tend to wear down over the course of 90 minutes, which probably goes a long way to explaining why they have only won seven of the 16 league matches in which they have scored first.

Southampton is coming off a huge win, is relatively safe, isn't that good away from home and faces a team in Reading who absolutely has to take this one to maintain even the slightest hope of not competing against Leeds next year.

Since hope should spring eternal, we think Reading wins this one quite handily. For a change.

Reading 3, Southampton 1

Liverpool vs. West Ham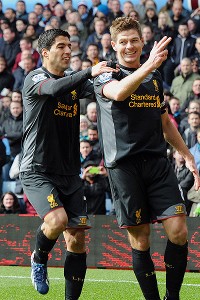 John Powell/Liverpool FC/Getty ImagesLiverpool is getting artistic football from Luis Suarez, left, and Steven Gerrard, but they need more support.
Just in case you haven't been paying attention, Project Liverpool is working. Brendan Rodgers' men are winning a lot more than they are losing, scoring goals in bunches and playing some of the most attractive football outside of Spain and Germany's top teams. Steven Gerrard has been involved in more goals (18) than he has been in his last three injury-wracked campaigns. Then there's Luis Suarez, possibly the best forward in Europe not named Lionel Messi. To back this aggressive statement, we offer up that his 77 created chances is the highest of any player in Europe's top five leagues.

While his strike partner Daniel Sturridge is showing the inconsistent characteristics that have so plagued his young career, Stewart Downing has reconnected with his mojo and new signing Philippe Coutinho has been revelatory, pitching in two goals and three assists since joining in late January. It's true that Liverpool has not been remotely the same since Xabi Alonso hightailed it to Real Madrid four long years ago, but Coutinho's vision, composure and elegance have combined to make even Jordan Henderson look good.

The Reds remain utterly deficient in the back, as evidenced by Jamie Carragher's presence outside of a Center for Embalming, and even goalkeeper Pepe Reina has suffered through a poor season.

West Ham would be able to take better advantage of Liverpool's obvious defensive shortcomings if Andy Carroll was leading the line, but since Carroll technically remains Liverpool's property, the Hammers' loanee will have no chance to dazzle his unimpressed owners. Without his angular presence, you can expect a wide-open game with plenty of chances at both ends that plays into the home team's strengths. Cue a high-scoring Liverpool win that enables the home team to stay within striking distance of a European place that they'll still heartbreakingly miss.

Liverpool 3, West Ham 2

QPR vs. Wigan

Each Friday, we promise to predict four games. We aim for trenchant analysis or sardonic pithiness, and on our best days manage to combine the two. But then you get a match like this one -- 17th place vs. 19th. There can be tremendous excitement when the stakes to drop lower are so high, but this won't be a very interesting game. Wigan is performing well as is its wont in March and beyond, while yet another of Harry Redknapp's over-paid, over-wrought squads is fading badly.

While Monday's fightback against Fulham showed heart, the fact that QPR was down 3-0 so quickly was a disgrace equaled only by the amount of money paid out to Chris Samba. If Samba has made two decent tackles in any single 90 minutes of play, then we continue to believe in the existence of the Easter Bunny.

QPR is porous again, having yielded 14 goals in its last six matches and Wigan is scoring regularly. Harry's job is secure, but QPR's place in the top flight is so obviously not.

Wigan 2, QPR 0

Paul Kanarek is a freelance soccer writer living in Los Angeles, the only city in America where MLS teams outnumber NFL teams 2-0. James Tyler is an editor for ESPNFC.