The Dani Alves club/country paradox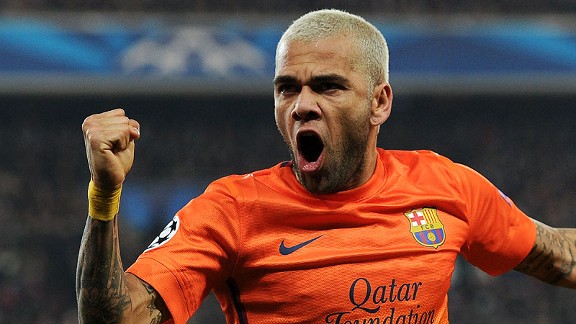 LLUIS GENE/AFP/Getty ImagesBarca's Dani Alves reminded fans just what he's capable of with his assist vs. PSG, though now we wait for him to do it for Brazil.
That Dani Alves pass. You saw it, the one with the outside of his right foot that pretty much laid the ball on a plate for Lionel Messi to score the opening goal in Barcelona's 2-2 thriller against Paris Saint-Germain. It still draws gasps of admiration.

In Brazil, however, it will surely be also added as evidence by Alves' critics. Despite being an incontestable member of a Catalan side that many don't hesitate to dub the "best-ever" to grace a football pitch, the right back is far from a unanimous favorite at home.

Ironically, another 2-2 game in which Alves featured is used as evidence against him: the Selecao's recent outing against Italy in which the Euro 2012 runners-up gave Brazil a tactical masterclass, freely exploiting the right side of the Brazilian defence to the point that Mario Balotelli could (and should) have had a hat-trick inside the first 30 minutes. Andrea Pirlo and Daniele De Rossi had room and time to locate Balotelli, but it was the right-back's timid attacking performance that irked some sections of the public and media.

Alves is certainly not the first Brazilian player to be accused failing to emulate for the national side. Former Barca stars Ronaldinho and Rivaldo also got some flack -- simply for failing to translate their influential club form to the international level -- and only the latter was absolved after playing a sublime 2002 World Cup (Ronaldinho, unfortunately, went down with the tired, jaded Brazil side in the 2006 quarterfinals).

However, the jeers directed at Dani Alves for sub-par play are also motivated by the fact that even his detractors consider him the best player available at his position. Let's call it the Alves paradox.

With the Selecao already struggling to build a coherent defense, Alves' shortcomings were also exposed by Fabio Capello's Russia at Stamford Bridge a fortnight ago, where the space nicknamed "Alves Avenue" was also used by opponents. His weakness is less of a liability at Barcelona, though every team still targets him as he is able to compensate with impeccable attacking forays.

For example, Alves is Messi's biggest partner in crime, having assisted the Argentine at 33 goals so far -- ahead even of midfielder dynamos Xavi and Andres Iniesta. As a matter of fact, in five seasons and 261 games at the Camp Nou, the Brazilian has recorded 73 assists. His numbers for Brazil aren't bad either -- 12 in 59 -- but one should not forget how he was pipped to the number 2 shirt by Maicon at the last World Cup, as then manager Dunga thought he would be able to help much more in defensive duties.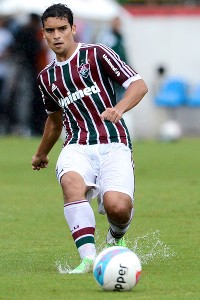 Buda Mendes/LatinContent/Getty ImagesSuch is the right-back issue for Brazil that the likes of Jean, a natural midfielder at Fluminense, have been tried on that problematic flank.

Luiz Felipe Scolari would love to have the same dilemma. In his tactical scheme -- a loose kind of 4-3-3 -- fullbacks that can defend well are welcome. The problem is while that Maicon these days is hidden in the depths of Manchester City's squad while other alternatives have failed to convince since the tenure of Mano Menezes in the national team. Adriano, another Barca player and a stronger left-back, was used as an understudy. Scolari resorted to having Fluminense's midfielder Jean as a possible improvisation on the right flank. Manchester United's Rafael is a name that quickly comes to mind but his nightmare game at the London Olympics final still seems a bit fresh.

It's easy to forget that Alves can rely on very different teammates at Barcelona, blessed with gifts like Messi's divine touch and Sergio Busquet's lungs, for example. There is also the issue of team chemistry: the Catalans are also as close as his family in daily routine while most of the time he meets his Selecao counterparts the team can only afford one practice session before friendlies. Finally, the uncertainty surrounding the squad as Neymar (Brazil's answer to Messi) is in what could be called a "annus horribilis" by his standards while Scolari is still scratching his head about who to pick in defensive midfield.

Alves himself has pointed out that the lack of competitive games before the World Cup is hampering Brazil, whose last official trophy quest was the 2011 Copa America -- we all remember how that ended, too, via a pathetic penalty shootout against Paraguay. It's a valid point, but in times when the Selecao is going through yet another confidence crisis, they could really do with Dani Jekyll instead of Alves Hyde.

Fernando Duarte is a UK-based Brazilian football expert who has followed the Selecao for 10 years and regularly features as a pundit for media outlets in Europe, South America and Asia. He's a Flamengo fan and can be found on Twitter @Fernando_Duarte.