Richer than God, reaching for credibility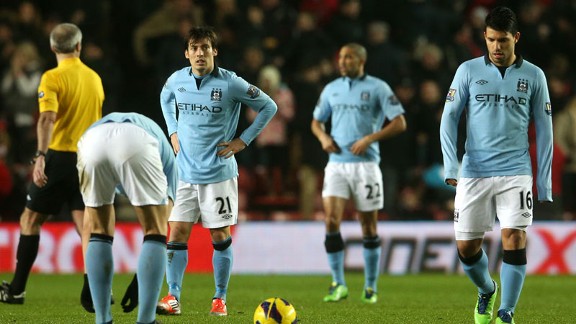 GettyImagesManchester City have struggled to perform as champions should this season
August's Community Shield was a sideshow. While Manchester City and Chelsea played at Villa Park, the nation was rapt by the final day of the London Olympics, the cause of the annual curtain-raiser being exiled to Birmingham.

Those flicking over from the climax of the Modern Pentathlon were greeted by a familiar sight. The game was played in a tetchy spirit, and City came back to win against a team down to ten men. Just like on May 13, the sunny afternoon Sergio Aguero's winner secured Blue heaven. With experience of a title-winning campaign to their name, and unmatchable resources, more of the same was expected from City. Somewhere along the line, they lost their way. Tactics have been strange, while star players have underperformed.

Despite not losing a Premier League game until the first Manchester derby of the season on December 9, uncertainty gripped City from the start. It took until October 6 for Joe Hart to keep a clean sheet. By then, the Champions League campaign was already heading west. Cristiano Ronaldo denied them at the Bernabeu, Borussia Dortmund dominated at Eastlands. A double-header with Ajax killed City off in Europe.

City are still reaching for credibility in the European game. They are far short of being accepted as part of the elite. It took Chelsea a series of forays deep into the latter stages of the Champions League and most probably winning the whole caboodle to gain that credibility. On Tuesday, the Arab-owned club duking it out with Barcelona in the quarter-finals was not City but Paris Saint-Germain, arrivistes with pockets just as deep, and with an 'in' with UEFA's top brass too. After two seasons of failure in the Champions League, City's latest UEFA co-efficient lies at 22, behind Zenit St Petersburg. They have dropped two positions. That previous 20th place is taken by PSG.

Roberto Mancini's ability to not care what anyone thinks of him is both his best asset and a glaring weakness. Single-mindedness has brought great success while creating big problems too. Vincent Kompany became an unlikely Mancini target when he chose to play for Belgium against his manager's wishes. Samir Nasri may have over-reacted to Mancini's joke that he would like to punch him, but Mancini was better served to recognise a fragile ego. Over in Milan, Mario Balotelli is enjoying life like never before. Even right-hand man David Platt received a volley as things fell apart at Everton last month.

Mancini has never hidden his annoyance about not landing Robin Van Persie, the same going for the failure to sign Daniele De Rossi. Instead, a C-list summer party of five arrived. Mancini has never been one to over-praise his players in the manner of certain other managers but greeting the new recruits so dismissively can hardly have helped to bed them in.

Jack Rodwell has been hamstrung, Scott Sinclair all but invisible. Expensive Javi Garcia's flashiness has not been nearly enough to forgo the loss of Nigel De Jong. Richard Wright fills a quota, Maicon is nowhere near the dominant performer of 2010. Only Matija Nastasic in central defence has succeeded, required too in the light of the 60-day absence of Kompany and Mancini's odd excommunication of Joleon Lescott.

Accepting an FA Cup as consolation would be beyond the dreams of any City fan until 2008 but this is the new City, whose owners are "richer than God", as Khaldoon al-Mubarak told author David Conn. Back in the days when Garry Cook was a grandiosely-titled Executive Chairman, there was much talk of "The Project", for which the clear targets were the Premier League title, and from there the Champions League. The end-game was dominance of the type Barcelona have achieved. Hiring Barca alumni in Tziki Begiristan and Ferran Soriano suggested so.

One title win is not enough recompense for the largesse of Sheikh Mansour and Mancini may not be the man to win them more. Unlike under Roman Abramovich at Chelsea, time has been granted to Mancini. Aside from Mark Hughes, incumbent when Abu Dhabi took over, Mancini has been their sole manager. He has delivered, but not without reverses. There have been whispers of other names being considered: Frank De Boer is the latest; Manuel Pellegrini, looking to escape the financial problems at Malaga, is another.

Yet these are not names from the top echelon. Pep Guardiola chose Bayern Munich, despite his former colleagues being in situ to make him feel at home. Jose Mourinho has shown little interest in City and made notably red eyes at the club he would most like to join while also courting a return to Chelsea. Mancini meanwhile, has been forced to deny repeated links that he will be given £170 million to spend at Monaco.

Whoever is in charge, and even allowing for the new stringencies of Financial Fair Play, far better transfer business needs to be done than last summer. Ridding the club of unwanted players on very high wages will be most difficult of all in the process of an overhaul.

United's FA Cup loss to Chelsea has robbed City of an opportunity to prove their continuing mettle but even if the title is gone - and all known logic suggests it is - they travel to Old Trafford on Monday with the chance to go down as champions should.

United, for all their relentless front-running and potential to break records, are yet to deliver the key-note performance that City produced on their patch last season. "It should have been ten" is City fans' keepsake song of the 6-1 win and though the 1-0 win on April 30 last year was yet more crucial, it was that first win that swung Mancunian power towards City for the first time since 1975. The swing back to United took less than a season. New champions often find retention of their title much harder than winning it in the first place. For City, Monday night can be no sideshow. It must be the first step in reclamation.