Galatasaray brave but outplayed at Bernabeu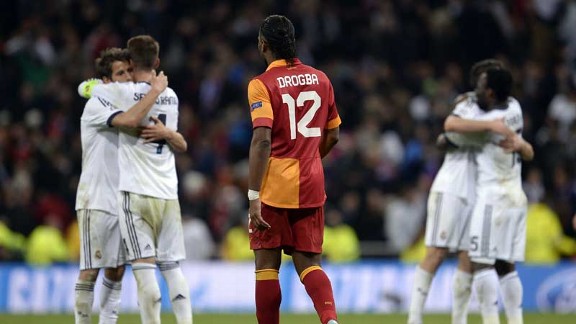 GettyImagesDidier Drogba looks on as Real Madrid celebrate their victory
Fatih Terim has been saying even Galatasaray's best domestic performance would not be enough in the Champions League. It took nine minutes before he was proven right.

At the start, things looked like going Galatasaray's way. Real Madrid were not piling on the pressure and they were not deployed in the opposition half and not executing their dizzying passing. Galatasaray looked solid, not sitting at the back, not relying on long balls. But a single opening was enough: Mesut Ozil found Cristiano Ronaldo with a pass that paralyzed three defenders, as he does, and Ronaldo executed a sweet finish after a ghost touch, as he does. There was no massive flop in the Galatasaray side, only a slight error of area-sharing. It was a bigger mistake which led to the second goal - Semih and Emmanuel Eboue failed to deal with a high ball and with a blink of an eye, it was 2-0.

- Rigg: Gala tactics play into Madrid hands
- Stats: Ronaldo seizes control for Real
- Mourinho pleased with defensive display
- Real thrash Gala, Malaga hold Dortmund

It's a clear picture: Galatasaray were confident up front, but in defence, this back four is simply not good enough and the midfield was too fragile to support them. The centre-back duo of Dany Nouneu and Semih Kaya functioned as normal, with one clumsy and error-prone and the other composed and plugging all holes. It was just that they switched roles this time: Dany, probably the lowest-profile player in all Galatasaray's transfers in the last year, was a strong presence. However, Semih was below his average while Albert Riera and Eboue were left with too much space and too much talent to cope with.

The second half was another story. Terim replaced Wesley Sneijder with defender Gokhan Zan in a move that only a no-guts-no-glory kind of coach like him could do. The idea was a 3-5-2, a formation which Galatasaray have not used at all this season. With long balls deployed and Real Madrid sliding deeper in their half, it was a game played on larger areas. Galatasaray dominated possession, they spent much time in other half, but still, it was the game Real wanted.

The visitors created so little in front of the goal. The midfielders could not find striking duo Didier Drogba and Burak Yilmaz and they could not find space for long-range efforts either. Playing against a Jose Mourinho side when two goals down is hard for any team, and it was all too much for Galatasaray.

At the end, Terim and virtually all Galatasaray fans were fuming at a few crucial errors by referee Svein Oddvar Moen. The Norwegian official missed a freak handball between Sami Khedira and Michael Essien in the area while Real were leading by two goals. He denied Burak's appeal for a penalty late in the game and showed a yellow card to the Turkish ace, which means he is suspended him for the return game. And the foul he called that led to Real's third goal was highly questionable.

True, the Lions would still have some claim in this with one away goal and they will definitely miss Burak next week. But truth be told, even with better officiating, Galatasaray would always be the second best. The way Real played the second half should tell Galatasaray something. Especially after a game where the possession and goal attempts of two teams are quite similar. Something about statistics and a miniskirt, anyone?

Perhaps it could be all very different had Eboue scored Galatasaray's only decent chance or Drogba managed to get a shot off in the closing minutes of the first half but, all in all, Galatasaray were outplayed. And in fact, they did not make life hard for Real Madrid at all. Terim stood by his mentality that brought the team to where it is and started with two forwards and a traditional number ten, which Sneijder has turned into.

Maybe Terim could have swapped two halves' XI's and spared Sneijder for a later punch to start with a more controlled side. But that is so unlike Terim, a coach who boasts winning the 2000 UEFA Cup at the very moment he wrote three forwards' names on the board at the Parken Stadium dressing room. And that is so unlike this year's Galatasaray, who, apart from the trip to Old Trafford, never had to cope with a remarkably superior opposition this season. Terim did not want to toy with the formation just when it was starting to click, but eventually, that XI were just too fragile for Real.

A 3-0 defeat should be disheartening, especially after the boosted expectations of the purchases of Drogba and Sneijder. And it's true that Wednesday night's Galatasaray will more likely be a footnote as Real Madrid march on towards a tenth continental crown. But still, it has been a historic run for Galatasaray. And if the Santiago Bernabeu lesson is learned well by the Turks, this could be remembered as an important chapter in Galatasaray's future European ambitions.