Caballero heroics give Malaga hope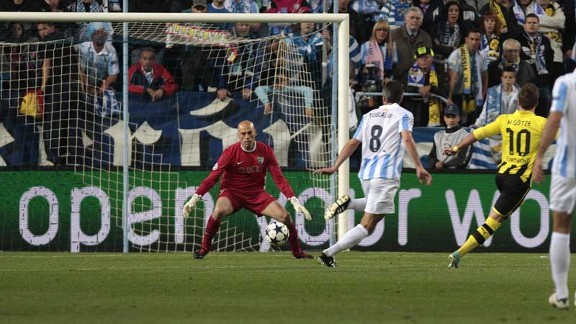 AssociatedWilly Caballero breathed new life into Malaga with each fine save
Malaga weathered the yellow storm on Wednesday evening to earn a 0-0 draw but know they'll need to be prepared for its return when they travel to Germany in a week. When they arrive, though, in tow they will have the knight of La Rosaleda.

- Uersfeld: Dortmund must smooth things out at home
- Real thrash Gala, Malaga hold Dortmund
- Stats: Ronaldo seizes control for Real
- Klopp still confident of progress

Manuel Pellegrini said before the game he'd taken great enjoyment from watching a team like Borussia Dortmund and the execution of their style, but after what he saw tonight, the pleasure will have been minimal. He will, however, be delighted with the fact his team came away without conceding and prevented the Germans from scoring for the first time in the Champions League this term, which can be attributed to the stunning performance of Willy Caballero.

The Argentinean goalkeeper, undergoing a fantastic season but still ignored by his national team, produced another stirring display in between the posts. Signed for just under €800,000 from Elche in 2010/2011, he was then playing Segunda football. Willy is another one of the sensational stories this season at Malaga, and in the opening half alone he produced five saves with half of them spectacular in the denying of clear chances.

Although the Dortmund finishing was weak, Willy's contribution couldn't be denied. Aside from his heroics, Malaga seemed to offer only seldom in terms of their identity. Pellegrini declared that travelling to Germany will show his side's true image, one that would not go against the values he represents. "I have no fear of seeking qualification in Germany," he declared in the post-game press conference, offering an insight into how he will inspire the players for the second leg.

The aggression, balance and desire to possess the ball will be the image Pellegrini was referring to, but of course they'll have the yellow swarm, and wall, to overcome at Westfalenstadion. "The first thing we must do is score. If we do that then it benefits us. It's essential we do," Pellegrini added.

Dortmund lived up to those expectations Pellegrini had of them, as Klopp oversaw his team in a vibrant, fresh and intelligent mood. This is even more impressive given the fact Klopp has used the least number of players in the tournament this season. The finishing was their only issue here, with the likes of Mario Gotze and Robert Lewandowski guilty of serious mishaps in front of goal. But Pellegrini insisted that Dortmund will play more open in the second leg, more so than Porto, which could play right into Malaga's counter attacking hands.

Interestingly, Malaga have now only won once in their last six Champions League games as they manage just barely to play beyond the limitations their squad permits. It showed especially in the opening 30 minutes, and it wasn't until the second half when they managed to settle the waters that Dortmund were intent on troubling them.

They'll be without two key men in Weligton and Iturra for the second leg, with Diego Lugano and Nacho Camacho the most likely replacements. It strains a squad that has been creaking all season, but has, to its credit, responded superbly. If Malaga can recover from selling their international full-back in the form of Nacho Monreal then they can easily react to a double suspension. Pellegrini said they'd been here before, missing players and without key members of the team, but once again they'll move on and get on with the task in hand. Real Sociedad awaits this weekend in the league and avoiding casualties there will be a priority, despite the intent on finishing as high as possible in the table remaining of great importance even though a UEFA ban hangs over them.

Although there will be absences, one person who will be present is Willy and it's him who the final plaudits must go to. His roar after each vital save seemed to breathe life into Malaga. As he made eye contact with the blue and white shirts in front of him, there was a serious sign of inspiration and emotion being transferred. The fans responded too with chants of 'Willy' around the stadium. In these desperate times they've seeked out heroes and found them in Isco, Joaquin, Pellegrini and again tonight, Willy.

The goalkeeper has his own inspiration though, in Pellegrini. "He changed the mentality here, for the players coming to Malaga... and the whole city". Willy gushed about his fellow South American, and said the flaws in his own game had been honed by Pellegrini. "He changed my own mentality and polished the flaws in my own game," he said. It seems everything at Malaga comes back to the Chilean and his influence over the players. Where the club decreased in status be it financial or with the sales of star players, Pellegrini has grown bigger and with it brought his players with him to these new heights.

Caballero in Spanish is known as gentleman, and more predominantly, knight. Malaga certainly had their knight in shining armour in the form of Willy.