Who, and what, is GoalControl?
It certainly didn't take advanced camera technology for many to see that Frank Lampard's looping shot bounced off the underside of the cross bar and unmistakably past the German goal line in Bloemfontein, South Africa, during the 2010 World Cup.

Some viewers caught it the first time; others needed only the advantage of a single after-the-fact studio replay to see that England should have been awarded a goal, one that would have seen them pull level with Jogi Loew's side at 2-2. This was no little mistake, either, as some felt it proved a decisive moment in England's fateful 4-1 loss in the round of 16 -- Fabio Capello's team were forced to maintain an intense attack for an equalizer, allowing Germany to score twice more on a lax English defense.

The incident was also embarrassing for FIFA, and the source of England fans' endless gripes for months and years to come (although some saw it as cosmic justice for Geoff Hurst's controversial goal against Germany in the 1966 World Cup final). The seeds were sown for FIFA to act to ensure such a critical decision would not be left to the mere mortal eyes of the referees.

As such, April 2 marked a major milestone for improved officiating as FIFA awarded the goal-line technology bid for the 2013 Confederations Cup in Brazil to a hitherto unknown German-based company named GoalControl.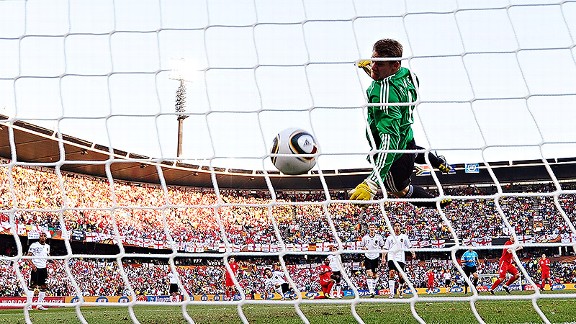 Jewel Samad/AFP/Getty ImagesThe disallowed England goal at the 2010 World Cup was the tipping point for goal-line tech. But can the unknown GoalControl handle the work?
The decision to use the 14-camera GoalControl-4D system came as something of a surprise. For starters, GoalControl beat out three other competitors for this honor, including British video tech giants Hawk-Eye, whose world-renowned work in tennis convinced many observers that they'd be a shoe-in for the opportunity. (The company for their part was gracious in defeat, releasing a short statement wishing "FIFA and the appointed GLT supplier every success ...")

GoalControl's system seems simple enough. A FIFA press release on the technology describes how "... the position of the ball is continually and automatically captured in three dimensions -- using X, Y and Z coordinates -- as soon as it approaches the goal-line. When the ball has completely crossed the line, the central analysis unit sends an encrypted signal to the referee's watch in less than a second. GoalControl-4D can be used with both standard goalposts and balls."

But the referee will still have the final say in awarding a goal.

FIFA said that GoalControl's bid satisfied their requirements for both suitability and price. The technology will cost a reported $257,000 per stadium to install and $4,200 per game to use. Moreover, FIFA cited its flexibility, ease of installation, and "ability to adapt to local conditions" in Brazil (they did not elaborate on specifics).

GoalControl owner Dirk Broichhausen emphasized these attributes yesterday, boasting that "our innovation, and also a difference looking to other competitors, is that we can use standard goals, balls and nets. There is no modification necessary." This will no doubt be music to the purists' ears.

Still, ardent conspiracy theorists may not be pleased with the paucity of information on how exactly an upstart German company no one heard of until last month managed to win a major bid from the world football governing body. GoalControl only received a FIFA license on March 1, and it appears that the company was formed as recently as November 2012, according to this link (GoalControl did not return calls for comment by press time).

Some Internet sleuthing provides a clearer picture of how GoalControl came to be. We know that GoalControl is an offshoot of parent company Pixargus, headed by Rene Beaujean, Dr. Jurgen Philipp and the aforementioned Broichhausen, all of whom are listed as GoalControl's lead employees on the otherwise barren GoalControl website. Pixargus, a company of a hundred or so employees (as of 2011), for their part specializes in "automated surface inspection ... for rubber and plastic extrusion." In other words, Pixargus developed a system for precise camera measurement. Their clients have included Audi, Volkswagen and Airbus.

There is also an interview with Broichhausen from December 2011 with Dutch newspaper BN DeStem in which he detailed how a disputed goal between Karlsruhe and 1860 Munich months before the 2010 World Cup spurred him to call his engineers about using video technology for football with Pixargus. Broichhausen first approached the DFA with the idea but was told it was under FIFA's jurisdiction. He then worked to develop his ideas further and was one of eight European companies tasked with developing the technology.

"The 2014 World Cup should be feasible" for its use, Broichhausen said, and they were clearly trialling the technology in late 2011; Pixargus discovered their video technology was susceptible to rain -- presumably this drawback has since been addressed. He also mentioned a six-figure cost for the technology but said FIFA were only concerned with reliability and accuracy.

None of this matters, though, until fans themselves get to see the technology in action this summer, although with the relative rarity of goal-line incidents there is a good chance it won't come into use at all. It will probably take another Bloemfontein for the doubters to be silenced on GLT's benefits, and even then there will be those who take issue with the machines. Even so, while those who pine for endless pub debates and who prefer the flawed humanity of a match official will never be satisfied, the rest of us who prefer goals to "goals" may have reason yet to rest easy.

Richard Whittall is the editor of Score Media's Counter Attack Blog; his work has appeared in Howler, Toronto Life and the Globe and Mail. You can find him on Twitter @RWhittall.