Player of the Year: Bale, Suarez or van Persie?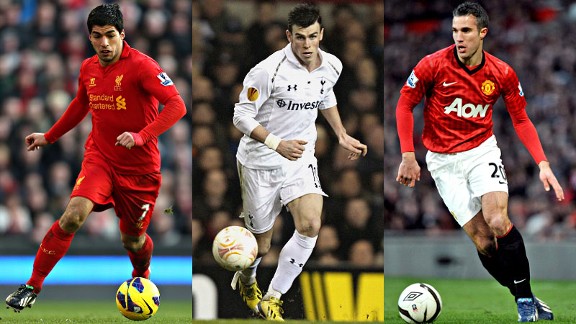 PA PhotosPlayer of the Year contenders Luis Suarez, Gareth Bale and Robin van Persie
With the PFA Players' Player of the Year award due to be handed out this month, ESPN FC run the rule over each of the three main contenders -- Tottenham's Gareth Bale, Liverpool's Luis Suarez and Manchester United's Robin van Persie -- and make a case for each to win the prize.

- Tactics and Analysis: Premier League flops

Luis Suarez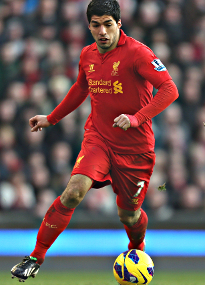 PA PhotosLiverpool's Luis Suarez
Kristian Walsh: Disregard, if you can, all the peripheral factors that bedeck Luis Suarez. Forget his velour touch, so mesmerising, hypnotic and downright fun; discount the controversy that courts him like a lovesick teen, rightly or wrongly. The Liverpool forward deserves to win the PFA Player of the Year award simply because there are few outside of his club who think he should.

Skewered logic, granted -- but this is a player who skews all rationality both on and off the pitch.

With the grass beneath his feet, he habitually does the improbable, slaloming through flailing limbs with belligerent glee. But such performances come heavily caveated from all corners with a rancour rarely seen in England before. Venom spits and profanities fly from adult men and women as Suarez is labelled a diver, cheat and things far worse.

Suarez cares little -- there is little point in pretending otherwise. If he did, he would already have left Anfield, his time there a distant, embittered memory.

With such a fierce, combative disposition, he probably cares little about winning the Player of the Year award, either. If he did, the allure would not come from obtaining the respect of his contemporaries -- it would simply be the confirmation that he is better than them all.

He is in a three-way race with Gareth Bale and Robin van Persie -- it is a race he can't win, won't win. He is not as clean-cut as the archangelic Bale, nor does he play for a team as successful as van Persie's. The players who would vote for him are unable to, as they still sit in a darkened room, rocking back and forth, tormented by the Uruguayan.

But Suarez should win. Statistics alone create a compelling argument. His 22 goals in 30 league games -- two hat-tricks included -- have won his side 12 points this season. He has scored a goal every 122 minutes and possesses a conversion rate of nearly one in six.

But to limit his talent to something as regimented as numbers is an injustice. He should not be shackled by the bondage of binary. He is an artist, a player who regards every Premier League stadium as a fresh canvas for him to daub upon. There have been few left untouched this season.

Suarez is not blessed with the efficiency of Bale or van Persie, but what he has is arguably better, for football is a sport that has become far too sanitised in recent times. The biggest flaw in many modern footballers is that they don't have one. Football, for all the machinations and melodrama, is fun -- there are few more fun to watch than Suarez.

He plays as any supporter would. He twists, turns and pirouettes with the ball; he contorts his face into a determined grimace without it, an expression that remains until his side have it once again. This is not just a player who has his heart on his sleeve, but uses his lungs as a waistcoat and his brain as his feet. Everything he possesses remains all over the pitch.

His mind-set is simple: do whatever damage possible in the most magnificent way. Few of his 22 league goals fail to elicit some sort of knowing, nostalgic nod. His goal against Newcastle at Anfield in November -- plucking a ball from obscurity, controlling it on his shoulder and rounding Tim Krul within a second -- is one of the more memorable ones. Words cannot give the goal, with all its skill, ingenuity and willpower, the description it deserves.

Words are not enough for Suarez himself and his performances this season, either. In an era when the cost of football has reached extortion, this is a player worthy of the admission price. That is what matters most to Liverpool, more than any Player of the Year award.

Gareth Bale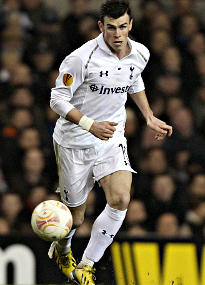 PA PhotosTottenham's Gareth Bale
Dan Fitch: Why is Gareth Bale the player of the season ahead of Robin van Persie or Luis Suarez? It's all about the journey.

Season after season Bale makes a huge stride forward. He's done so again during this campaign. In contrast, van Persie has arguably taken a step back. He was astonishing at Arsenal last season and started his Manchester United career in the same form.

Had he carried on in 2013 as he did in 2012, then there would be no debate as to whether van Persie should retain his crown. Instead, the goals have dried up, as the Dutchman looks to be tiring. It's unsurprising, having carried Arsenal last season, and then playing in Euro 2012 before joining a new club.

Ahead of van Persie in the goal-scoring charts and my current esteem is Luis Suarez. Unlike RvP, the Liverpool striker has upped his game this season. He's always looked a brilliant player, but it's been this term he's proved that he can cut it as a reliable Premier League goal scorer. Suarez has had a great season, but he's not the best player in the Premier League right now.

That man is Gareth Bale. What impresses me so much about the young Welsh international is how he rises to every challenge.

When people scoff when Bale is compared to Lionel Messi or Cristiano Ronaldo, there are some things that they should put into context.

Bale's achievements might not be on a par with his La Liga counterparts, but he's had much further to go in his journey to be talked about as one of the world's best.

He hasn't been helped by the great players of Barcelona, Manchester United or Real Madrid. Bale started his career in the Football League with Southampton before joining a then-struggling Tottenham side.

Nor was Bale a wide player playing in a front three, who had the comparatively short journey to a more central position that Messi and Ronaldo enjoyed.

Bale started his career as a left back. Then he became a winger in a 4-4-2 before finally switching to a central position behind the main striker midway through this season. That change came at half-time away at Norwich in a game that Spurs were losing. Bale scored a wonderful individual goal to earn his side a draw.

Since that game Bale has played ten more times and scored ten more goals. Many of those goals have been absolutely vital to Tottenham's eventual result, and nearly all have been spectacular in their execution.

In his central position Bale is absolutely unstoppable. He's far more difficult to mark, and when he gets the ball in space and runs at the defence, he's able to do more damage.

Unlike Messi, Ronaldo and indeed Suarez, Bale's play is pretty simple when you break it down. Fancy footwork and step-overs are rarely seen. Instead Bale relies on pace, close control and stunningly accurate finishing.

Robin van Persie is a great finisher, but can't score unless someone creates the chance for him. Suarez is far more able to create his own opportunities, but even he can't quite live up to Bale's ability to win games single-handedly.

That's why Bale should be the player of the season. He has become a match winner, as important to Spurs as Messi is to Barcelona or Ronaldo is to Real Madrid. A player who, when the chips are down, can grab the game by the scruff of the neck. He turns losses turn into draws and draws into wins.

Bale has won this award before. He became the PFA Player of the Year in 2011, when he first started to show that he could influence games at the highest level. He wasn't the best player in the league at that point, but he is right now. Bale deserves to be given his title back.

Robin van Persie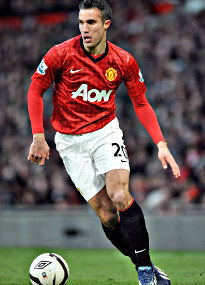 PA PhotosMan Utd's Robin van Persie
Musa Okwonga: He has failed to score for Manchester United in his last nine games. By his standards, he missed a late sitter against Real Madrid in the first leg of the UEFA Champions League that would have given his team a vital second away goal. By his standards, he also missed a late sitter against Chelsea in the FA Cup quarterfinal, a half-volley clearing the bar instead of drawing his team level. Yet, in spite of all those facts, Robin van Persie should still finish as the Player of the Year. The Dutchman, despite the exceptional seasons being enjoyed by Liverpool's Luis Suarez and Tottenham Hotspur's Gareth Bale, deserves this award because he flourished when the domestic battle was at its fiercest.

Whilst Gareth Bale has risen to world-class status with startling speed, it is the Uruguayan who is the strongest rival to van Persie. Like van Persie, he has carried his team's attack and allowed them to make the transition into a far better side. The only thing that counts against Suarez is that his team has not competed for the title; indeed, had he been at Manchester City this season, the league table would certainly look very different.

But these are hypotheticals; in support of van Persie's case, let us state the facts. Van Persie went to face Manchester City at Eastlands, a stadium where his team had failed to register a single shot on target in the equivalent fixture last season, and there, in his first derby, he curled home a last-minute winner, his deflected free-kick spinning clear of Joe Hart. He struck early against Chelsea at Stamford Bridge in his team's 3-2 win there early in the season, at a time when the Londoners were still contenders for the championship. He netted a hat-trick away against Southampton, where Chelsea and Manchester City both came unstuck. He scored the opening goal against Liverpool at Old Trafford, helping his team to achieve a rare league double over their most intense rivals; the first half of that double had been sealed by van Persie's 81st-minute penalty at Anfield, which delivered a 2-1 victory. He also found time to score with his first touch against Arsenal in the win at Old Trafford, and to get the first goal of the game against their city rivals Tottenham Hotspur in a 1-1 draw away from home.

Those are just the goals -- 19 of them in 27 Premier League games, not to mention crucial and sublime finishes away at West Ham in the FA Cup and SC Braga in the Champions League. Then there are the assists, with van Persie emerging as his team's leading creative force. He has been both their best number 10 and their best number 9. The last player to do that for Manchester United, to bestride the league with such swagger, grace and decisiveness, was Eric Cantona. Like Cantona, van Persie has restored Manchester United's aura. At many points this year, he has seemed like the character of The Wolf in Pulp Fiction: someone who can be sent in to redeem the most perilous of situations. In latter weeks, perhaps drained by his exceptional efforts, he has resembled Doc Holliday in the closing moments of Tombstone; the exhausted gunslinger, worn down by the pressure of his own continuous brilliance.

Van Persie has certainly flagged since January, having kicked for home very early, but he was so far ahead at one point that he could afford a stumble or two during the final lap. His exertions have helped to put United, in a season when they have come from behind numerous times, clear in the league by the remarkable margin of 15 points. This is why -- despite the sustained magnificence of Luis Suarez at Liverpool -- he must emerge, by a photo finish, as the Player of the Year.