PSG reaches maturity vs. Barca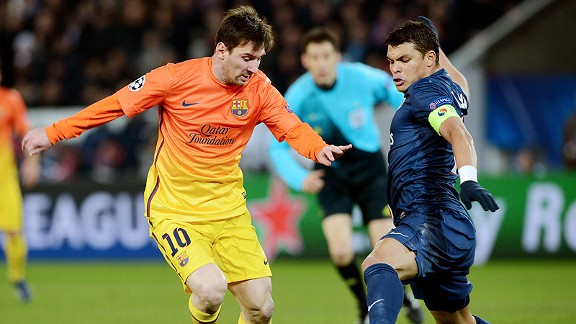 Franck Fife/AFP/Getty ImagesLionel Messi and Thiago Silva each played big roles in the PSG-Barca quarterfinal, first leg, leaving things intriguingly balanced for Round Two next week.
This morning I woke to a text from a former Barcelona player.

"PSG play out of their skin for most of the game. Messi goes off at half-time. And yet the only reason it finishes 2-2 is because of a goalkeeping mistake and Ibra's offside goal."

Fair? You be the judge.

As someone who argued that Paris St. Germain had a fair shot because of the way they match up against Barcelona, I felt somewhat vindicated by Tuesday's performance. Thiago Silva was a beast. Both Ezequiel Lavezzi (who hit the post) and Lucas Moura created problems in space. David Beckham did a job in midfield while his legs lasted before tailing off. Zlatan Ibrahimovic blew hot and cold but the score sheet shows he scored one goal, provided the assist for another and blew a golden opportunity.

- Lomas: Fearless PSG rattle Barca
- Tomas: A costly draw in Paris for Barca
- Johnson: PSG prove credentials against Barca
- Stats: Bayern and Barca secure advantage

And yet the game reaffirmed what we already knew: Quality matters as does chemistry. PSG haven't built a coherent rhythm to their game, and as such, they're not yet the kind of side manager Carlo Ancelotti wants them to be. Yet there's a whole mental side to the game, and this match could be remembered as a turning point for the club even if they don't advance to the semifinal.

Because ultimately, Lionel Messi's goal came against the run of play. And it came thanks to a moment of genius from Dani Alves, who at times looks on the wane and at times reminds you he is capable of brilliance. Superstars turn games, and when Dani Alves plays like that, he is a superstar.

PSG fans will say Barcelona's penalty was soft. In some ways it was, but the bottom line is that goalkeeper Salvatore Sirigu came out and dove unnecessarily at Alexis Sanchez's feet. The Chilean left his leg anticipating contact and the referee pointed to the spot. In today's game, that's a penalty whether we like it or not.

So what's next?

Barcelona have manager Tito Vilanova back after his medical leave for cancer treatment, and this is bound to have an impact. Managing via Web streaming and instant messaging is not the same thing. Vilanova was Pep Guardiola's tactician and can now make the adjustments that, at times, Barcelona failed to make in his absence.

But Barca also will likely miss Messi and Javier Mascherano for the return leg, and with Carles Puyol also out, it's a full-fledged emergency at the back and up front. Vilanova will have to choose between Marc Bartra, who is inexperienced but well-schooled in the Barca way, and Alex Song, who is not a natural centre half and hasn't exactly been pulling up trees since his move from Arsenal. Put either alongside Gerard Pique and pit them against Ibrahimovic in a game that Barcelona will still play on the front foot -- because that is how they play -- and it's something PSG will look to exploit.

Replacing Messi up front is obviously more problematic. David Villa had a poor night in Paris, but you'd expect he'll get the nod again in the return leg. The fascinating choice for Vilanova will be whether to include Cesc Fabregas in his front three and play for possession and movement -- the way Spain did at the Euros -- or to go with some combination of Cristian Tello, Villa, Alexis Sanchez and Pedro (who should be back from his injury).

As for PSG, Ancelotti needs to maintain the same intensity in the return leg. He'll have space, something PSG don't have in Ligue 1 and struggle without. The single biggest challenge will likely be finding a way to contain Barcelona's midfield. PSG were able to do so to some degree at the Parc des Princes thanks to a stellar performance by Blaise Matuidi, but he's suspended in the return leg. Marco Verratti is gifted but still a kid. Clement Chantome offers legs, grit and heart, but not necessarily the kind of quality you need against the best midfield trio in the world. You wonder whether Ancelotti will consider the option of moving Thiago Silva into midfield and hoping that Alex and Mamadou Sakho can deal with a Messi-less Barca strike force.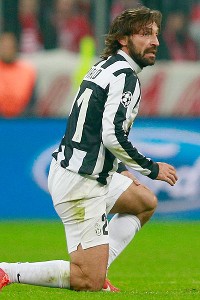 Joern Pollex/Bongarts/Getty ImagesAndrea Pirlo was unable to work his usual magic in midfield given Bayern's stifling attention, though the German side did leave the door ajar for Juventus in the second leg.

Whatever the case, PSG came of age on Tuesday night. As my friend pointed out, it still wasn't enough to beat Barca. But it was still key.

Juventus flat-footed, defeated: On Monday, I noted how Antonio Conte had decided not to rest his Juventus regulars in Serie A on Saturday. I wondered whether it could actually be the right thing to do -- despite being counterintuitive -- and if the chemistry and adrenaline from the Inter game would carry over against Bayern.

We now know the answer. It did not.

Bayern blitzed Juventus beyond David Alaba's early goal (helped by Gigi Buffon's miscue). Bayern were stronger, faster and simply better. As Giorgio Chiellini pointed out after the game, Juventus struggled to get out of their own half. In the first 45 minutes, it could easily have been three or four nil, such was Bayern's dominance.

Furthermore, Toni Kroos' injury after 10 minutes might actually have been a blessing in disguise for Jupp Heynckes. When it came to tracking and neutralizing Andrea Pirlo, Thomas Mueller was a better bet. He's big, awkward, hardworking and intelligent. Pirlo was erased completely, and even when he did have time and space, he was uncharacteristically inaccurate with the ball.

If there's any regret for Bayern, it's that they didn't close out the tie at the Allianz Arena. A two-nil victory is a huge edge, but it does leave the door open in the return leg. They could -- and maybe should -- have scored more given how well they played and how much better they were on the night.

Like the other tie, this one isn't over. An early goal for Juventus and it will be game on in Turin. But, of course, if the Juve we saw on Tuesday night shows up, there will be no contest.