Bayern experience trumps Juve
It had been heralded as the most wondrous tie of the round, but may well end up as the most one-sided. A brilliantly assured Bayern Munich are well on the way to the semifinals with a performance that was much more emphatic than even 2-0 suggests.

- Rzouki: Juve left for dead by a superior Bayern
- Stats: Bayern and Barca secure advantage
- Robben: We have a good advantage

What will be most galling for Juventus will be the fact that they simply didn't give a true account of themselves. This was a meek surrender to defeat from a side who have otherwise shown such strength to go an entire Serie A season unbeaten.

What will be most encouraging for Bayern, though, was that they didn't even have to be at their best to win so commandingly. At times, especially in the second half, they were almost casually strolling as they struck the ball around.

That, however, is not to say they didn't professionally do their job. Most notably, striker Mario Mandzukic often dropped into a holding role in order to abrasively win the ball back and ensure Bayern's superiority was maintained. It perfectly illustrated the pressing, passing game implemented across the team as a whole. What's more, it allowed them to overcome the injury to the usually vital Toni Kroos without any notable effect.

With the young midfielder having suffered a muscle tear and set to be out for the rest of the season, however, that may become more of an issue later on in the campaign.

Here, Bayern just brushed Juve off to maintain their balance.

To a degree, that reflected exactly the reality of what these teams are. Since this Bayern core started to come together around the summer of 2009, they have reached two Champions League finals in three seasons.

By contrast, this was only Juventus's second European knockout tie under Antonio Conte, with the first obviously coming in the last 16 against Celtic.

In that, the Italian side suddenly bore all the hallmarks of an otherwise fine team facing a quality of side they aren't usually accustomed to. Indeed, Juve almost looked like the Manchester United team they themselves subjected to such a reality check in the 1996-97 season. Not only did they fail to create a chance of note, they failed to get any kind of foothold on the game and always looked a step behind Bayern.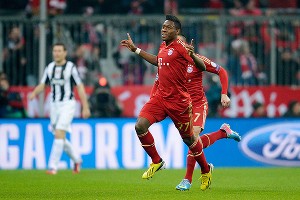 Dennis Grombkowski/Bongarts/Getty ImagesDavid Alaba's first minute goal sent Bayern Munich on their way to victory over Juventus.
Of course, the quick-fire David Alaba goal would have unfortunately affected any game plan, but then it's just as telling that Juventus were so disrupted by it.

In the long term, it's of no concern. The club just need to accustom themselves to playing teams of such quality again, and they won't get too many lessons as stark as this.

In the short term, though, it is troubling how far that anxiety spread and how badly some of their most experienced individuals were affected.

Gigi Buffon, for example, uncharacteristically slipped up to allow Thomas Muller to slot home for the clincher.

And, for the opening goal, Andrea Pirlo played a shockingly sloppy pass to open things up for Alaba.

Even worse, it was the first of many from the playmaker. Pirlo ended up with a pass completion of just 51 percent. It may just be coincidence, but the last time he had such an ineffective game was another against a passing-pressing team: the Euro 2012 final.

Bayern may not be quite as good as the Spanish side that beat Italy 4-0 in that match, but they're developing a justifiable reputation of their own.

This game will only fortify the perception that they are finally set to end a 12-year wait for the Champions League trophy they crave above all.

It is mental fortitude, however, that may be the only remaining barrier to doing so. As it stands, this Bayern team have still choked in three big continental occasions, while Arsenal ran them pretty close in the last round.

Juventus's only hope is to try to do the same.

Bayern's lead, however, should strongly mitigate against that.