Gala ready for Real battle at Bernabeu
Galatasaray against Real Madrid. Surely the end of the road for the Turks. Is it, though?

When Steve McManaman picked the small ball with Galatasaray's name contained within to pit them against Real in the Champions League quarter-finals, it was almost like time stood still for the Turkish delegation. Galatasaray CEO Lutfi Aribogan did not sport the wide grin he wore after the Schalke draw and could only make a facial impression, which was in fact a lifeless smile, after seconds had past. By his side, Umit Davala's face was completely frozen. Coach Fatih Terim's assistant, and a former Galatasaray star, was completely appalled.

- Train: Madrid aims to tame Lions of Galatasaray
- Hunter: Mourinho must maintain meritocracy
- Cox: Sneijder, Drogba cherish Jose connection
- Ronaldo: Gung-ho Gala could help Madrid

When speaking to the press, everybody says "there are no easy opponents at this stage" but clearly, most Galatasaray fans, the players and the board would want a different draw. A day after the Schalke victory, chairman Unal Aysal openly said he wanted to be pitted against the winner of the Malaga versus Porto tie. Frankly, apart from Barcelona, it was pretty much "anybody but Real" for Gala. But there is at least one man at the Galatasaray camp who relishes meeting the strongest.

As a coach who has built his career on assertions that his teams can match up the best, Terim will surely enjoy the idea of beating Real Madrid. In a famous press conference ahead of a Champions League game against Juventus in 1998, Terim urged his players "to make the headlines on CNN" and "to make history with a win in Turin." His quote "It's easy to lose, but a big deal to win" went on to become a catch phrase in Turkish football.

After the Schalke tie, Galatasaray are going to Madrid as a team that has exceeded pre-season expectations. But make no mistake, it's not that Galatasaray don't have unfinished business. By calling Real Madrid "the biggest team in the world," Terim made sure his team were made aware of the game's stature. However, he was quick to note Galatasaray themselves "have done things which deserve respect."

The Aysal and Terim partnership has brought Galatasaray back to their glory days. Before the two took over, Galatasaray finished the Turkish Super Lig in eighth spot and were closer to the relegation zone than the top. Two years on, Aysal plans to take Gala into Europe's top 10 and Terim wants the team "to be one of the biggest clubs in the world". What could be better than meeting Real Madrid to test themselves in their bid?

The same goes for individuals. A tactical battle between Terim and Jose Mourinho, two similarly ambitious characters, will be a highlight of the game. And what about a clash between the Champions League joint top scorers: Cristiano Ronaldo and Burak Yilmaz? The Turkish top goal scorer is clearly indebted to the Portuguese superstar, borrowing a few of his trademark celebrations and part of his style and swagger from CR7. He clearly wants to show the world that he is not at the top of the scoring charts by chance.

Similarly, Selcuk Inan will like to show just what he can offer. Arguably Turkey's only playmaker with a tinge of La Liga quality, Inan combines the accurate passing of a maestro with the energetic combative style. With him occupied at the left of the diamond, the centre will be left to Felipe Melo. With his booming form, the Brazilian should be trusted to cope with the backbone of Real Madrid but he will not succeed alone. Hamit Altintop, similarly in good form, and Inan are expected to break the passing patterns between the middle trio. Easier said than done, sure, but Galatasaray only have a chance if they can disrupt Real's midfield.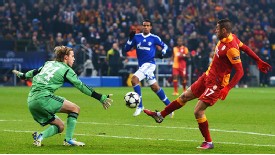 GettyImagesBurak Yilmaz: Joint top scoreer in the UCL
Compared to what Galatasaray have experienced this season, the Real game could only be compared to the group stage meeting at Manchester United. At Old Trafford, United took the game by storm and scored the opener without allowing Galatasaray to get into the game. Galatasaray are not the same team they were in September, but still, in order to avert the risk of an early goal, Terim will probably try to have his team send out a message early in the game.

This is an old trick of his: Start at a high tempo, push up front and try to control the ball early in the game just to disrupt the hosts' plans. If that works, Galatasaray will have a better chance than most predict. If not, Galatasaray will have to fight hard not to give away large spaces even after an early goal, which should be quite normal for Real playing at Santiago Bernabeu.

While Galatasaray will be alert to Real's breaks from the middle, it is likely that Mourinho will try to exploit the Lions' wings. With Emmanuel Eboue and Albert Riera, Galatasaray have energetic yet error-prone wing-backs and support from midfielders, Altintop, Inan and even Sneijder, is crucial. Eboue is, of course, more reliable, with plenty of experience at this stage, and was remarkable in the Schalke tie, but Riera is the bigger question here. Despite winning over the Gala fans by recreating himself as a defender at the age of 31, the Spaniard is sure to have a hard time if left all alone against Real's right flank.

Riera played in his natural left wing position, in front of Turkey's Hakan Balta for 25 minutes in the Super Lig fixture this weekend, and this could be seen as Terim observing how they will fare together, but there is little chance that the coach will leave Sneijder out to make room for a more defensive-minded side.

Riera, along with Sergio Ramos, Xabi Alonso and Alvaro Arbeloa, was a part of the Spanish team that beat Turkey, coached by Terim, twice in the FIFA 2010 World Cup qualifiers. Last week, Metin Tekin, a Turkey assistant coach, recalled how Terim prepared to meet the European champions at Santiago Bernabeu in 2009.

"I gave a report to him saying that we should play a controlled game and he looked convinced," Tekin said. "In the morning he came and said 'We will play with two forwards'." That's classic Terim and in four years there is not much indication that he has changed.