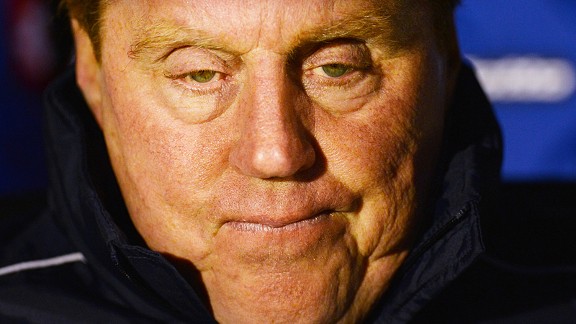 GettyImagesHarry Redknapp remains defiant but QPR seem destined to return to the Championship
Queens Park Rangers were attempting to play hurry-up offense in the dying embers at Craven Cottage but their hopes were ebbing away. Fulham were winning a series of throw-ins and Sascha Riether was rather taking his time over them. Rangers, 3-2 down but back in a game that looked lost very early on, had been unable to profit on the man advantage they had after Steve Sidwell's sending-off, having already missed a penalty. The momentum of goals either side of half-time had been spurned.

Referee Lee Probert's final whistle put Rangers down amongst the dead men of the Premier League. A glance at form-lines suggests that the required total to stay up will be 38 points.

"Miracles are if you're a cripple and I touch you and cure you. That's a miracle," said Harry Redknapp, whose defiance was tinged with anger. "Or if I turn a loaf into whatever. No, it's not a miracle that wins football matches. It's difficult, but we've got to try to win five games, or four games and two draws."

The defeat at Fulham was a microcosm of Rangers' entire season. They had given themselves too much to do, and fallen short when fate had been in their hands. Redknapp might point to the perilous position he inherited from Mark Hughes, and he was not accepting full personal blame for his team's perilous position after losing at the Cottage.

"In the first half we gave away the three worst goals you could ever wish to see," he said. Christopher Samba was the night's scapegoat, less for the two mistakes that granted Fulham an early two-goal lead, but what sounded like a clear defiance of Redknapp's philosophy.

"When they've got 10 men and we're murdering them with 11, you've got to play," Redknapp said. "I don't want to start lumping it into the box into Samba. You've got to use that spare man, you've got to pass, you've got to be patient. Suddenly, because he went up front, we started thinking we've got to lump the ball up there. That's not how I wanted to finish the game."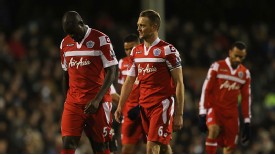 PA PhotosChris Samba and his QPR team-mates trudge off after defeat left them seven points adrift
It sounded like the defender had gone rogue. Why had Redknapp not stopped him charging forward? Here was another ill wind blasting an already sinking ship. Redknapp was singling out Samba, whose £12 million transfer from Anzhi Makhachkala had to be paid straight out, no instalments, whose salary is said to be £100,000-a-week and meant that Peter Odemwingie was left hanging on Loftus Road on transfer deadline day. Redknapp's comments were a dissociative reaching for the rubber dinghy.

A mantra is being prepared. He only took over in November. The club was in a mess. They hadn't won a game. There were players who weren't prepared to fight for the cause. Who brought in those players? We gave it a go but we didn't have enough. Fans of Southampton may recall similar utterings from the 2004-05 season.

Nigel Adkins could say similar things and with more justification. Reading face the same fate and he has had only one game in charge. Saturday's defeat at Arsenal, his first match, was damning evidence of impending demotion. His new team did not regularly progress beyond the halfway line until they were three goals behind. None of them looked good enough to play Premier League football. Very few of them possess the quality to be transfer targets for next season's Premier League clubs.

"We'll take one game at a time," Adkins repeatedly said in front of a press pack that grew ever more bemused and amused. "We will analyse it now, debrief back with the players, take the lessons from it and work very hard on the training ground for the next one."

Adkins promised to "work through the process of winning football matches", the type of management speak you would not hear from Redknapp but in its own way, no less defiant. That Adkins is at Reading has come as a surprise to his confidantes. News of Neil Warnock leaving a vacancy at Leeds United broke during the Fulham-QPR game, a job that many believed was destined for Adkins. Instead, he has imported his indelible positivity to Reading after their fate already seemed sealed.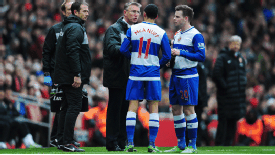 GettyImagesNigel Adkins is looking to instil a positive mental attitude at relegation-threatened Reading
"I still want to be managing in the Barclays Premier League," he said on Saturday, but he must know he has just seven games left to do so. With Reading and Rangers needing loaves and fishes to survive, all those clubs under 12th in the table are still fighting for survival.

On the evidence of Sunday's loss to Liverpool, Aston Villa will be caught out by their inexperience. Monday saw the club's kids crowned NextGen champions but that group of under-19 players will be starting life in the Championship if glaring mistakes like Nathan Baker's foul on Luis Suarez for the match-winning penalty continue.

Sunderland took decisive action in removing Martin O'Neill, and then doubled the shock factor in turning to Paolo Di Canio. The distractions caused by the political leanings of their new manager might yet be destructive. Any team with Di Canio involved in its ranks is a wild card. The new Sunderland are an unknowable unknown.

Alan Pardew thought he knew. "That's done, we won't worry about that now," he said of Newcastle United's struggle for safety - on March 11. Then, his team were nine points clear. Now, they are just three clear, and his team is both wearied and distracted by the Europa League.

Wigan Athletic's experience in this situation gives them a whip hand, and they can all but end QPR's hopes on Sunday. However, they too might be distracted. A trip, possibly two, to Wembley, may be difficult to shake from their players' minds. Norwich are on the brink of safety, but have won just one Premier League game in 2013. The growing dissatisfaction at Stoke may yet bring them down.

Struggles face all concerned but Rangers and Reading look dead already.