Mourinho must maintain meritocracy at goalkeeper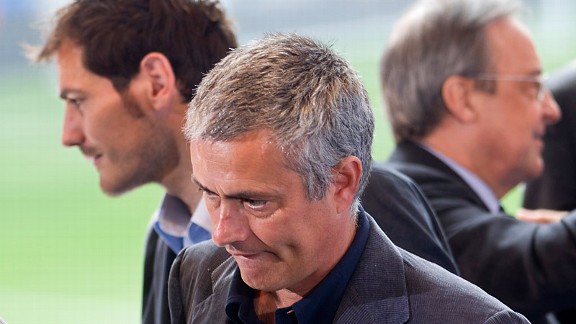 AP Photo/Paul WhiteThe tension between Iker Casillas (left) and Jose Mourinho has come to a head this season, and now the manager has a decision to make now that his captain is fit.
Fortunately for Jose Mourinho -- and vicariously for Diego Lopez -- the Iker Casillas situation at Real Madrid remains clear cut now that he's about to be fit enough for duty again.

Mourinho and Casillas have had an increasingly antagonistic relationship, peaking this season. It has done damage to Real Madrid's title defence that there is disharmony between captain and coach.

But Iker's injury at Valencia has meant the re-purchase and successful re-integration of Lopez. It is kudos to Mourinho, who suggested Lopez, that he's identified, carried out and then properly supported the right stop-gap solution to what could have been a calamitous problem.

Initially Lopez looked shaky. Hardly surprising. He'd finished a relegation campaign with Villarreal and followed it with an apparently ideal move to Sevilla, where he was almost immediately kept out of the team by 38-year old Andres Palop.

To be recalled to base (Lopez was a youth and then backup keeper to Casillas for seven years from 2000) must have been tempting, rewarding and nerve wracking in almost equal proportions.

How he performed in crucial matches -- two each against Manchester United and Barcelona -- was his first litmus test and he will have known that, clearly.

No matter that 'San' Iker is a proven good teammate (he's earned the trust and respect of Pepe Reina and Victor Valdes at the international level), the spectre of the Madrid legend and club captain returning to fitness and urgently seeking re-instatement was always going to cast a heavy shadow over Lopez's work -- more so if his form was patchy.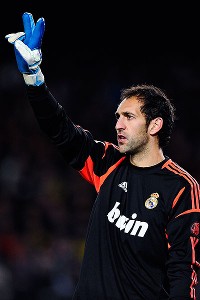 David Ramos/Getty ImagesDiego Lopez's performance as a stand-in for Jose Mourinho has earned the praise of Sir Alex Ferguson.
The 31-year-old Spaniard -- who's only six months younger than Casillas -- has grown more convincing week by week and absolutely excelled in the two ties which eliminated Manchester United. Indeed, Sir Alex Ferguson did his friend Mourinho a favour by stating that not only had the stand-in keeper won the tie for Madrid but that Casillas, in the Scot's view, wouldn't have made some of the saves. That's his opinion.

However Lopez has done enough, if it is a meritocracy at the Santiago Bernabeu, to keep his place.

Most of those who doubt Mourinho's relationship with Casillas obviously view this as fortuitous for the Portuguese but it would be stone wrong if, having played so well in the captain's absence, Lopez was simply discarded because the more experienced man is fit again.

In a normal situation it's probable that the stand-in would be given a couple more matches and then be gently told, "There's a legend who has proved his worth in trophies to club and country breathing down your neck, you've done well so far and we'll be rewarding you with an extended contract ... but stand down for the moment, please."

However Mourinho's words after the 1-1 draw in Zaragoza at the weekend that: "If he continues playing like this then, honestly, it will be hard to see him being removed from the first choice goalkeeper," aren't unfair.

Casillas will either return to the bench Wednesday or Saturday, and then it will be up to Lopez to maintain his competitive excellence.

It just so happens that although Galatasaray have different types of threat across their team, and it's Burak Yilmaz who is their (and the tournament's) leading scorer with eight goals, Didier Drogba will post Real Madrid an aerial threat.

The Ivorian is devastating when at peak and although he recently admitted that it'd be a lie to say he was at 100 percent, one of the things which has made him special throughout his career is an unnerving ability to produce special performances whether or not he's in perfect shape.

His headed goal in the Champions League final last May, an utterly brilliant production scored at an improbable time from a still more improbable angle, was the most recent top-flight proof that he's quite superb in the air.

In Real Madrid he will undoubtedly see potential victims because they are so prone to conceding from the ball crossed into the box.

Lopez, in his favour, is significantly taller than Casillas and is far happier coming out to try and take or intercept crosses. No way is this his specialism but it's one of the few areas where, like for like, he might have a slight edge on his teammate.

Perhaps that will count in favour of Madrid across these two ties -- if he can help snuff out Drogba's aerial danger, it most certainly will.

Despite how ignominious this will feel to Casillas, he's seen it all before.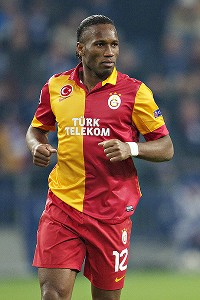 Getty ImagesDidier Drogba's aerial threat cant' be ignored, giving Diego Lopez an edge over Iker Casillas.
Although it's well known on the Spanish circuit that Fabio Capello, while winning the second of his two La Liga titles with Madrid, wanted to sell Casillas and replace him with Lopez (then in the dog days of his first spell at the Bernabeu), it's really more than 10 years since his place has been genuinely under threat.

Interestingly enough it was his current Spain coach, Vicente Del Bosque, who swithered all season between Casillas and Cesar Sanchez back in 2001-02.

Then having been dropped against (ironically) Mourinho's Porto, Casillas got only two more starts all season as Del Bosque put total faith in Sanchez.

Come the Hampden final of the Champions League against Bayer Leverkusen, Casillas was benched again. Real Madrid led 2-1 thanks to Zinedine Zidane's sublime volley but just as the German side rallied and took control of the match Sanchez succumbed to injury.

Casillas came on and played an absolute blinder. I was at that match and the sense of Leverkusen vs. Casillas was overwhelming as he saved with most parts of his body and swept the ball off the line when a goal seemed infinitely more possible on a number of occasions.

I'd only say that if Mourinho plays it straight, gets his management style right, then if Madrid make it all the way to Wembley and something befalls Lopez before or during the game, then Madrid have someone who can be counted on to keep himself sharp, to give them a winning edge.

Over to the Special One to play things straight and fair with the greatest goalkeeper in Real Madrid's, in fact Spain's, history.

There must be no hint of a grudge, no double dealing. And should Lopez drop his game in the meantime then Casillas must be reinstated. Madrid the meritocracy under Mourinho? We are about to find out.