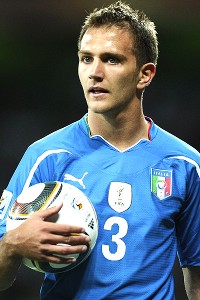 GettyImages / Filippo Monteforte/AFP/Getty ImagesDomenico Criscito, seen here during the 2010 World Cup, was unable to play for Italy during Euro 2012 due to the Last Bet scandal.
For Domenico Criscito, it was like the film "The Shawshank Redemption" or, if you will, the Count of Monte Criscito. "The kind where they put the blame [for a crime] on someone who has nothing to do with it," he told La Stampa, "only that someone was me."

Let's go back to that drizzly gray Monday morning in Florence on May 28.

It's 6:20 a.m. and a blue Fiat Bravo and a BMW have pulled up outside the gates of Coverciano, the home of Italy's national team, which at the time was assembled within its leafy environs for a training camp before Euro 2012. Criscito is asleep in the room he is sharing with fellow defender Andrea Ranocchia when there is a knock at the door. It's the police.

They have a warrant to search his belongings. The Zenit St. Petersburg left back is under investigation as part of a new development in the Last Bet scandal. "I remained shocked," Criscito said. "Having never done anything bad in my life, I never expected it."

A meeting is held with Italy coach Cesare Prandelli and the vice president of the Italian Football Federation (FIGC), Demetrio Albertini. It's decided that Criscito will be left out of the 23-man squad for Euro 2012. He will miss the finals in Poland and Ukraine. "I am not taking Criscito because he would have been under pressure that no human being can bear," Prandelli explained.

They had seen the 25-year-old in deep distress that morning, but while Criscito admits he was in a state of shock at the time of their meeting, he also feels the choice not to select him was perhaps made too hastily, because just a couple of hours later, he'd pulled himself together and, after all, he had his conscience in place.

Still, the FIGC feared that magistrates might call Criscito in for questioning during the tournament and disrupt the squad, even though assurances had been given to his legal team from the authorities that he could participate at Euro 2012 and a hearing could wait until after Italy's return.

There was much confusion at the time over why Criscito had been excluded from the squad and teammate Leonardo Bonucci hadn't, considering how he too had been implicated in another strand of the Last Bet scandal, only to clear his name after the tournament.

"If I had gone to Poland," Criscito told La Repubblica, "I would have been able to put that nightmare immediately behind me. Instead, I spent months in hell. I went to bed on a night with that absurd morning in my head."

Now he can at least sleep a little easier. Earlier this week, magistrates in Genoa, who'd launched an investigation amid the suspicion that there'd been an attempt to fix the Derby della Lanterna on May 8, 2011, dismissed the case.

A wiretap in which Genoa's capo ultra Massimo Leopizzi claimed to have heard a rumour that a number of Sampdoria players had met some of their Genoa counterparts for dinner before the derby and had expressed their willingness to pay them to let their relegation-threatened side win the match and help toward their survival in Serie A was considered to be insufficient evidence. Not least because Sampdoria lost 2-1 and eventually went down.

Criscito "discovered from what they said on Twitter" that he and his former teammates Rodrigo Palacio, Dario Dainelli and Omar Milanetto had been cleared. Asked if he felt relief or anger, Criscito told La Repubblica: "Neither one nor the other. Now I expect magistrates in Cremona to archive Lazio-Genoa. I am also investigated in that case for a photo."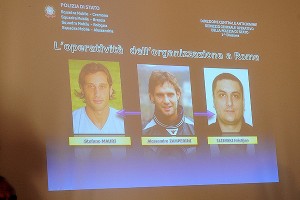 GettyImages / Oliver Morin/AFP/Getty ImagesA Cremona prosecutor presented a screen detailing a probe into alleged illegal betting in which Lazio captain Stefano Mauri and other top players were arrested.
Indeed, on May 10, 2011, Criscito was caught on camera in a compromising photo outside a local restaurant, the Osteria del Coccio. Teammates close to the fans had told him that Leopizzi and another capo ultra, Fabrizio Fileni, had asked to meet him to discuss the performance against Sampdoria two days earlier.

"They wanted to speak with someone to get an explanation on our presumed lack of effort and because of arguments between some of my teammates and the Gradinata Nord."

While there, he claims to have unexpectedly come across teammate Beppe Sculli, who was then on loan from Lazio, busy talking to a person Criscito insists, "I don't know," a person under surveillance by police from Alessandria -- hence the photograph -- who magistrates in Cremona believe to be central to an attempt to fix the game between Lazio and Genoa four days later.

"I found myself in the wrong place at the wrong time," Criscito insisted to La Repubblica. He maintains that he had no idea what he might be stumbling upon. "Perhaps Criscito didn't know," wrote La Gazzetta dello Sport on the basis that in contrast to the others implicated in the case, there's "nothing else" other than the photo that links Criscito to it. His alleged part in it begins and ends there.

"Is a photo enough to prove a criminal offence?" Criscito asked.

There's understandable bitterness on his part at the way he has been treated. But he harbors no resentment toward the FIGC and Italy's management. While Criscito might well have been wronged like the Count of Monte Cristo, he certainly isn't out for revenge.

"I never stopped supporting the national team. ... It's up to me to deserve [another call-up]. The blue shirt is the maximum. I have started the season well with Zenit and I want to continue that way. On October 3, there's the Champions League [match] with Milan. I hope that it's the prologue to my return to Coverciano [ahead of Italy's next World Cup qualifiers].

"In the meantime, I am enjoying this day: My son is 8 months old and sooner or later I will have to tell him about this story. He will have to know that his father did not miss the European Championship because he sold games."