Super Silva ready for Barcelona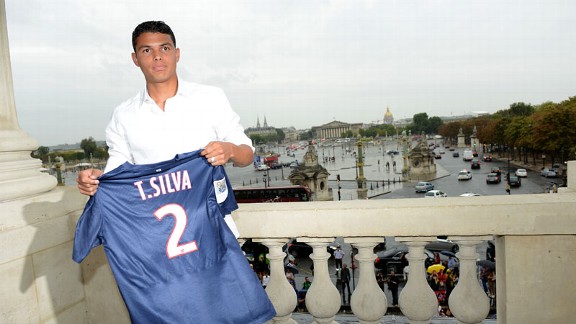 PA PhotosThiago Silva is considered one of the world's best defenders
Even taking Paris Saint-Germain's wealth, resources and history against Barcelona into account – this week is as good a time as any to reminisce over the thrilling 1995 win over Johan Cruyff's Dream Team as any – this is a week like no other. Having made headlines in the 19 months since Qatar Sports Investment (QSI) took the reins, the big-spenders will need to conjure up another legendary performance to continue in the Champions League.

The mood inside the dressing room at Camp des Loges, PSG's training ground in the city's western suburbs, is significantly more positive than many might assume, as well it might be under a leader as inspirational as Thiago Silva. The 28-year-old has quickly become the capital club's totem; a natural captain despite his lack of French.

As much was clear at the end of the Parc des Princes draw against Valencia last month, which sealed their place in the last eight. Returning from a month out with injury straight into the deep end of holding back a Valencia comeback, Silva sank to the turf with a mix of joy, relief and fatigue. To a man, his team-mates piled on top of him. Yet even if the Parc exploded with delight at returning to Europe's top table, their captain is not shocked that they have done so in a first Champions League campaign in eight years.

"No, it's not a surprise," he told ESPN FC in London last week, "because we're confident in ourselves, and in the work that we're doing." Flourishing in the Champions League is, according to Silva, not just a product of the presence of players such as himself and Zlatan Ibrahimovic in the squad, but down to the experience of Carlo Ancelotti.

"We believe in the management team," he added. "And they've got us on the right road, but now we're going to take on the best team in the world in Barcelona. Still, when you keep your composure, you can beat the best."

That is exactly what PSG will have to do if they are to emulate the class of '95 and again beat Barça to a place in the last four. While many will focus on the prospect of Ibrahimovic facing his old club – and the only team with which he is often perceived to have failed, however unfairly – Silva is keen to underline the quality throughout PSG's ranks, clear in moments like Kevin Gameiro's assist for Ezequiel Lavezzi's crucial equaliser against Valencia in Paris.

"We've got a really good squad," he insisted. "And all of them are working really hard. (With Brazil's game with Russia being scheduled earlier, on the Monday) we've had more or less seven days to prepare for the crucial game with Montpellier, and then for this one."

It was the oft-unheralded Gameiro who decided that game with Montpellier on Friday night, leaving PSG seven points clear as they prepare to welcome the Catalans. Silva, who suffered difficult spells with Porto and Dynamo Moscow before returning to Europe to win Serie A with Milan in 2011, is determined that the importance of sealing a first Ligue 1 title in 19 years should not be neglected.

"I believe that we're entering the decisive part of the season and the next five games will practically definitively decide who'll be the champion of France," he emphasised. "But we have a good, strong desire. We just have keep our calm, and everyone has to keep playing in the way that they know best."

It has been a busy programme for Silva personally since he returned from injury, not least with Brazil, and he also fulfils the role of captain for the national team. Luiz Felipe Scolari is still searching for a first win in his second spell as coach after three games, following draws against Italy in Geneva and Russia in London – both the result of flat performances that attracted widespread criticism back home.

Silva is sanguine, preferring to praise the quality of Brazil's opponents. "They were two difficult games," he said, "against two teams coming from very different schools of thought to ours, but the way Italy and Russia work on a technical level isn't so different." The defender is a fan of Fabio Capello's work in Moscow so far, too. "They (Russia) had more or less the same idea of how to play the game as Italy," he suggested. "We saw a team that's grown a lot, that's very well prepared, that haven't even conceded a goal in the qualifiers up until now. People know the difficulties that we came up against (here in London), but I think the result we got was deserved."

Certainly if more of Brazil's squad shared the poise and keen analytical eye of Silva, a host nation of 200 million inhabitants would be a little more confident that the summer of 2014 will end more happily than that of 1950. So what, finally, is the plan to topple Barcelona?

"Concentration," he said with some certainty. "Concentration is everything." With Thiago Silva, we would never expect anything less.