Fifteen years later, Heynckes & Conte meet again in Champions League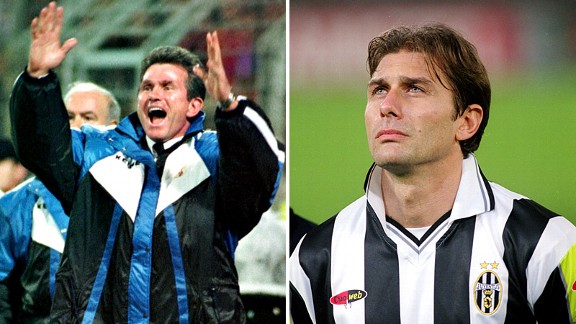 AP Photo, Getty ImagesIn 1998, Jupp Heynckes, left, coached Real Madrid to the Champions League title, beating a Juventus side led by player Antonio Conte. On Tuesday, they face off as managers when Juve visit Bayern Munich.
It hurt. It really did.

Juventus had just lost their second Champions League final in a row. The year was 1998. The venue the Amsterdam Arena; their conquerors Real Madrid, a team they had beaten in the quarterfinals two years earlier on their way to winning the competition.

An opportunistic goal from Predrag Mijatovic, who pounced on a deflected Roberto Carlos shot in the 67th minute, was the difference.

Antonio Conte had come on for Juventus a short while later in an effort to rescue the result. Alas, it wasn't to be. Journalists heard him and teammate Angelo Di Livio expressing their anger and frustration at the final whistle. Used to winning, they were bitterly disappointed.

- Rzouki: It's time for Bayern Munich
- Schaaf: Jupp's options a luxury?
- Nine-goal Bayern focused on Juve
- Conte: No fear

Borussia Dortmund had got the better of them in Munich the previous year, another team that this generation of Juventus players had beaten when it mattered -- and as recently as the 1995 group stage, and the 1993 UEFA Cup final too.

While a German team hadn't vanquished them this time, one of their coaches had. This should have been Real Madrid manager Jupp Heynckes' finest hour. Instead there were mixed emotions. With Real Madrid fourth in La Liga, it was an open secret that he was out and Guus Hiddink was in.

"I've won the Champions League. I'm first in Europe and you continue to ask me if I'm leaving or not," Heynckes said in his post-match press conference. "This isn't right."

Mindful of how Dortmund had moved Ottmar Hitzfeld upstairs after he won the Champions League in 1997, Juventus director Roberto Bettega quipped: "It's the second time in a row that we've been beaten by a coach who has already been sacked."

Fifteen years later, the protagonists of that evening in Amsterdam meet again in the quarterfinals of the Champions League. Conte is now in charge of Juventus and Heynckes of Bayern Munich. There's more than a sense of deja vu to it.

Heynckes isn't to be sacked, but retired off in the summer to make way for Pep Guardiola. Once again, there's sympathy for him. Saturday's 9-2 win over Hamburg, the biggest Bayern have recorded in the Bundesliga since April 1988, served to underline just how formidable his team really are.

Had rivals Dortmund not beaten Stuttgart over the weekend, Bayern would have won the title earlier in the season than anyone in the 50-year history of the Bundesliga, including themselves in 1973 and 2003.

But there was to be no beer shower. And maybe that's just as well. For much of last week at Bayern was spent discussing whether the club should hold a party if they did win the Meisterschale and how the inclination to celebrate might have impacted on preparations for their quarterfinal with Juventus.

Drawing on his own experience, Bayern director of sport Matthias Sammer was glad they hadn't wrapped up the league just yet.

"We would have risked repeating Juventus' error in 1997. They arrived in the final in Munich against [his former club] Dortmund on the wave of celebrations for the league title they'd just won. Juventus were a great team who, without that dip in tension, would never have lost the final."

Avoiding that fatal lapse in concentration is at the forefront of the Bayern players' minds. Even the 9-2 win was problematic because, viewed from one perspective, it might make them overconfident and lull them into a false sense of security.

"When you win 7-0 or 8-0 it's possible that you're not then at maximum concentration," Bayern captain Philipp Lahm said. "But in the Champions League this mustn't happen."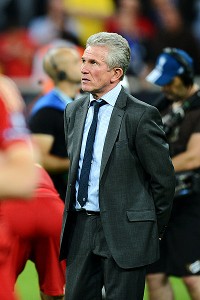 Adrian Dennis/AFP/Getty ImagesHeynckes and Bayern still feel the sting of losing last year's Champions League final at home.
The psychology of this encounter is fascinating. Bayern have lost two of the last three Champions League finals. They have been runners-up five times, the most in competition history, an 'honor' they share with Benfica and -- of course -- Juventus.

Last year's final was a heartbreaker. Defeat to Chelsea on penalty kicks in front of their own fans at the Allianz Arena will live with Bayern until they avenge its memory. A week earlier they'd lost the German Cup final to Dortmund, who'd also beaten them to the Bundesliga for a second straight year.

Once typecast as cocksure and mentally tough, German sides are arguably developing a reputation as beautiful losers. Take the national team, for instance. They fell to Spain in the final of Euro 2008 and did so again in the semifinal of the 2010 World Cup. Expected to go past Italy at the same stage of Euro 2012, they flopped.

That game has a particular resonance ahead of Tuesday night's game. Seven of the players who started for Germany on that night in Warsaw were from Bayern. Six of Italy's starters were from Juventus.

As an experience, it may have a significance that's both personal for those involved but also historical, because after the 1970 World Cup semifinal in Mexico City, the 1982 final in Madrid and the 2006 semifinal in Dortmund -- another scarring, hard-to-get-over defeat suffered by Lahm and Bastian Schweinsteiger in their own backyard -- it further reinforced the idea that Italy are to Germany what kryptonite is to Superman.

Bayern aren't Germany, though. Nor are Juventus Italy. This is different and as a game has a character and complexity of its own. Still, there's a discernible wariness on Bayern's part. "After Barcelona it was the worst [draw] that could have happened," Karl-Heinz Rummenigge said.

"If we play like we did against Arsenal," Franz Beckenbauer added, "we'll go out in the quarterfinals. It's 50-50 with Juve and I don't like how the second leg is away from home."

If there are cracks in Bayern's psyche, a brittleness to their brilliance, then they may have met their match in Juventus. This is a team that isn't scared of anyone, one that, according to Conte, is heading to Germany with "no nagging doubts or fear" but a relish to find out "how far we still are from the level of the top European teams."

Juventus want to test themselves. They won't shy away. Mentally, they're as strong as they come. You don't go an entire season unbeaten in the league as Juventus did last term if you're not.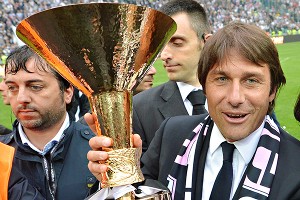 Giuseppe Cacace/AFP/Getty ImagesWinning the Scudetto in 2012 was a major step for Conte in restoring Juve's place among Europe's top teams.
It comes from a rediscovery of their identity, a renewed sense of the club's history that started with the return of an Agnelli to the presidency, the appointment of a legend like Pavel Nedved to the board and then Conte to the bench 18 months ago.

Each of them knows what it means to represent Juventus. The club motto, "Winning isn't important, it's the only thing that counts" is the code they live their lives by. And it has been transmitted to the team.

Along with Dortmund, Juventus are the only team left in the competition yet to be defeated. As coincidence would have it, Bayern were the last team to beat Juventus in the Champions League.

It was the winter of 2009. They went to Turin and battered them 4-1. Only four players who featured in Juventus' starting XI and match-day squad that night are still at the club.

"That 4-1 was the spark for the rest of the season [a season in which Bayern would reach the final only to lose to Inter]," Arjen Robben reflected after the quarterfinal draw last month. "After that game we played very well. But today's Juve have improved a lot. They're more stable and robust. It will be a difficult game."

Just how far Juventus have come since those dark days has been evident throughout the Champions League this season. They showed tremendous character to come back from 2-0 down to draw 2-2 away to holders Chelsea then beat them 3-0 at home.

An impressive win against Shakhtar at the Donbass Arena followed, allowing them to top a difficult group. Celtic were their reward in the last 16 and were made light work of. Both legs were won and Juventus flew to Munich on a run of five straight victories in the competition, all without conceding a goal.

If you wanted you could reduce the narrative of Tuesday's quarterfinal down to a meeting between the Champions League's best defence and the joint-best attack; it is a tale of two extremes. But that would be a misrepresentation. Both are arguably the most balanced teams left in the competition.

As for Juventus, a perceived lack of a goal scorer has been cited as a reason they may fall a little short. Though Fabio Quagliarella has a better goals-per-minute ratio than anyone in the Champions League this season, including Lionel Messi and Cristiano Ronaldo -- the catch being that he has only played a full 90 minutes once -- the point is a valid one.

Not being able to convert the many opportunities they create may hold Juventus back, but so solid are they that they can keep any opponent close enough to give themselves a chance at qualifying.

The superstitious among the Juventini also have cause to believe that it's their time. Why? Because in every year ending in three the past four decades, Juventus reached a European final, the European Cup in 1973 and 1983 to the UEFA Cup in 1993 and the Champions League in 2003. Still, they only managed to win once.

While Conte does have his little rituals -- he takes a bottle of holy water out of his pocket, kisses it and makes the sign of the cross before games -- he is a coach who deals in facts, not fantasy.

Winning the 1998 final was supposed to be Juventus' destiny, too. Coach Marcello Lippi even said so on the basis that his team had gone to the Amsterdam Arena the year before and given one of the best displays of his management, beating Ajax 2-1 in the semifinals.

Heynckes didn't read the script, though, and Real Madrid went on to win la Septima. When Conte faces him again, he'll seek to ensure Juventus don't make the same mistake again.