Barca gets look at what might have been: Thiago Silva
As the teams line up at the Parc des Princes on Tuesday night the president, directors and technical staff of FC Barcelona could be forgiven for casting moist-eyed, "What might have been" looks in the direction of Paris Saint-Germain's Thiago Silva.

Exactly a year ago Barca were sure they had the Brazilian secured as their next big signing -- the perfect partner for Gerard Pique and a midterm replacement for Carles Puyol.

The word filtered back to me some months before because Silva -- so excited to be moving to the Camp Nou to play with Lionel Messi, Xavi, Andres Iniesta & Co. -- told more than one of his Brazil international teammates what was going to happen, and when they told contacts of mine it was a simple job to get off-the-record confirmation from the club that Silva was the No. 1 target.

Then money talked, or roared.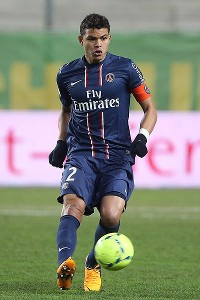 John Berry/Getty ImagesThiago Silva slipped through Barcelona's grasp and landed at Paris Saint-Germain. The two sides meet Tuesday.
Milan were in the process of stripping out almost all of their top earners -- one of the all-time great talent exoduses in European football history. Awareness around the European market that this strategy was brewing was one of the reasons Barcelona had been fluffing up a nice cozy nest for Silva months before the deal could actually be finalised.

Eventually it was arrividerci to Alessandro Nesta, Pippo Inzaghi, Massimo Oddo, Rino Gattuso, Antonio Cassano, Mark van Bommel, Gianluca Zambrotta, Alberto Aquilani and Clarence Seedorf. Remarkable. But the bulk of these immense talents left either for free or a moderate fee.

Given Milan's financial state and need to restock, sales were vital. Paris Saint-Germain, shrewdly advised by former Milan player and manager Leonardo, correctly sensed a major opportunity to sign two stars who, normally, would never have been for sale by a top club. They spent nearly 70 million euros of their petrodollars in buying both Zlatan Ibrahimovic and Silva. Great business for PSG when money is no object, and persuading world-class footballers to join a project in construction is usually far from easy.

But the 40 million-plus euros purchase price and wages that would have put the Brazilian on a par with Xavi and Iniesta at the Camp Nou were not simply too rich for President Sandro Rosell's taste, they were unmatchable given that Barca is currently (successfully) engaged in stripping tens of millions per year off their global debt.

Financial facts are financial facts, but that won't have taken away the sporting sting of seeing Silva, a player who would have been ideal for the Catalan club, pinched from under their noses. Yes, the rest of the world will snigger as the biter is bitten (and fair enough), but it's arguable that Barca's chances of the treble have been scuppered by the lack of Silva's aerial excellence (having lost two headed goals to Rafa Varane in the Copa del Rey semifinal Clasicos).

Hypothetical, no more, but it's a fact that one of Barcelona's key weaknesses is how many headed goals (particularly at the back post) they concede.
Sorer still it will feel if Silva should head past Victor Valdes (as he did in last season's Champions League group game).

Equally, there's "morbo," as the Spanish like to call it (a kind of morbid fascination with a topic), in the fact that Zlatan's departure from the Camp Nou was so abrupt and so poisonous. Dani Alves is one of many players still at the club who have made it clear that "Zlatan is well liked in the dressing room and he wasn't a particularly troublesome guy -- he's just got his own character, one which is pretty like mine!"

And it's also the case that he not only scored against his ex-club last season (in a 2-3 San Siro defeat which was, coincidentally, reffed by the very same German, Wolfgang Stark, who'll be in charge in Paris this week) but played them three times in a handful of months.

However, you can just bet your bottom dollar that both the Swede and all those around the globe who yearn for Barcelona's excellence to be clipped will laugh like drains if he's a central element in eliminating them.

There are blindingly obvious elements which Barcelona need to get right if they are to vault PSG and land in the semifinals. Tempo, first-touch football, control of the ball creatively in midfield, defensive rigor and giving Messi the ball in situations where he is best able to impose his lethal skills on Silva, Alex and (the vulnerable) Christophe Jallet.

However, the man who interests me most is Javier Mascherano.

Possibly some outside Argentina forget that this is, by trade, a world-class central midfielder who has become, by default, Puyol's replacement at centre half. (By default obviously includes the fact that Silva's scheduled arrival was derailed). Mascherano took a seven-figure wage cut on his Liverpool salary to come to the Camp Nou because he desired to be part of a great era where the football he prefers is being rolled out month after month.

Now he's asked to put his ego and his ambitions aside and play in a position where he is not as dominant, by some distance, as in the central midfield "boss" role he still plays for Argentina.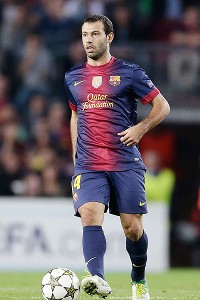 VI Images/Getty ImagesJavier Mascherano has been hindered by a lack of regular playing time for Barca.
Last year around this stage of the season, he made a handful of key errors in the decisive Clasico, and then while being eliminated from the Champions League by Chelsea. This season, he's been troubled by not playing regularly enough (think how hard it is to excel in a role that is not your speciality when you are only given a game out of every three or four) and he was self-critical about another error he made when losing an early-season goal to Madrid.

Reflecting on what was happening, he said: "If you make these little errors in big games, they impact on you. Sometimes you fail to do something just right and nothing happens. But two or three errors of mine have ended in important goals. The only way to handle that is to accept it, work harder, get your head in order and look to the future optimistically. I'm one of those types of players whose errors gnaw away at him for a good time. I ask a lot of myself. There are some mistakes you can forgive yourself and others, at least in this team, you can't."

However this is a leader, a thinker, a character of immense fortitude and a successful coach in the making.

Mascherano came back to give a storming performance in the 4-0 win over AC Milan, and although then, too, he committed one cardinal error of positioning that allowed M'Baye Niang a one-on-one chance that hit the post, his overall match was thumpingly good. Indeed, the brilliance of one interception and first-time pass created a Barca goal.

I've got immense respect for Mascherano the man and the player, and to say that he's being tested at the moment is not to criticize him, simply to recognize that his height is against him at centre half and some of the instincts that make him immense in midfield don't transfer directly to centre half.

There will be a massive weight on his shoulders Tuesday, helping Pique try to contain Javier Pastore, Zlatan and Ezequiel Lavezzi.

How Mascherano copes, how much zip he can bring to Barcelona's play at the back, how much he's driven to show Silva what he missed out on by turning his back on Barca will go a long way to determine which team carries the advantage to the Camp Nou next week.