O'Neill lost that loving feeling at the Stadium of Light
Martin O'Neill just lost that loving feeling at the Stadium of Light.

As yet more postmatch pressure mounted on his weary side following a 1-0 loss against Manchester United, he diffused the tension the only way he knew how: with wit and dry humour. "What is it -- the half-full or the half-empty glass? I'm even going to three-quarters full," he quipped with a smile creeping across his face. It wasn't the first time he had used such a technique to try to cover up the misgivings of his side, but it would be the last.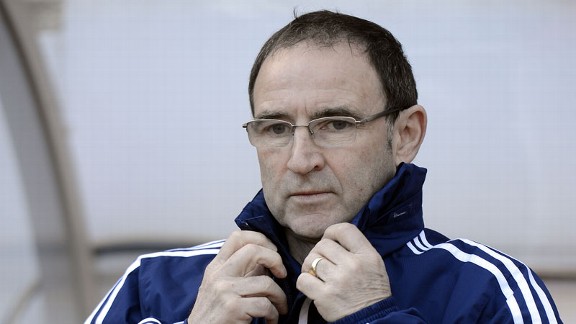 PA PhotosMartin O'Neill watches on from the dugout as Sunderland host Manchester United.

Late on Saturday night, his nigh 16-month stay with Sunderland was ended. The timing may have seemed abrupt, but it is a misnomer to say there was no indication of a slide. No win in eight, players choosing to battle each other rather than opponents -- the once Churchillian leader was seemingly losing his sparkle.

He had always wanted this job. A fan from his childhood during the days of Charlie Hurley, there had been urban legends of a club crest tattoo that while most likely false, only enhanced his reputation on Wearside. "I would not want to play too much on the Sunderland boyhood hero thing," he said at the time. "It might give me two games' grace, but we are in a results business."

However, just like Hurley, O'Neill represented a bygone era of football. Many had hoped he could cultivate the same exciting top-half side he had at Aston Villa. Instead more prevalent were the unfortunate shortcomings that eventually saw him walk away from the Midlands club.

The 65th-minute substitute being one example. At Villa it was oft Steve Sidwell, whereas for Sunderland, David Vaughan was initially the midway entrant, before Louis Saha took the role briefly. Rarely did either man change the complexion of the game, and it always seemed forced rather than initiated. Even on Saturday, his decision to bring Jack Colback on for the exciting Danny Rose with minutes to go left many befuddled as to the rationale.

Yet when everything else would desert him, he always had his motivation. It was typified by Craig Gardner -- a player he'd sold at Villa. The 26-year-old was describing his boss as "unbelievabl" as recently as last week. What was more difficult to fathom was why Sunderland had become so soft. The Stadium of Light may not have been a fortress, but you could at least always guarantee fight and bluster would be in healthy supply -- they weren't on Saturday, and he was forced to admit it.

As passion on the pitch began to wane, it also seemed to creep into the technical area. For the first time on Saturday there was anger rather than enthusiasm as his water bottle took the brunt. Still some six or seven yards outside his designated technical area, the famous spring that followed every half chance and gave connotations of his eternal optimism had gone missing.

When a journalist looked to discuss his body language during a recent news conference, again humour was his response. "You shouldn't be studying me," he said amid laughs from those assembled. "They may well talk about us, you and I," his impish grin showing that his sanguine approach had not deserted him, even though it didn't change the fact they had won just twice in 2013.

Nearly £30 million went on Steven Fletcher, Danny Graham and Adam Johnson while those around them shopped more frugally. While Fletcher was necessary and performing, the gamble to invest so much in so few left his squad bereft of options from the bench. In a bid to rectify the issue, he supplemented it with free transfers, including Saha and James McFadden, again evoking memories of his indifferent record of acquisitions at Villa.

While his last American owner, Randy Lerner, was willing to take the hit for a while, Ellis Short didn't seem as convinced following the announcement of a £27 million loss -- something that will grow exponentially for every moment they spend in England's second tier. January saw a player from Turkey and the Middle East arrive. Neither have made a substantial contribution, with the latter having yet to make the pitch.

Unable to ever truly hit on a tactic that maximised the potential of both Johnson and Stephane Sessegnon, the former has also seemed to conform to the preconceptions he fostered at Manchester City -- an inconsistent highlight-reel player. While he provided moments that will no doubt add nicely to his career compilation, it's his inability to deliver week to week that has seen the terraces vent their frustrations.

Even after another dismal display against Manchester United, O'Neill remained staunch in his defence of Johnson. Feeling his winger was expected to turn things around single-handedly, the excitement amid his arrival was enhanced by his £10 million fee. Although perhaps his support for Johnson stemmed from empathy. Many expected O'Neill to cast a similar spell over Wearside, yet after the FA Cup semifinal defeat to Everton last year, the slide first initiated itself. There was brief reprieve against Reading and West Ham at home, but all too often they required fortune (in the shape of a red card) to aid them in victory.

Questioning the quality of his squad, while brutally honest and correct, it remained surprising and not something Short wanted to hear after investing so much. Famed for his motivation, it hinted that the once dazzling touch players like Robbie Savage and Stan Collymore eulogised over was dimming. Without the blistering pace that allowed him to play a counterattacking style at Villa, he also missed John Robertson, his middle man connecting the hierarchy.

"I am what I am," he said last week. Sadly, that's a manager for whom motivation is the only real weapon. Without his ability to muster something within his charges, there's little left. A side playing far too deep and far too wide, his unwillingness to change tack is a microcosm of his managerial approach, as mediocrity radiates from a squad that needs an overhaul.

From a personal perspective, time appears to be finally catching up with O'Neill. Mentor Brian Clough had a similar connection to Sunderland, and while his style is famed on "Old Big Head," it's worth noting Clough retired three years younger than O'Neill is now. Perhaps he realised that his time had come and gone. If this is O'Neill's last job, it is an unfortunate way to crescendo a career that had undoubted highs. The problem lies in finding someone who still believes the ways of old can succeed -- something that was ultimately O'Neill's biggest obstacle.