Friday Four: Battles In Basement; Spurs' Spring Swoon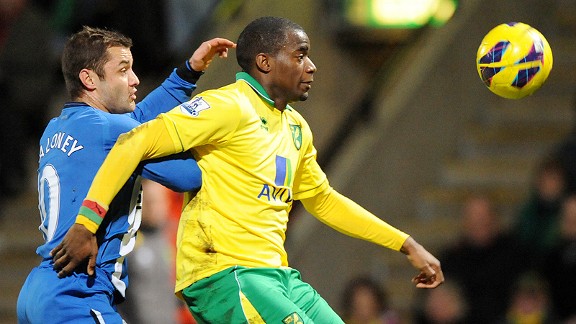 Olly Greenwood/AFP/Getty ImagesShaun Maloney, left, and Wigan are poised for another late-season charge, but history is on the side of Norwich and Sebastien Bassong.
While England and the U.S. were left feeling different emotions following their respective World Cup qualifying away draws -- the Three Lions' tepid 1-1 "defeat" eclipsed by Uncle Sam's heroic 0-0 "win" -- your indomitable prognosticators were wiping the sweat from their metaphorical brows. Because the top of the EPL table is now as foregone a conclusion as Roy Hodgson's crippling underachievement, we're focusing this Friday Four upon the one place where excitement and uncertainty remain: the foot of the Prem.

Wigan Athletic vs. Norwich City

The visiting Canaries have made it clear that a successful season is one that secures another orbit around the EPL sun, and you'd be forgiven for thinking that 12th place with eight games to go would have secured that Wenger-esque victory equivocation.

Unfortunately for East Anglian hearts, Norwich scores less than the New York Jets and is spiraling in the wrong direction, sitting just seven points clear of the drop. We'd accuse Delia Smith's team of ripping the Dullest Team to Watch honor away from current holder Stoke City, except such an epithet would be horribly unfair to the Potters in the first place. To wit, Norwich has managed three goals in its past six matches and plays a brand of football so uninspired that you'd think you'd stepped into a time machine and landed in 1980s Serie A.

If there is an easy mark for Chris Hughton's Canary catenaccio, it's Wigan. Norwich has never lost a Prem game to the Latics, while the home team is preoccupied by something that even its most rabid fan is struggling to fathom: a searing FA Cup run still in progress. In addition, Wigan has perfected the really bad habit of letting the other side score first, having done it an astonishing 18 times. It should be interesting to see which half of the stubborn nut cracks first: Norwich's inability to put the ball in, or Wigan's pathological need to be an accommodating host.

Norwich has goalie troubles with John Ruddy battling back from a hip injury and his capable stand-in Mark Bunn suspended after a highly dubious red card vs. Sunderland two weeks ago. Combine that with Wigan's soaring confidence, newfound scoring nous (12 goals in its past 13 games) and Roberto Martinez's traditional late-season Houdini seminar, and we don't think that it will matter if Norwich manages to notch an early goal.

Wigan 2, Norwich 1: Canary air flow gets just a little tighter

Swansea City vs. Tottenham Chokespur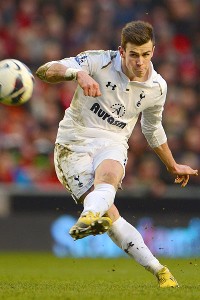 Michael Regan/Getty ImagesGareth Bale can't carry Spurs to the Champions League all by himself.
Since we're on the topic of closing throats, it must be March in a certain segment of North London. How can we tell? Well, when the spectacularly underperforming Lewis Holtby is reduced to mumbling platitudes like "the recent break should be good for us," the swarm of bees rumbling around the communal Spurs bonnet must be at a heavy-metal decibel level.

Just a short month ago, Tottenham thought it had laid its annual spring swoon to rest with a well-deserved home win against bête noire Arsenal, a victory that put the Lilywhites a full seven points ahead of the flailing fifth placers. Cue partial pulmonary collapse. Consecutive losses to Liverpool and Fulham have erased the majority of the lead and all of the positive impetus, confirming that there is no weight heavier than that of the historical world on your shoulders. Just ask any longtime Chicago Cubs supporter.

This is where superstars need to make their brilliance count and while Gareth Bale indubitably belongs in the conversation, he must now lift his current side and carry their staggering psyches across the Champions League finish line. The mooted return of winger Aaron Lennon for this match would be huge as without his speedy presence, Bale has had virtually no space in which to score every single goal. And if you are a Spurs follower, just hope that Emmanuel Adebayor doesn't even see the field.

That said, trophy-winning Swansea -- how beautifully that must roll off the Welsh tongue -- has no great reason to be interested in this game. In some respects, the Swans are a mirror image of the visitors. Each likes to control the ball and thus the flow of the game, although Spurs tend to be more ferocious about it. Each relies on a dominant goal scorer -- Michu's 15 tallies is more than any three of his teammates' efforts combined -- and both sides enjoy the attention and education of bright, enthusiastic managers who believe in fast-paced, genuinely attractive football.

There's no doubt about which team has more to play for and even which is more talented, but the entire match will hinge on Spurs' mental state. If Bale and Co. come out tentatively, Swansea's ball possession will first frustrate and then tear apart the Londoners. Conversely, a team prepared to come out and play in the 90 minutes of now, a squad that commits itself to Scott Parker's drive and ambition, ought to walk away with an easy three points and more oxygen in its lungs.

Naturally, we don't think either of these things will happen, meaning the contest will play out very similarly to last year's meeting at Liberty Stadium.

Swansea 1, Fifthspurs 1

Aston Villa vs. Liverpool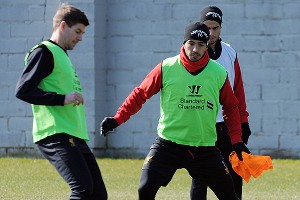 John Powell/Getty ImagesSteven Gerrard and Luis Suarez at training Friday ahead of Liverpool's match against Villa.
Lo, how the mighty have fallen. (And we're not talking about Paul Lambert.) No longer does the Kop resonate with songs about League glory or European Championships won amid the stifling heat and superb drama of Istanbul. Nowadays, it is paeans to earning a spot in the Europa Contest and not finishing behind Everton for two years on the trot.

Two people who are not remotely at fault for this most epic of expectation Anfield downsizing are the almost universally loathed Luis Suarez and the iconic Steven Gerrard. Suarez has been nothing short of brilliant, probably to the point of surpassing Bale as the EPL player of the year. He works tirelessly up front to convert the exertions of Stewart Downing, Daniel Sturridge and Philippe Coutinho, is lethal with both feet and has the best pure dribbling skills of any forward in England. Behind him Stevie G has played every single minute, all 2,700 of them, in the Reds' current top-flight campaign, returning to relevancy for both club and country.

Hosting Liverpool is Aston Jekyll and Hyde. After a midseason swoon where it appeared that a non-league team could (and did) put four goals past them, the Villans have steadied a listing ship, and a win against the Reds would have Paul Lambert's men on their first three-game EPL winning streak since 2010. It probably won't happen, but at least one can state the claim.

For Villa to win, Christian Benteke must rediscover his beastmaster tendencies in front of goal. He bullied and abused Liverpool's sturdy rear guard in Villa's shock 3-0 win at Anfield earlier this season; as brave and diligent as the returning/retiring Jamie Carragher will be, there's no arrow in his ancient quiver that can halt Benteke in full cry.

Finally, we offer you two interesting tidbits: Lambert has never lost to a Brendan Rodgers-coached side, while Liverpool has scored three or more goals on nine occasions in the current Prem campaign, putting them ahead of Manchester City, Spurs, Arsenal and Chelsea. As absorbing as these factoids may be, we don't think either of them come into play.

Liverpool 2, Aston Villa 1

Manchester City vs. Newcastle

If Roman Abramovich owned the Sky Blues, he would be on his fourth manager by now. At least. But the Qataris at the Etihad are far more patient, meaning that Roberto Mancini's job appears to be secure despite a hideous season in which failing to defend a first league title in 44 years could be considered the least disappointing bit. Standing in front of the other bench is the manifestation of "Flash in the Pan" meets "Lifetime Employment," as the Magpies' Alan Pardew parlayed his team's magnificent 2012 season into a long-term contract that would have make the flinty Sir Alex Ferguson grin.

Yet even the thrill of cashing big paychecks can't disguise either manager's displeasure at their respective failings. Newcastle sits in the lower half of the table, while Manchester City is so far away from the other Manchester in the standings that you'd be forgiven for thinking you were looking at the Bundesliga table instead.

In spite of Premiership misery, each boss has something left in play. Newcastle has made it to the final eight in Europa as the Geordies seek their first relevant trophy since the reign of Queen Victoria. Also, Manchester City happily awaits the winner of Monday's Chelsea-Man United FA Cup replay, knowing full well that whichever one emerges will be one step closer to soccer exhaustion.

As for Saturday's match at the Etihad, the result isn't really in doubt. Almost every one of City's players are better than their Newcastle counterparts, and now that the wily Hatem Ben Arfa is out for the season, Newcastle is shorn of just about any creativity. It won't be a stroll in the clover, but expect Yaya Toure and Carlos Tevez to enjoy a field day against the visitors.

Manchester City 3, Newcastle United 1

Paul Kanarek is a freelance soccer writer living in Los Angeles, the only city in America where MLS teams outnumber NFL teams 2-0. James Tyler is an editor for ESPNFC.