Mancini wrong to mark Kompany's card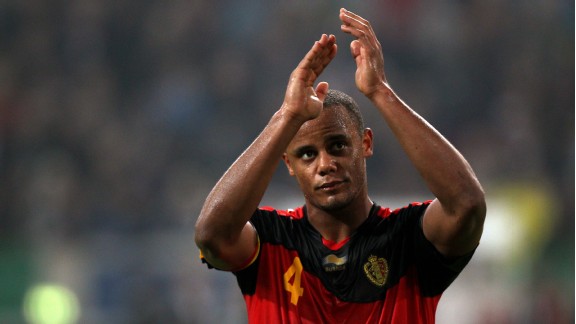 AP / John WaltonVincent Kompany upset club manager Roberto Mancini by playing for Belgium in a World Cup qualifier
I have never had anything but the utmost respect for Roberto Mancini. I was a fan when he played - he had such grace and style, and that wonderful Sampdoria shirt. He was quick to impress as a manager as well, winning trophies at both Fiorentina and Lazio, each of them in dire financial straits at the time. He then put Internazionale back on the map and wasted no time at Manchester City either, winning trophies in all of his complete seasons in charge. He still stands out for me. Sharply suited, elegant and well spoken, Mancini usually comes across as a gentleman.

Only 'usually', because Mancini can rage as well, in a very Italian, emotional way, which sometimes seems to cloud his judgment. His recent comments on Vincent Kompany's participation in Belgium's 1-0 win over Macedonia are a prime example. Kompany hadn't played in two months after sustaining a calf injury near the end of January, but he was called up by national coach Marc Wilmots for the Macedonia double bill. Kompany has a talismanic quality for Belgium and Wilmots wanted his man there with the team. Mancini now says he was reluctant to allow his captain to even join his national side, adding that he made it clear he did not expect Kompany to play.

Wilmots didn't pick Kompany for the first game on Friday, a 2-0 away win. Bayern Munich's Daniel van Buyten deputised, forming a solid partnership with Thomas Vermaelen. For the game in Brussels, Wilmots reinstated his captain. "Vincent was not 100% on Friday so Daniel replaced him. Now he returns. He is my captain and he is 100% fit," he explained.

As a Belgian, I wasn't happy with the decision myself. A player who hasn't seen match action in two months is a risk, especially in a crucial game like the one on Tuesday. Van Buyten had done a more than decent job in Skopje and I, for one, would have been happy to see "Big Dan" partner Vermaelen again for the second game. Kompany duly made two mistakes which could very well have led to Macedonia scoring. Vermaelen and Thibaut Courtois saved his blushes, the former with a wild, last-gasp tackle which could have earned a red card if he hadn't timed it so well.

But it is a coach's job to make decisions. And on Tuesday, Kompany's coach was Marc Wilmots. Kompany certainly did not seem reluctant to play, either. He takes immense pride in captaining this talented Belgium side. With the Red Devils seemingly en-route for their first major tournament since 2002, he and his team-mates are not ready to compromise. If their country calls, they will answer. This spirit runs through the whole team and is a joy to behold. They work and fight for each other, with one clear goal in mind. Eden Hazard who was outstanding, made a tackle way back near the Belgian goal-line in the dying minutes. In just the same way, Kompany is prepared to give an awful lot to achieve the goal that his whole country dreams of. This is not even new or surprising. Playing with Belgium at the 2008 Olympics, Kompany was left fuming when his club, Hamburg, called him back with Belgium still in the competition and playing well. He even tried to stay in China for a bit longer, deliberately "forgetting" his passport in his hotel room.

Mancini's argument that "this player plays for the club and the club pays him a salary" is too easy in my opinion. It has become a cliche over the past years, used by big club managers all over Europe. But while you can't really argue with it on the surface, it certainly doesn't tell the whole story. Playing for their country means a lot to most football players. It is not about the money, it is about honour, about putting your country in the spotlight as a footballing nation. This is surely even stronger when you are your country's captain. The big money clubs spend tons of money on international players because they want the best. But when you sign a full international (as Kompany was when signed by City), you know what you're getting. That is the small drawback that comes with these big players. They sometimes play games away from the club. I say: live with it. You can't have your cake and eat it, as the old adage goes.

Of course, the bigger the wages, the bigger the impact of an injury. That is where the whole thing has changed in the past decades. Clubs pay insane amounts of money to their players. If Kompany was on a reasonable wage, his injury wouldn't cost as much. It is as simple as that. Surely it's the wages that are out of control, here? Not the players? That is another discussion, though…

Mancini is also at risk of antagonising a player who is widely seen as Man City's most influential. City just aren't the same team without Kompany. Everybody can see that and Mancini has admitted as much in the past. So why publicly accuse him of being disloyal and not getting his priorities right? That is his captain, his right hand, his ace player. A player, perhaps more importantly, who is courted by every big club in Europe. I wouldn't want to upset my main man over something this trivial. Trivial, yes, because Kompany is fully fit and would not have played if he wasn't, no matter how much he would want to. No player knowingly runs the risk of aggravating an injury. So why call him irresponsible and disobedient? This just doesn't seem like proper man management, especially when nothing has even gone wrong. I would maybe, just maybe, understand it if City were still in the title race. Surely Kompany has a right to not want to miss out on the World Cup as well?

One reason for the apparent lack of understanding from Mancini's side could be that he never really was an established Azzurro. Mancini only played 36 times for Italy. As brilliant a player as he was, he faced stiff competition from other attacking players such as Roberto Baggio and Gianfranco Zola. Maybe he just doesn't realise what it means to be an established international, nevermind wear the captain's armband for your country. Perhaps there is a small factor of resentment for his lack of a real international career, given the fact that he never played for Italy again after falling out with Arrigo Sacchi in 1994. The reason? He wasn't guaranteed a starting place in the World Cup. Toys, pram. I don't know this of course, but the man is only human.

Meanwhile, the Belgian FA has reacted, saying that Man City knew Kompany could play. "We did not take any risk. Our medical staff was in constant contact with theirs, working closely together over the past month." It added that Mancini should in fact be happy: "We got a player who was not yet fully recovered from injury. They get him back 100% fit and ready to play." Maybe Mancini could look at it that way. He gets Kompany back fully recovered, which he says he wasn't when he left. And be honest, Roberto: Suppose there had been a Man City game to play on Tuesday? If he'd been as fit as he was for Belgium, surely Mancini would have played him! On top of that, some added match practice. What more can you want?