Three smaller nations eyeing World Cup berth
Whether it be a Zaire player excitedly charging down a free kick in 1974 or North Korea's famous win over Italy in 1966, there is something special about minnows at the World Cup. In the same way that the great stories of historic competitions like the FA Cup are often borne from David and Goliath stories, this concept on a global scale was part of Jules Rimet's vision when officially creating a world football championships.

As the qualifying for Brazil's football showpiece lumber on -- the finals draw is scheduled to take place in December -- some of the smaller nations are emerging from the pack and putting themselves in the frame for a first-ever World Cup appearance in 2014.

Venezuela -- Fifth in CONMEBOL, 4-4-3 (W-L-D), 15 points. In South America's CONMEBOL region there is only one country that has never made it to a World Cup, yet Cesar Farias' Venezuela are currently doing everything possible to change that.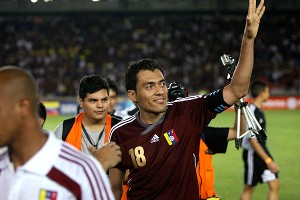 Carlos Ramirez/Getty ImagesJuan Fernando Arango has emerged in a Venezuela where baseball rules the roost.
Located at the far north of this football-mad continent, Venezuela has gradually been more influenced by Central America and the Caribbean than by the Limeno and Rioplatense traditional Latin American power hubs. 'Yanqui' oil workers flocked to the country for work as the wealth of resources hidden beneath Venezuelan soil became known, and among the many quirks that this produces is the fact that baseball rules the roost in sporting spheres, with the public more likely to revere a Luis Aparicio -- the only Venezuelan to ever be inducted into the Baseball Hall of Fame -- than soccer golden boy Juan Fernando Arango.

It is no coincidence that the recent improvement and emergence of Venezuela and its fellow Merconorte countries like Ecuador and Peru has coincided with economic development, but Venezuela has also benefitted from the investment brought by hosting the 2007 Copa America. Such was the success of the tournament, with the whipping boys of South America smudging their way to a quarterfinal appearance, that football briefly made its first appearances on the front pages -- but coach Richard Paez was bringing through younger players with one eye on the future, a vision that has benefitted Farias in the years since.

At one point, Venezuela held such lowly status within CONMEBOL that Uruguay manager Jorge Fossati was fired when Paez's men enjoyed their first victory over the two-time world champions, a 3-0 win, but under Farias these sort of results have evolved from hazanas (heroic feats) to habit.

Embodying all of the classical underdog traits of good organisation, set-piece prowess and an abundance of heart, Venezuela were only a penalty shootout away from the Copa America final after a brilliant showing in Argentina 2011. Having held Brazil to a scoreless draw in their opener, wins over Ecuador and Chile saw them into a semifinal and their best tournament finish.

From there, Farias's side has continued to improve, and the recent addition of Athletic Bilbao's Fernando Amorebieta -- who was once called up for Spain -- has meant further quality on the field. They have continued to be defined by brave decisions and performances, with Farias resting his entire Europe-based contingent for their qualifying opener with Ecuador so that they'd be fresh to play Argentina. Naturally after defeat in Quito the pressure was ramped up for the visit of the Albiceleste, but a 1-0 win ensured that Farias' gamble paid off and also set the tone for their campaign.

The talisman for the Venezuelans is undoubtedly the aging Arango, whose sublime left foot and creative hocus-pocus in midfield make him their attacking hub as well as most lethal man from set pieces. Arango's job would not be possible, however, if he weren't backed up by a strong, functional defence and a snarling central midfield.

A vital win against Colombia late Tuesday night means that they are currently sat in the intercontinental playoff position, with Chile ahead of them in the automatic berths only on goals scored. With big-hitters Uruguay and plucky Peru trailing them by only a few points it is likely to go down to the wire, but as they have showed more and more often over the last few years they are a match for anyone and a historic moment is well within their reach.

Panama -- First in CONCACAF, 1-0-2, 5 points. The wonderfully-nicknamed Marea Roja (Red Tide) have been washing up on previously untouched shores in recent times. Having qualified for the last four CONCACAF Gold Cups, the last decade has been one of constant improvement for Panama, as evidenced by its strong campaign for a first FIFA World Cup finals appearance.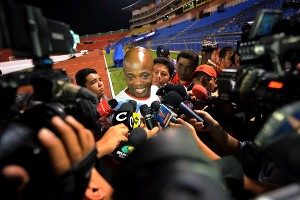 Orlando Sierra/AFP/Getty ImagesJulio Dely Valdes' Panama is the early hexagonal leader in CONCACAF and is shooting for its first World Cup berth.
It is, of course, important to note that the hexagonal is still at an early stage with only three of 10 games played but Panama currently sits top, undefeated, and having scored more goals than any other side. With four games against traditional powerhouses Mexico and the USA still to come it is by no means a foregone conclusion that the Panamenos will be featuring in Brazil next summer. But with three automatic places and one playoff berth their fate will most likely be decided on results against Honduras (who they have already beaten), Costa Rica and Jamaica.

Legendary forward Julio Dely Valdes, who featured for Paris Saint-Germain and Malaga in his prime, is now in charge of the national team with twin brother Jorge Luis as his assistant. While their playing days with the national team peaked as runners-up in the 2005 Gold Cup, they have the opportunity to lead a transitional team to Brazil and keep an eye on the next generation in their additional role coaching the under-23 side.

While the Dely Valdes duo have done well to introduce new young talent to the senior team, it will most likely prove to be the other elder statesmen who are decisive in their qualification bid, with all-time record goalscorer Luis Tejada (30) partnered by Blas Perez (32) up front and Felipe Baloy (32) alongside Poland-based Luis Henriquez (31) at the back. No nation had a better defence than Panama in the tough third round of CONCACAF qualifying -- two goals conceded in six games, equal with El Tri -- and the partnership of Baloy and Henriquez will be essential if they are to break new ground and make it to Brazil.

Uzbekistan (First in Asia, 3-2-1, 11 points. With 18 managers in 19 years of existence, the Uzbekistani Football Federation is hardly a model for stability but since taking over last June, Mirjalol Qosimov is undefeated in qualifying, boasting three wins and two draws to put the White Wolves top of their group (ahead of South Korea, Iran, Qatar and Lebanon) and on course for a surprise qualification.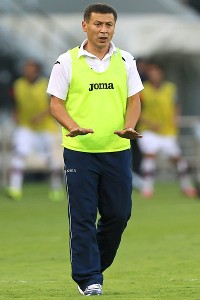 Karim Jaafar/AFP/Getty ImagesMirjalol Qosimov -- Uzbekistan's 18th manager in 19 years -- is undefeated in qualifying since taking over five matches ago.
Vadim Abramov was in charge for the third phase of the Asian process, one in which the Uzbeks would win five of their six games to finish top of the group ahead of 2010 World Cup attendees Japan and North Korea. A 1-0 loss to Iran in the fourth phase opener saw Abramov resign, but Qosimov's record since is remarkable and a June win in Seoul could see the most unlikely of World Cup debutants confirmed.

Even a defeat in South Korea would not end their dream, as the Koreans then host Iran in a crunch game on the final qualifying weekend while Uzbekistan hosts Qatar.

With such a short history as an independent nation (founded in December 1991) the country's footballing past is not one to write home about, and since a win on their first appearance at the Asian Games in 1994 they have never gone beyond the quarterfinals, nor really threatened to make it to FIFA's global showpiece.

As recently as 2000 they were being thrashed 8-1 by Japan, but having soundly bettered them in the earlier qualifying stage, results against the traditional continental powerhouses are a marker of the huge progress made.

Whereas previously funds have been used to bring in Rivaldo, Zico and Luiz Felipe Scolari to the national league with Bunyodkor, Qozimov has insisted in increased investment in the country's footballing infrastructure and before even establishing themselves as one of Asian football's major players, the Uzbeks could be appearing on the World stage next summer.

The best-known footballer to emerge from the country is former Dynamo Kiev stalwart Maxym Shatskikh, and the forward remains his country's top scorer with the remarkable record that they have never lost a game when he has scored. With the 34 year-old no longer in the international picture -- he last featured in November 2011 -- the sad reality could be that his country makes it onto the world stage while their greatest-ever player watches on.

Ed Malyon is a freelance sports writer who has written for The Daily Mirror, The Guardian and FourFourTwo among others. He can be contacted on @eaamalyon or by whistling in F sharp on the night of a full moon.