Cabaye a strong ally in the mental health debate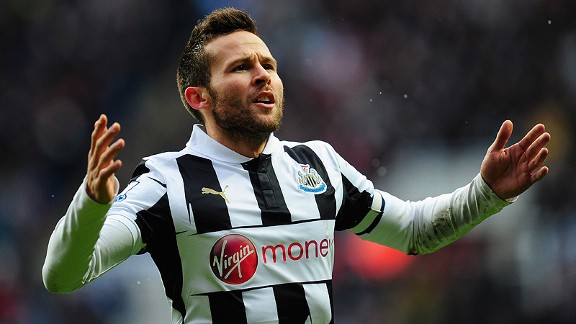 Stu Forster/Getty ImagesYohan Cabaye has received unwavering support from Newcastle in his battle with depression.
It was a stark confession and one that required the translation to be double and even triple checked: "Depression? I'm not afraid to say that it was that," Yohan Cabaye told L'Equipe.

Suffering from a mental fatigue in the wake of the European Championships, the French international sought comfort in literature and the autobiographies of Jonny Wilkinson and Rafael Nadal. With both men undergoing similar experiences, the time spent reading provided much needed relief for Cabaye: "They both talked about a form of post-competition depression, a need to take a break, that their body wouldn't do what it was told," he said to L'Equipe.

A cathartic period for the midfielder, he also underwent a comprehensive self-evaluation: "I asked myself questions," he explained. "It was the first time that had happened to me, and it really hits you. I hear others talk about it often, but if it doesn't happen to you personally, you can't understand. On the other hand, when you're the person concerned, it's not easy to handle. But I knew things would come back."

Consistently commended by Alan Pardew for his attitude and professionalism, Cabaye even spent what remained of his summer with a personal trainer gearing up for his second Premier League season. It was a bid to further improve his ability to cope with Europe's most physically demanding league: "The season was long in a league where the rhythm is a lot higher than in France," he explained to L'Equipe. "I started with Newcastle in July 2011, ended at the end of June, and it was the first time I hadn't had a break in December."

Just as his advisors had explained to him about the physical nature of England, they had also warned him about the potential for post-tournament gloom. Unable to perform in the way he had hoped, his once fervent passion for ingesting the game had waned.

"When I got up in the morning, I felt tired," he told L'Equipe. "I love football, and watch all the games from Ligue 2 on a Friday to the big game on Sunday night, but when I saw football, I turned over. I wanted to think about other things."

With his performances below the high standard set in his debut season, Newcastle fans were concerned. They knew something wasn't quite right with their star. It wasn't until a groin injury in late 2012 that Cabaye eventually received the rest period he had so desperately required. Just as during Hatem Ben Arfa's rehabilitation from injury, Cabaye was allowed to return home to seek refuge in familiar faces. It was from there he pinpoints his recovery both physically and mentally.

"I went to Lille, saw my family and friends, and when I came back to Newcastle in December, one of my friends who plays in the amateur fourth-tier told me: "'I'm warning you. You start again with Newcastle, and if you come back to Lille and tell me that you don't have any desire to do that, I'll give you a hiding'", he said with a laugh.

Now able to speak from a place strength having overcome the problem, Cabaye has been resoundingly praised for the openness of his admission. Instances such as his have represented a drastic change in the attitude and perception of mental health issues following tragic suicide of German goalkeeper Robert Enke in 2009.

Having witnessed the destructive nature of depression first hand, former Portsmouth and Juventus striker Vincent Pericard currently runs Elite Welfare Management, which aims to help players overcome such mental obstacles. A venture stemmed from seeing his own teammates struggle, Pericard believes the perception of a mental health issue as a weakness still remains sport's biggest obstacle.

"It all comes down to the fact you want to play on Saturday and get you're contract renewed so you're not going to show any sign of weakness," he explained to ESPN.

"That's why I thought that interview is so exceptionally good. Yohan Cabaye is doing extremely good at Newcastle and is a French international. It's coming from someone who isn't English so it gives more value to what is said. It means that an English player can suffer depression too in a place like the highly competitive Premier League. I've got a friend of mine actually going through a very bad situation where repetitive injuries is really taking him down. Players like him; they've got no one to turn to, no professional support."

Now centered in himself and once again a key figure for Newcastle, Cabaye can speak with the clarity and serenity hindsight provides in both identifying his problem and also noting what aided in him overcoming it. Consequently, he can now use these methods in the future should it arise again. Yet as Pericard explains, identifying the issue while suffering it is often one of the most difficult aspects in conquering depression.

"When you've gone through depression it's easier to say what it felt like, how to get above it," he told ESPN. "When you have it, most football players wouldn't even know it's depression because they haven't got the awareness of what it is, they just think they're having a low moment or period."

Cabaye also revealed he's now keen to meet Wilkinson after reading his book. An admirer of his 'meticulous' attitude, the Frenchman's focus will quickly turn to a Europa League quarterfinal and the ever-passionate affair that is the Tyne-Wear derby.

While he may have earned many of his admirers on Tyneside for his performances with Newcastle's resurgence, few can understate the strides his admission has made in the debate on mental health within sport. Universally adored at St James' Park, his manager is sure his star is in the perfect frame of mind.

"He has certainly come out of the other side a stronger person. He is a fantastic character," he said. "He is one of our best players, if not our best player, and he is back to his very, very best and we are very, very lucky to have him."