Does Trapattoni know Ireland's place?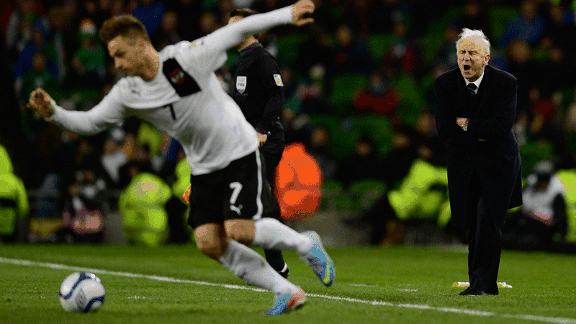 GettyImagesGiovanni Trapattoni's future continues to be the subject of speculation in Ireland
Giovanni Trapattoni knew exactly what he was doing - at least in terms of his post-match interview.

The Ireland manager had previously described his side's qualifier against Austria as "must-win", only to see David Alaba's deflected stoppage-time equaliser deny that very victory.

So, given the context of the last few months and how close Trapattoni came to losing his job in October, it was not entirely unreasonable - if perhaps a little stark - for the Irish TV reporter to ask the Italian whether he would be considering his position.

Trapattoni, naturally, balked at the question and dismissed it outright.

"Why?" he asked. "You think we are Germany?"

It was a ferociously blunt response, but one that also had a few levels of nuance to it. Most obviously, there is the fact that this is one argument eternally put forward any time one side of a smaller nation dares to question its results - especially in Ireland. It cuts to the heart of the debate of what any so-called lesser side can reasonably expect.

And, of course, it's true. Ireland are not Germany; nor are they Spain, Brazil nor even England or any of the other big names trotted out at such times.

But, then, international football is not just a set of two extremes either. It is not simply those elite sides and the rest.

After all, none of Austria, Sweden, Kazakhstan, Armenia, Slovakia - or any of the other mid-tier sides to have caused Trapattoni's team problems over the last few years - are Germany either.

Similarly, there are a number of other recent tournament qualifiers - from Slovenia to Greece - that provide much fairer and valuable comparisons for Ireland than the second best team in the world. On the same level, they have produced the kind of results that sides like Ireland can reasonably aim for.

In that sense, we are in a much changed climate of international football, and one where the vaunted elite levels of the past don't really exist beyond Spain and Germany. It is absolutely no coincidence that they are the only two teams to have undertaken overwhelmingly thorough transformations of their youth infrastructure of the last decades. They have developed a cohesion that is beyond the likes of France, England and even Brazil. And it now means we see a stage where countries as small as Slovenia can qualify semi-regularly and the likes of Turkey can go from reaching a World Cup semi-final to not making the next tournament at all. The international stage has never seen such mobility, it has never been more volatile.

And that is a further issue with Trapattoni. His most fervent critics in Ireland have described him as outdated but, while that is possibly overly harsh, it seems true that he is applying the perceptions of international football that were last true two decades ago.

It is an illustration of the Italian's intelligence, and exactly why he managed to outmanoeuvre the FAI back in October, that he so cleverly spins the argument.

That is the other level to his Germany point. There is a distinct implication that this is all he can do with the players available; that, without him - a manager of admittedly historical standing - Ireland would be nowhere.

At this juncture, it must be acknowledged that Trapattoni did immediately restore respectability and reliability after the shambles of Ireland's time under Steve Staunton. By basing his defensive game on suitable players like Richard Dunne and Shay Given, the team became very difficult to beat. And, given that he followed it with qualification for a first tournament in a decade, Trapattoni has been a success.

That, naturally, raises the question of why his position is being questioned despite a result that was unfortunate but by no means a disaster?

The answer, however, begins at the very real disaster that was Euro 2012. It wasn't so much that Ireland were beaten by all of Croatia, Italy and Spain but rather how they were beaten. A team that had previously prided itself on their competitiveness were completely wiped out - and with ease.

At that point, Trapattoni was somewhat unlucky that the defensive core of his team was past its peak. What should have been some of the greatest moments of the careers of Given and Dunne coincided with their worst spells of form.

The manager was completely inactive and therefore quite culpable, however, in refusing to explore other options or approaches for the team. Promising young players who might have given Ireland other outlets were completely ignored and often ostracised.

Shane Long, for example, was one of a long list of Premier League-quality players who had quite public issues with the manager's treatment. And, given that the West Brom forward was the player withdrawn against Austria for the almost symbolic introduction of journeyman Paul Green, it brings us back to the big question surrounding that match: whether the Italian is the right man to oversee the transition to a genuinely respectable new generation.

Individuals such as James McCarthy and Marc Wilson are regularly playing in a league that has one of the highest concentrations of technical foreign talent in the world, yet Trapattoni regularly bemoans their lack of control.

"I have no Messi, no Ronaldo, no unpredictability," is a common refrain. It doesn't, however, explain the reductive football he insists upon.

Again, the Green substitution was a case in point. Prior to that, Ireland had been keeping the ball well and Austria at bay. The introduction of the combative Green, rather than the more technical Wes Hoolahan, ensured Ireland ceded possession, territory and initiative to the away side.

Moreover, after the impressively proactive football played in the 0-0 draw against Sweden on Friday, it represented a reversion. Rather than seize the game against Austria themselves, Ireland handed momentum away. In an international world where smaller teams can make up a lot more ground by just being a little more assertive, it can be telling.

This, after all, is not Germany we're talking about.