Fletcher's absence could see Graham flourish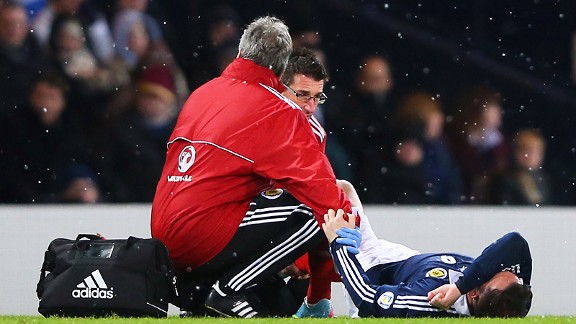 GettyImagesSunderland striker Steven Fletcher is down and in pain during Scotland's World Cup qualifying defeat to Wales
It was the news no one on Wearside wanted to hear - Steven Fletcher, out for the rest of the season with ankle ligament damage. Sunderland's talismanic striker picking up the injury during an international game that fans so often lament.

It had been hoped he would only miss between four and six weeks. The outcome of further tests coming as a substantial blow for the club, who will now face a relegation battle without the man responsible for a third of their Premier League goals this season. Danny Graham is already being shouldered with much of the new-found responsibility following Fletcher's injury and the departure of Louis Saha, James McFadden, Ji Dong-Won and Fraizer Campbell in January.

A £5 million signing from Swansea, Graham represented the same misnomer that was prevalent during the final days of Steve Bruce. While some cared that both men hailed from Newcastle, for the majority it was performances - or in Graham's case his tactical suitability - that caused fans to question if he was the best option. If a striker was to come in, it made sense that he offered a different skill set to Fletcher.

Yet as news broke, the picture of Graham stood on the lush green training pitches with his new shirt on and ball in hand, Sunderland fans accepted him as their own. They also knew what they wanted. A staple of the English game, 4-4-2 was the order decreed and Martin O'Neill provided it. Unfortunately for Sunderland, more strikers did not equate to more goals.

The change in formation had actually served to highlight the fact that without Lee Cattermole their central midfield is worryingly ineffective - the news that he too will also miss the remainder of the season another disappointment. Devoid of creativity, without their captain the central options don't possess the physically imposing attributes that could mask such a deficiency. With O'Neill even forcing winger Sebastian Larsson in field, the central issue at Sunderland has made a fluent strike partnership difficult to cultivate.

Despite both men making noises that a coalition is viable, there are already statistical factors that suggest otherwise. Once blessed enough to witness a fantastic partnership in Kevin Philips and Niall Quinn, the lack of interplay between Fletcher and Graham has been a worrying sight. The pair only passed to each other three times (one of which was from the kick-off) during the 1-1 home draw with Norwich, suggesting an understanding has not yet been forged, with no guarantee it ever will be.

With questions over Graham already being raised, redemption is easy to achieve as Michael Gray explained to ESPN earlier this week: "I was all for him coming to the club because I think he's a goalscorer. I think what Danny needs and everybody is praying for is that he gets himself off the mark. I think that first goal for your new football club is vitally important. I think it will come, we just need it to come a little bit earlier than everyone is expecting."

Given that Fletcher is now out for the season, that desire for his first goal becomes a necessity. Fans can no longer push for both men to start, meaning that with just Connor Wickham in reserve a lone striker becomes the more obvious selection. Playing up top by himself at his last club, it is Graham's time at the Liberty stadium that may also provide comfort for concerned Sunderland fans.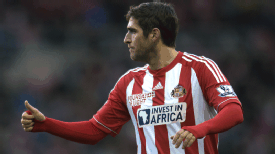 GettyImagesDanny Graham has been boosted by Di Canio's emphasis on attack
A one in three striker at Swansea, he was flanked by two incisive wingers and Gylfi Sigurdsson behind him. 4-2-3-1 is a formation Martin O'Neill has consistently employed during his time on Wearside, with last season's 4-1 win over Wigan and January's home win against West Ham the best examples of the style paying dividends for the Black Cats. The one notable difference in Sunderland's adaptation will be less pace from the flanks, with a 3 man midfield seeming more defensively solid.

However the concern also remains that with just a single forward, crosses need to be even more precise - an issue Sunderland have toiled with for much of the season due to their reliance on width. As Johnson said at the time of Graham's arrival: "Sometimes when you have one striker in the box with two men around him, it's difficult to do anything," he says. "But when all of a sudden you have two strikers in the box it can make a real difference. I've said before to Fletch that when there's just him in the box, it can be so hard to play him in, but when you've got more bodies in the box, you can often really get at teams."

As the stats show, Sunderland's cross completion rate is worrying. Just 9% of their attempted crosses (33) against Norwich City were successful in reaching their target. A stat that was only marginally better a week previous against QPR with six in 26 resulting in success. Even in their last victory against the aforementioned West Ham, just 10% of crosses were successful.

The issue suggests that for Sunderland a narrower more compact formation (like the one Graham thrived at with Swansea) would benefit the team. Adopting a three man midfield with Sessegnon and Johnson tucking in from wide would give them the defensively stability required while also putting the pair in the final third - something their current deep-lying style struggles to do.

Just as with Darren Bent and Asamoah Gyan before them, it seems Graham and Fletcher are more suited to the individual role, something Fletcher has previously hinted towards. "I'm happy to play on my own up front, although I know not everyone is," he told the Sunderland Echo. "But, for me, I quite like the added pressure of the extra responsibility, I quite enjoy it."

While no fan on Wearside would have been naive enough to wish injury on either player, the enforced change could see Sunderland revert to the same style that saw them record seven wins in their first ten games under O'Neill. With no room for failure, the time for a new talisman at the Stadium of Light is now.