Five things we learned from CONMEBOL World Cup qualifying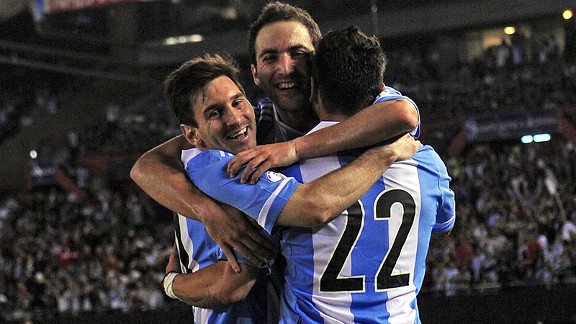 GettyImagesArgentina's stars were all smiles after putting Venezuela to the sword
1. Coach Alejandro Sabella has steered Argentina capably through storm

Sabella was thrown in at the deep end when he was appointed less than two years ago. In theory, the 2011 Copa America was a training ground for the current set of World Cup qualifiers. Argentina threw away that opportunity and decided to start from scratch when they sacked Sergio Batista after the Copa and replaced him with Sabella.

The new man had very little preparation time, and perhaps inevitably there were early problems. In the second round of the campaign his team lost away to Venezuela. In the third they were held at home by Bolivia.

It looked then as if Argentina were in for a bumpy ride to Brazil. Instead, by the time the return fixtures came round, a qualification place was already safely within view -- and it is closer still now, after two rounds when no one else managed to equal the Argentine haul of four points.

In the past year the team has clicked. Lionel Messi has started to reproduce his club form, backed up by the solid midfield construction work of Fernando Gago behind him and inspired by the talent of Sergio Aguero, Gonzalo Higuain and Angel Di Maria in front and around him. On song there is no more attractive side in the international game. The defence may still need some tinkering, but Argentina can build for Brazil with confidence.

And Sabella is well entitled to relax with an expensive glass of wine after a comfortable 3-0 win over Venezuela and a well-planned 1-1 draw away to Bolivia, at the extreme altitude of La Paz, where four years ago Diego Maradona's side were routed 6-1. Next year Sabella's team promises to have all of the romance of Maradona's 2010 World Cup campaign, but a lot less of the hubris.

2. Uruguay's crisis is deeper than we thought

Last June, a third of the campaign played, Uruguay stood second in the table with a game in hand. They were the reigning Copa America champions, 2010 World Cup semifinalists, and if the side was starting to age together, high hopes surrounded the younger generation who were on their way to the London Olympics.

- Video: Luis Suarez caught on camera jabbing opponent

One by one, the wheels have come off. The Olympic campaign was a disaster, and in six subsequent World Cup qualifiers the senior side has added just two points, going down to four comfortable away defeats.

Back in October, after the previous pair of matches, it was clear that changes would have to be made. Coach Oscar Washington Tabarez made them, tweaking the structure of his team, leaving out one of his pair of defensive midfield guard dogs and attempting to play a more elaborate game in possession.

The evidence in friendlies was extremely promising. Uruguay played an impressive game winning 3-1 away to Poland last November, and though they went down to Spain by the same scoreline in February, they played a full part in an entertaining match.

Come the qualifiers, though, they were unable to produce that level of performance. True, only a late defensive blunder stopped them from winning at home to Paraguay last Friday. But their play once again looked laboured and pedestrian in Tuesday's 2-0 loss to Chile. Old stars and new hopes such as Nicolas Lodeiro and Gaston Ramirez are not stepping up to the plate.

Uruguay sit out the first of June's two rounds. In the other, they face a crunch game away to Venezuela -- which like Chile are direct rivals for a World Cup place. And they will be without the suspended Luis Suarez. If Uruguay are going to make it to Brazil, they will have to do it the hard way.

3. Ecuador's Jefferson Montero is one of soccer's undiscovered gems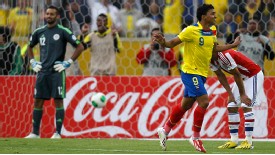 APEcuador's Jefferson Montero delivered against Paraguay in World Cup qualifying.
Ecuador faced a test of nerve when they went a goal down to Paraguay on Tuesday. Their bid to qualify has been based on a 100% home record. Of their remaining six games, four are away. Paraguay's resilience is legendary and they were fighting for their lives. Might the Paraguayans be capable of grinding out an away win?

The capacity crowd in Quito need not have worried. Jefferson Montero chose the day to announce himself as a thoroughbred international player. He scored two and had a hand in the other two as Ecuador won 4-1. After a glance at the highlights, many fans around the world might have been wondering the same thing - Jefferson who?

Thankfully I am not among them. I had a grandstand view of his promise when I saw the teenage Montero help Ecuador win the gold medal in the 2007 Pan-American Games, staged in Rio de Janeiro. His silky running with the ball and ability to glide past his marker on either side were joys to behold. I expected great things, and am still expecting.

Now in Mexico with Morelia after a spell in Spain, on Tuesday's evidence Montero is solving the problem which was holding him back -- a lack of end product, caused by poor decision-making and panicky finishing. This time, under pressure, he did all the right things, undressing the defence, shooting and crossing with precision. With Montero on one flank and Luis Antonio Valencia on the other, Ecuador are an opposing full-back's nightmare.

4. Venezuela are serious contenders

The test of a team is always in how it responds to a setback. Venezuela travelled to Buenos Aires with high hopes of causing an historic upset. The well drilled defence of coach Cesar Farias was going to hold Argentina at bay, while at the other end the pace, power and skill of Salomon Rondon was sure to trouble the home defence.

Indeed, Rondon had his moments -- but they came when Argentina were already 3-0 up and the destiny of the points had been decided. Farias had no option but to admit that his men had been beaten by the better team. But how would they fare four days later at home to the Colombians, who had given another display of their exuberant firepower in a 5-0 win over Bolivia.

It was the time for truth, and Venezuela were not found wanting. Rondon gave them an early lead, and defensive discipline had clearly suffered no ill effects from failing to get to grips with Lionel Messi and company. Radamel Falcao Garcia and his supporting cast were kept out, and Venezuela are back on course.

5. The time is fast approaching for a couple of teams to get off the bus

No one has yet been mathematically eliminated. But realistically, both Bolivia and Paraguay needed more than one point from two games to keep their dreams alive. Bolivia are six points off the pace, while Paraguay are seven -- a big margin to make up with just five games to go.

Altitude specialists Bolivia have already dropped too many home points to be viable contenders. Tuesday's 1-1 draw with Argentina was almost the last nail in the coffin. Paraguay still have four home games left -- win them all and they might give themselves an outside chance of snatching the playoff position. But it is not looking likely, especially as they have managed just eight goals in their 11 games.

This, then, is a painful moment for a Paraguayan generation who have grown accustomed to watching their side in the World Cup: Their team has been to the last four, reaching the quarterfinals in 2010. But there is a price to be paid for rebuilding and it is almost certain to mean that when the World Cup returns to South American soil next year, Paraguay will not be participating.

Tim Vickery is an English football journalist who has lived in Brazil since 1994 and specializes in South American football.