Colombia impress in latest round of WCQ
The latest round of World Cup qualifying in South America is in the rearview mirror. Here's what we learned.

1. Colombia mean business
Going into Friday's seventh round of South America's World Cup qualifiers, Colombia were in sixth place, an intensely disappointing position for a country frustrated by missing out on the past three tournaments. Two excellent wins later, the outlook has changed. Colombia now lie second, just a point behind leaders Argentina. September 2012 was the month they hauled themselves into real contention to reach their first World Cup this century.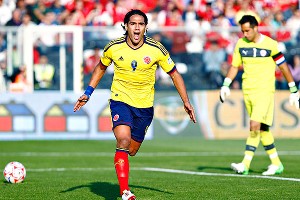 GettyImages / Vista Previa/Getty ImagesAfter two wins, Radamel Falcao Garcia and Colombia are in second place, just a point behind leaders Argentina.
And their sights could be set even higher. On the evidence of the last few days, this is a team which has come on in leaps and bounds, especially in terms of the variety of its attacking options. Over the past few years, the underperformance of the Colombian national team has been symbolised by its failure to get the best out of Radamel Falcao Garcia. Perhaps the most feared centre forwards in club soccer was struggling to make an impression with his country. The explanation seems clear enough. Essentially a dynamic, fearless, front-to-goal finisher, Falcao needs quick service, which Colombia's guileless midfield was not delivering. Supply quality crosses and defence-splitting passes, and Falcao will score. Expect him to link the play in a ponderous buildup, and he will disappoint.

The emergence of James Rodriguez has been a huge plus. The Porto attacking midfielder is a wonderfully mature and versatile talent. In harness with Macnelly Torres, an old-style number 10 with a splendid range of passing, Colombia have started to play their way through and around opposing defences. The signs are that ex-Argentina boss Jose Pekerman is developing a very interesting team. There are problems -- a new crop of centre backs is needed -- and it is always unwise to go overboard too quickly about the Colombians, but the current crop has the potential to do more than merely reach the World Cup. It could well be one of the teams that the favourites will fear meeting in 2014.

2. Argentina have some interesting variations, using Messi by not using him
For almost a year now, Lionel Messi has been in stupendous form for his national team. That run was not continued on Tuesday at Peru. Messi found it difficult to get into the game in Lima, and made little direct impression on the pulsating 1-1 draw.

Even so, his mere presence on the field is a game-changer. Opponents find themselves obliged to take measures to counter him, such as picking an extra defensive midfielder to squeeze his space. Peru did this well, and managed to interrupt the circuit of passing that brings Messi into the game, especially his link-up with Fernando Gago.

No one, however, has yet managed to slip on an extra player. Opponents can only pick 11, which means that if they are focusing on halting Messi, there must be space somewhere else on the field. And so if Messi drops deep in search of possession -- or even as a decoy -- and enough opponents follow him, then Argentina have the option of the long ball forward. Both centre backs, Fernandez and Garay, plus Javier Mascherano and even left back Marcos Rojo, are capable of delivering this pass with precision -- Argentina's equaliser came from a ball played forward down the right channel by Fernandez, swiveled across by Ezequiel Lavezzi and drilled home by Gonzalo Higuain. Messi was not in the photo; even so, he was part of the move.

3. It really does look like the end of an era for Paraguay
After two more defeats, Paraguay lie on the bottom of the table, eight points adrift of the playoff place with only nine games left to do something about it. It is going to take something truly heroic to ensure a fifth consecutive World Cup appearance.

In truth, the country has been punching above its weight for some time. Merely to have qualified for the game's biggest event four times in a row is a magnificent achievement for a country of Paraguay's size and resources. And in all of those competitions, they have never been easily beaten. Last time out they reached the quarterfinals for the first time, and gave Spain probably the hardest, most even match they have had in their recent run of success.

The signs were there, though, in last year's Copa America, when Paraguay battled their way through to the final without winning a single game. A generation had grown old together. Renewal almost always comes at a price, and this looks like being a high one -- the time Paraguay miss out on the World Cup looks set to coincide with the return of the tournament to South America. In light of both the results and the performances in their two recent defeats, it is very hard to imagine the Paraguayans making it through to Brazil.

4. The referee's job is a thankless task
In the second half in Montevideo, Ecuador were leading Uruguay by a single goal. The lead nearly doubled. Cristian Benitez spun past his marker and bore down on goal. He tried to pass Uruguayan keeper Muslera to his right, there was contact and Benitez went down.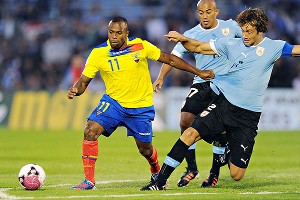 GettyImages / Miguel Rojo/AFP/Getty ImagesEduador's Cristian Benitez found himself in the middle of a contentious call when he was carded for diving against Uruguay.
"Penalty!" shouted all of Ecuador, with much of the country also anticipating a red card for Muslera, guilty of a last-man foul. But referee Carlos Amarilla of Paraguay did not agree. He did pull out a card, a yellow one -- and awarded it to Benitez, adjudged guilty of diving.

Was he right? It is very hard to tell, even after repeat viewings. He gets to see it once, with no replays. And this is one of those cases where different angles appear to offer different interpretations. From some angles it looks a clear penalty. Then again, these are often trickier than they look. When a keeper goes to ground, he occupies so much space that it is relatively easy for the striker to force contact and fall over. From some angles it appears that Benitez has done just that, and is in the process of falling before the contact has taken place.

In a low-scoring game such as football, a decision such as this has enormous implications for the outcome. In the event, Uruguay were able to force a draw. Had Ecuador been awarded the penalty, they would probably have won, and would be sitting proudly on top of the table. The advantage of the South American World Cup qualifiers is this: Over a long campaign (16 games each) there is more chance of any refereeing mistakes evening themselves out. Perhaps that has happened over the course of these two rounds. On Friday, Ecuador beat Bolivia with the aid of a penalty that looked very dubious indeed.

5. World Cup qualifying in South America is the tightest, most competitive on the planet
We knew this anyway, but it is borne out by a glance at the table. After eight rounds, the gap between leaders Argentina and sixth-place Venezuela is a mere three points. Plenty of qualification issues will not be settled until the last ball is kicked in the 18th and final round.

Tim Vickery is an English football journalist who has lived in Brazil since 1994 and specializes in South American football.