A record-breaking paradigm shift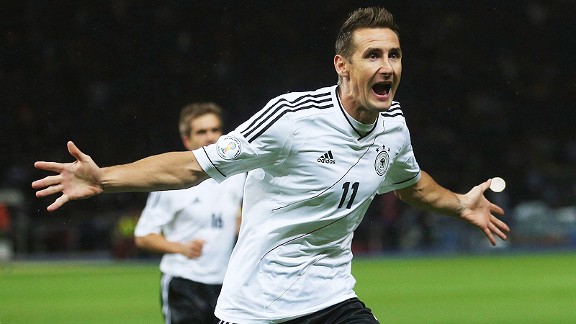 Joern Pollex/Bongarts/Getty ImagesMiroslav Klose is close to breaking a national team goalscoring record -- and he's far from the only one.
They say you shouldn't compare different eras; that each superstar exists in his own age and dimension. But of course, we do just that anyway. Messi or Maradona? Pele or Ronaldo? It's the stuff of endless debate.

Where things change a little, though, is when you introduce numbers into the mix. Because statistics, in theory, are supposed to offer some kind of objective measure. Note the "supposed to" here: In fact, they don't necessarily do so, not when you're comparing across eras or with radically different sample sizes.

We live in a remarkable footballing era when it comes to national teams and goal scorers. An incredible number of top nations have either recently crowned a new all-time goal scorer at the international level or are likely to do so in the near future. As such, the decade between 2007 and 2017 may be remembered as the era in which the record books were rewritten. It already has happened with Uruguay, France, Cote d'Ivoire, Spain and the United States and it will almost certainly happen with Germany, Portugal and Holland, while it also could happen with England, Sweden, Mexico and Argentina.

Miroslav Klose is currently injured but is a single goal away from equaling Gerd Muller's mark for Germany (67 to 68). Klose is 34 -- you can't see him retiring before getting the record.

It has been a good international break for Robin van Persie. He netted twice against Romania and once against Estonia to pass Johan Cruyff on Holland's all-time list and pull level with Klaas-Jan Huntelaar on 34. Both men turn 30 this summer and while they may be sharing playing time up front for the Oranje (who are unlikely to ditch the one-striker system anytime soon), both have a very good shot of reaching Patrick Kluivert's mark of 40 goals in the next few years.

Another guy who should top his country's all-time table real soon is Cristiano Ronaldo. He's third on Portugal's list with 38 -- three behind Eusebio and nine behind Pauleta -- but only turned 28 last month.

Spain's David Villa is already La Furia Roja's top marksman with 53, having passed Raul two years ago. He's 31, which means he should be able to pad that total and put it out of reach before he retires.

In October 2011, Diego Forlan passed the legendary Hector Scarone -- hero of the Copa America wins in the 1920s and the 1930 World Cup -- to become Uruguay's all-time goal scorer. Odds are that Forlan, who has 33 goals for his country, will soon be passed by Luis Suarez (on 31) given that the Liverpool striker is seven years younger.

France's all-time record fell in October 2007 when Thierry Henry, then 30 years old, moved past Michel Platini's 41 goals. Henry has retired from Les Bleus though his mark of 51 will stand for some time. Cote d'Ivoire's all-time record was set a few years back by Didier Drogba, who is now up to 60 and could yet add to the total.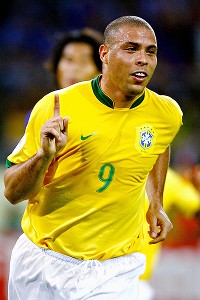 Stuart Franklin/Getty ImagesDespite the slew of broken records, it's possible that Ronaldo's high mark for Brazil is never matched. That said, Neymar has time.

And in 2008 the U.S. record was broken by Landon Donovan, another who may or may not add to his current total of 49. He's only 31, but his recent behavior suggests he's not sure about whether he wants to once again lace up his boots.

Elsewhere? Wayne Rooney is up to 35 on England's list. He's 27 and the England mark of 49 by Sir Bobby Charlton is only 14 goals away. You figure he has a legitimate shot. Zlatan Ibrahimovic is 31 and needs another 10 to catch Sven Rydell, the Swedish goal machine from the 1920s. It's not unthinkable.

Then there's Lionel Messi. Yes: Gabriel Batistuta, Argentina's all-time leader, is a whopping 24 goals away. But then Messi, at 25, already has scored 32 international goals. At his current pace, he'll get there just after he turns 30.

Mexico could be in play too: Javier Hernandez is at 30 -- record-holder Jared Borgetti has 46 -- but Chicharito is still just 24.

It's almost easier to list those teams among the big boys that definitely won't see a record fall in the near future: Brazil and Italy. Pele's mark of 77 is very safe (though we may never know what Ronaldo might have achieved had he not been slowed by injuries) and so too is Gigi Riva's 35 for the Azzurri (though maybe in a decade or so Mario Balotelli might have something to say about that).

What we've seen over the past decade is a paradigm shift, a bit like what happened in Major League Baseball only without the shadow of PEDs. It's not hard to figure out why. National teams play many more games than they did before and, especially in Europe, they play more matches against poor opposition. Scan the list of UEFA member nations and you'll find two dozen patsies that simply didn't exist as footballing countries 20 years ago, ideal for padding goal-scoring stats. There's also the fact that better diets and advances in training and medicine enable players to stick around longer.

These three factors alone are enough to explain the sound of so many all-time marks being shattered. It doesn't necessarily cheapen the records; it just changes their meaning somewhat.