Champion effort lifts Spain over France
In retrospect, Spain's draw with Finland on Friday -- and the hot, harsh sting of wounded pride Vicente del Bosque's men felt -- was absolutely the worst thing possible that could have happened to France.

History isn't on Spain's side when it comes to facing Les Bleus. Yet La Roja managed not only to collect their first competitive victory in Paris -- a 1-0 World Cup qualifying affair full of tense battles -- but the world champions approached the match as if they could never do anything other than win.


It's a plain fact that Didier Deschamps' side had opportunities to score, and at no time did France play like eight stone weaklings.

But if postmatch you talk about domination of the ball and, crucially, the intelligent attacking things which were done with it; if you talk about overall chances; if you talk about intention to win instead of intention not to lose, and if you take into account that so comfortable and confident were those in red that you'd have thought they were playing at home, then Spain were winners on a technical knockout, not just by Pedro's solitary goal on the night.

This was the stuff of champions. Don't make any mistakes about that.

Group elimination was on the line. France led the standings by two points. Spain had never emerged victorious from a competitive match against Les Bleus, apart from in the Ukraine last summer.

Spain were missing their captain, Iker Casillas (more on him in a moment), Carles Puyol, Jordi Alba, David Silva and the rather deflated figure who is their once-talismanic figure, Fernando Torres. All bar Torres would have started if available.

Yet Vicente Del Bosque's side bossed this.

From the opening moments when Xavi skewed a clear chance from a couple of yards out (created by Arsenal's immense Nacho Monreal) to the last few minutes when Sergio Busquets should have made it 2-0 against France's 10 men, this was a work of authority, composure and measured aggression.

Perhaps it's fair to say that if Spain want to extend their run of three consecutive major tournaments and add the Brazil World Cup, then they may have to conquer this need of theirs to feel the adrenalin of the edge of a precipice.

The adrenalin jag of penalties against Italy in 2008, in Euro 2012 against Portugal and in extra time in the South African World Cup final. And now, here, where defeat would have meant goodbye to any prospect of direct qualification for World Cup 2014.

It's a mark of champions. Real cold-eyed winners to produce when the chips are down. Doubts are for wimps.

But every so often when you tiptoe along the edge to get a frisson of excitement, you can fall over. But that's for another day.

Yet again, Spain produced in so many ways.

Postmatch Andres Iniesta said, "I suppose it's normal that when you play a side like Finland and only draw instead of sticking in a few goals then people will say what people say. But this team never had any self-doubt, we knew that we could take a major step forward and we knew that we could win this game. In the end we gave a serious, competitive performance, and it's a decent step forward."

And you could see, clearly, how much even the minor surge of criticism ("Should Spain play with a false nine?" "Is this the end of an era?" and other such nonsense) had stung.

It would be easy, and mostly truthful, to ascribe much of Spain's success in Paris to Xavi and Xabi Alonso being restored to the team. But it must be underlined that the restoration of the double-pivot (albeit in a 4-3-3 formation) of Busquets and Alonso added an immense degree of control, rigor and intelligence to the midfield.

In fact, it was ironic that only when Paul Pogba was red-carded for two bookings in the space of less than two minutes and Spain had a man advantage that they became slightly ragged, slightly less ordered with the ball.

Sometimes that happens -- the perceived 11 v 10 advantage somehow has a reverse effect. But it was strange that it afflicted Spain when Vicente Del Bosque, on his feet and prowling the touchline for most of the evening, was gesticulating like a windmill on amphetamines, that he wanted his troops to "hold the ball, hold the ball."

However the majority of the night did see the football umbilically attached to one Spanish boot or other. One result of that was that France should have been a goal down and a man light long before either of those events actually took place.

Midway through the first period Pedro went clear, controlled the ball and Hugo Lloris launched himself at the Spaniard, missing the ball and quite clearly using his "Enter The Dragon" lunge to send his opponent flying.

"Lloris took him out, and it was clearly a penalty" Iniesta said postmatch. "But the ref only ever has a split second to make a decision and, fortunately, the fact that he decided not to give it didn't, in the end, have any consequence".

For that, the Spanish will need to give thanks that the nippy little Barcelona winger took matters into his own hands.

Not long after the break he feinted one way and then, shaking off two marks, hared off in the other direction. His lofted pass to the left seemed too high for Monreal who was on the rampage down the wing. Instead it was Jallet, France's man on the spot, who lost the flight of the ball, and when Monreal controlled, advanced and slid a service across the face of the goal, Pedro arrived to juggle the ball into the net off Lloris's shoulder and face.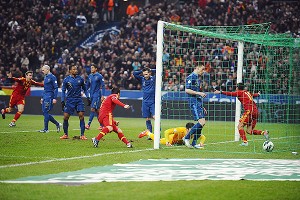 Miguel Medina/AFP/Getty ImagesPedro's winner versus France is his fourth goal in this current World Cup qualifying cycle.
There was a lovely little cameo at this point because Jesus Navas, naturally a right winger, had been stripped and ready to take the field for a moment or two, and the natural change looked like winger for winger. But when Pedro scored and put France in need of pushing forward out of their counterattack mode, it appeared that Del Bosque changed his mind and withdrew David Villa instead so that La Roja could have two flying machines (Pedro and Navas) to pin France back with their pace or to exploit any gaps at the back.

For Spain, there wasn't a dull performance. Not one.

But while it would be easy to praise the midfield engine room (where Busquets had one of his best nights ever), the interesting and fascinating story was the replacements.

Casillas, apropos of one of Europe's more interesting debates these past few days, took the anti-Rio Ferdinand route and flew out to support his national side even though his injury rehab might well have been better served by staying at home, avoiding two unnecessary flights -- but Spain matters to Iker.

Coincidentally, or not, Cristiano Ronaldo rejected the chance to return home early to Madrid despite being unavailable for Portugal's selection and flew all the way to Baku in Azerbaijan simply to show face with his beleaguered teammates and pull together at a time when his national team didn't really need its superstar player going home as if to say, "Not my problem."

Some will say these are salutary lessons for Rio (not able to feature for England because of rehab but happy to fly to Gulf to take TV money to commentate on his national team's game against San Marino, and heavily criticised for doing so) -- others will cry "irrelevant." Make your own mind up.

But back to the replacements. Instead of Casillas, there was Valdes. In this column I've often made it clear that the incumbent, the captain, is somebody really special. His position is not and has never been under threat. But Valdes is so unfortunate to have this obstacle in his way.

He turned up at the same stadium where he played magnificently to help Barcelona defeat Arsenal and win the Champions League final in 2006 (defying Thierry Henry again and again) and he played out. of. his. skin. Out of his skin.

Still in the first half, early enough to have a considerable effect on morale and self-belief, Franck Ribery got behind Pique from a speculative pass and raced in on goal. It was a one-on-one chance. Ninety-five percent of the time, it should automatically be converted, particularly by someone of Ribery's class when he had the ball under control, had time and space to choose what to do ... but no. Valdes timed his surge from the line perfectly and saved with his right knee, producing what has become his trademark -- the one-on-one "he's got no chance" save.

Then, in the dying embers of the match, he showed up with one of the stops of his entire career. Valbuena's curling free kick, Patrice Evra's subtle header from about 5 yards out and Valdes, going the other way, flailed out his left hand and pawed the ball away. Remarkable.

Then there's Monreal. Not only did he tee up Xavi for that golden chance and produce the goal assist, he was smart, quick and physical all night. No nerves.

It's worth pointing out that France weren't poor -- perhaps just a little too focused on containing and breaking forward rather than pinning Spain back and looking to test whether there were cracks in morale or nerves.

In fact, despite Pogba's red card, there is one heck of a muscular, mobile and football-playing midfield pairing developing between him and Blaise Matuidi in the centre of the park for Les Bleus. For years to come, world class footballers will groan in disgust and wish they didn't have to get up that morning and face those two in the evening -- particularly with the athletic Rafa Varane backing them up and Valbuena to their left.

However, this was a moment when the champion side said: "Enough is enough." Good entertainment, intelligent football, winners' mentality. Iniesta might have scored, Pedro scooped a chance over, Navas was wasteful. The advantage should have been greater by the end.

But it's only a switch in who sits in the power chair, not qualification itself. Each side is away in September, Spain in Finland, France in Georgia.

There may yet be drama in this group.

For the moment, this was a mix of sporting and human drama. There's nothing finer.