Should Lambert be wary of new optimism?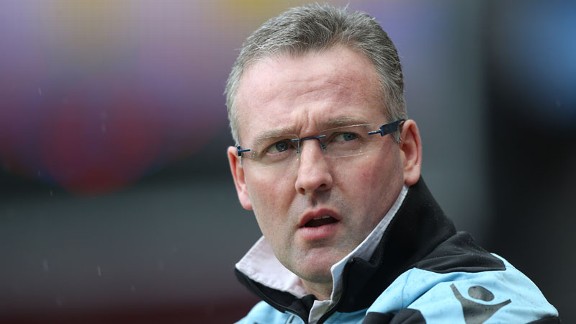 PA PhotosLambert's Villa are starting to find the form needed to stave off relegation
Some time in the next 48 hours, Paul Lambert will reassemble his Aston Villa squad and prime them for what might be regarded as the final push.

For once, his job won't be to lift the spirits of his players. Two crucial victories in the last two and a half weeks - and a run of ten points from six games - have done that for him.

Instead, his job will be to choose whether he should ride the fresh wave of optimism rolling across Villa Park or jump off it and make sure it doesn't submerge the clear thinking of all concerned.

Around 5pm the Saturday before last, it was difficult to escape the almost collective sigh of relief that came with the establishing of a six-point gap above the Premier League safety line and the apparent realisation that the club were going to be all right after all.

No such talk emanated from Lambert himself. He can never be accused of going overboard and has at times been mocked for his unyielding adherence to the conservative 'We'll be fine' party line.

Keeper Brad Guzan, whose season-long brilliance would make even the impossible seem possible, was the nearest to letting his guard slip when he said of the survival task following the 3-2 victory over QPR ten days ago: "With results like this, I think we will do it, no problem."

Villa have to learn to handle the confidence that has come with their late-winter lift-off. After all, it isn't a commodity they have had much of this season.

It has to be sufficient to inspire them to another stirring performance this weekend, yet kept under enough of a lid as to ensure there are no feelings of complacency for the games ahead.

A reality check, if one were needed, came the day after the win over Harry Redknapp's Rangers when Wigan beat Newcastle, albeit in controversial and possibly fortuitous circumstances. The six-point cushion Villa were sitting comfortably on had suddenly deflated into one of only three points.

That's still relatively healthy from where they have come from since before they went to Reading and won in Brian McDermott's last match in charge at the Madejski Stadium.

But it's by no means a position of any security and Lambert, especially with the added distraction of international fixtures across the globe, is certain to reinforce the message that the survival effort is merely under way and not on the way to being accomplished.

And, if those words don't get through, a look at the fixture list might help ... some way beyond the visit of Liverpool to Villa Park is a trip to Old Trafford and a clash with Chelsea. Oh and that last-afternoon assignment? Wigan away, of course.

Mmmmmm ... there's some mouth-watering mileage in this survival battle yet.