Fear and loathing in Paris
Not if their test of fire were in Rio, Buenos Aires, Dortmund, Lisbon, Wembley or even Milan could Spain have a less appetizing place to play what looks like an all-or-bust fixture than in Paris on Tuesday night. There have been only eight competitive meetings between these two often uncomfortable neighbours, and Spain have the paltry record of one win and two draws to offer up against France's five wins.

For a while Spain's "bestia negra" (bete noir) was Italy. Ask any Spaniard before Euro 2008 and they'd have said it was fated, foretold, guaranteed that Spain loses to Italy in a competitive fixture just as Saturday follows Friday.

- Tactics & Analysis: Jordi Alba absence
- Delaney: Context is everything
- Evra wants 'arrogance' against Spain

However, since that ultradramatic penalty-shootout victory in the 2008 quarterfinal, Italy have been dealt with on a couple of occasions, most notably the 4-0 European Championship final win last summer.

Yet while Vicente Del Bosque's side has two recent, muscular friendly wins over France -- plus eliminating them from the quarterfinal of Euro 2012 -- the fact remains that Les Bleus' tend to be kryptonite to La Super Roja.

So visiting the Stade de France with a two-point deficit in Group I, off the back of a clumsy 1-1 draw at home to Finland, with the memory of being largely outplayed by Didier Deschamps' side last October in Madrid -- and without Iker Casillas, Carles Puyol and Fernando Torres -- is a menacing prospect for Spain.

Worse still, if history is our guide, the Spanish also have reason to fear and loathe Monsieur Deschamps in particular.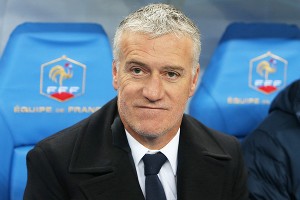 John Berry/Getty ImagesDidier Deschamps should feel confident: In eight competitive meetings between Spain and France, Les Bleus have won five times and lost just once.
Long before Oliver Giroud started this Group I tremor with a late equaliser at the Estadio Vicente Calderon five months ago, Del Bosque & Co. knew that Deschamps (dubbed the little "water carrier" by former French international Eric Cantona ) seems to hold something personal against Spain.

It's ironic, because if Deschamps' parents had taken a 30-minute wrong turn on the drive to the hospital on the day Deschamps was born back in October 1968 -- the same month that Del Bosque was making his debut for the Madrid youth team -- then the kid would have been born in Irun, Spain, and would probably have gone on to become an all-time Athletic Bilbao or Real Sociedad legend. Instead, he grew up in Bayonne in the French Basque country.

And bossed Spain's midfield, too.

Nevertheless, as a player and a manager he's become one hell of a thorn in the side of all things Spanish.

While an international midfielder during France's most glorious era, he faced La Roja five times. Four competitive matches and one friendly between 1989 and 2000 yielded four wins and a draw, helping ensure that Spain didn't make it to Euro '92 in Sweden.

Although Deschamps and Juventus famously lost to Real Madrid in the 1998 Champions League final in Amsterdam, he was an architect of knocking Madrid out of the 1996 quarterfinal en route to Juve winning that tournament themselves.

As a manager of Dado Prso's Monaco, Deschamps' team put 15 (yes 15!) goals past a terrific Deportivo la Coruna side in four games across 2003 and 2004, and then, just for good measure, he turned from a 4-2 deficit against Carlos Queiroz's Madrid and eliminated them en route to the final, with an epic 3-1 home win in Monte Carlo.

Notwithstanding all that, there will be life after Paris for this Spain team even if they do not win. A draw, in particular, would at least offer them the opportunity to win the remainder of their matches and demand that France don't drop points on their travels -- particularly to Georgia in September.

A defeat would quite certainly mean that Spain have to aim for, and then qualify through, the European playoff system.

This continent has nine groups but only the eight best runners-up will be paired in the November knockouts -- whoever is the worst runner-up will be eliminated automatically. Right now, Spain are safe on that count and should certainly stay that way.

So there remains a get-out-of-jail-free card available: not fun and full of risks, but realistic -- a good insurance policy.

All of which means that more important than a potential loss in Paris is the temporary loss of Spain's football personality. And it goes beyond the strange, cumbersome home draw to Finland.

La Roja's world dominance began to take shape immediately after they lost 1-0 to Romania in November 2006. They didn't lose again for 35 matches, during which time they won their first title since 1964. In fact, from the Romania game until today, Spain have played 91 matches, losing only six times -- a mere two competitive losses (U.S. in Confederations 2009, Switzerland in World Cup 2010). During those 91 games, Spain have prevented their opponents from scoring on 52 occasions and have won 1-0 19 times.

The driving, under-recognised weapon of this truly great Spanish era (perhaps the most powerful six years in football history) has been their ability to prevent opponents from scoring.

(It's important to add the rider that until opponents got savvy and stopped trying to chase after Spain and take the ball from them, La Roja also had a great tendency to win games with late goals.)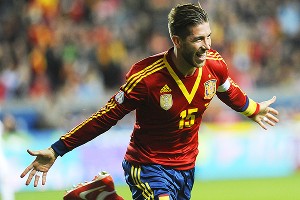 Rafa Rivas/AFP/Getty ImagesOn Friday, 26-year-old Sergio Ramos scored on his 100th appearance for Spain.
But you'd be hard pushed to file many of the past eight performances in the "typical Spain" category. They've lost some key personality traits.

In the past eight matches there have only been three clean sheets -- way, way below average. In the past two competitive fixtures, Spain has been leading 1-0 but conceded late equalisers (normally it's Spain who rattle in a goal when the referee is beginning to think of where to eat later that night) and has performed without the trademark of the Del Bosque era -- the double pivot midfield (usually Xabi Alonso and Sergio Busquets).

The thing which seems particularly confusing from a distance is that Del Bosque used both of the competitive defeats to enormous good, but recently seems to have erred when learning lessons from poor results.

For example, after defeat to the U.S. in 2009, Del Bosque publicly regretted his tactical changes after falling behind and vowed that he'd not abandon Spain's playing philosophy again irrespective of whether they trailed in a match or not. After defeat to Switzerland in their 2010 World Cup opening match the vast, vast majority of the Spanish media and footballing public demanded that the "negative" double pivot system in midfield be abandoned and Busquets be dropped. Del Bosque held a team meeting, told the players there would be no "victims," certainly none that the media catalyzed, and stuck to the Busquets-Alonso tandem all the way to winning the World Cup via four straight 1-0 wins in the knockout phase.

Yet in the important match with France last autumn, Del Bosque chose to play Busquets in defence because of Gerard Pique's absence, and the breaking up of the midfield tandem (in what was a 4-3-3 formation rather than the more successful 4-2-3-1) allowed France to dictate far, far more of the play than would be normal.

Spain looked ragged.

That was already a strange choice on the night, but far from drawing benefit from the experience, Friday night against Finland became a second lesson that the double pivot system shouldn't be lightly discarded. Alonso wasn't 100 percent fit to face Finland (and Javi Martinez, bizarrely, wasn't called up for the squad), and while Spain sat on the edge of the Finnish penalty box, the need was for a breakthrough, rather than order and tempo in midfield.

OK, so far, so good. No problem.

But after Sergio Ramos scored in his 100th appearance for his country (aged only 26!) the game gradually became more ragged and slightly more open, and there was a gaping need to restore order, positional play and tempo into the centre of midfield.

When Juan Mata replaced Cesc Fabregas with a quarter of an hour left, the shrewd move would have been to pair Javi Garcia (or even Alonso for that brief time) with Busquets in midfield, moving to a 4-2-3-1 formation. The consequence of not doing so was grave. With 11 minutes left, Finland scored an absolutely wonderful goal -- it truly was top-class. But Spain contributed with errors.

When the ball was moved to Niklas Moisander, Alvaro Negredo couldn't close him down and there was a big gap down the middle of midfield, where the double pivot system would have been a block. Moisander's pass to Perparim Hetemaj was inch-perfect, and Hetemaj, knowing there was a gap, played the kind of first-touch pass of which Andres Iniesta would rightly have been very proud.

Busquets found himself out of position and Juan Mata lost his man (Alexander Ring), who eventually crossed the ball for Teemu Pukki's deft finish. Alvaro Arbeloa, meanwhile, got exposed coming forward needlessly, and that was La Roja's contribution to Finland's glorious moment. .

If there had been a second pivot, Moisander's pass to Hetemaj most likely would have been impossible, Arbeloa would have moved to his right to cover Ring, and Spain would have won 1-0.

Most un-Spain-like.

Much has been made of Gerard Pique lecturing Arbeloa on his positioning after the goal and Arbeloa, plainly, disagreeing. Not a good sign prior to the match against France, but it isn't the end of the world.

I expect both Xavi and Alonso to return in Paris, and I expect the team -- given Alba's injury and David Silva's suspension -- to line up like this: Victor Valdes; Arbeloa, Ramos, Pique, Nacho Monreal; Busquets, Alonso; Pedro, Xavi, Iniesta and David Villa.

That starting XI, when on its game, is certainly good enough to win, but they face a side that is in better form than them, which has the pressure off their shoulders because of group leadership. Further, they face a coach who takes particular glee in proving French supremacy over its neighbour.

If Spain continue to search for, but not find, their true personality, it will help seal Group I victory for France and condemn the world champions to a race to ensure a playoff in November (potentially against England or Portugal).

If Spain's identity is reasserted, anything can happen. Stand by for sparks.