Mirko Vucinic - A man for the big occasion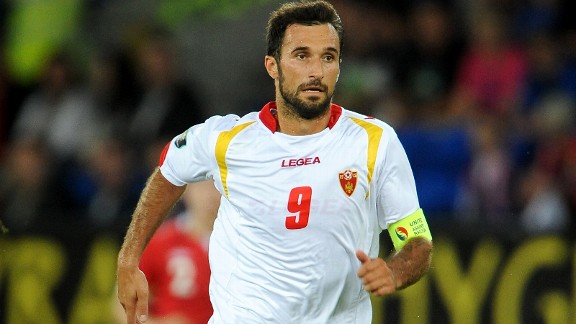 PA PhotosMirko Vucinic has featured on the scoresheet in each of his last two games for club and country
The Sutjeska Niksic team are flying to Belgrade for a game when their plane encounters some turbulence. As you might expect, a number of people on board begin to panic. There are a few shouts, screams and sharp intakes of breath.

A teenage Mirko Vucinic keeps his head when all about him are losing theirs. "Only [he] seemed indifferent to it," the club secretary Miloica recalled to La Gazzetta dello Sport. "He was playing with a tennis ball."

The story serves as a reminder that not much fazes Vucinic. Playing England again in Podgorica on Tuesday night certainly won't.

- Vucinic: Rooney's temper will be tested
- Duerden: England test rouses Dejan
- Brewin: Rooney offered second chance
- Watch: England arrives for crucial qualifier

Like many players who leave home at a young age to make it under the bright and often unforgiving lights elsewhere, self confidence, thick skin and a derring-do characterised him. There was a precociousness about Vucinic the kid.

That and an ability with a football of course that made something immediately obvious to those in Niksic: This kid was going to be one of the leading players of his generation in the region, maybe the best since Dejan Savicevic, the AC Milan playmaker who he'd watch on TV before heading out to emulate in training.

"I admired him like all Montenegrin kids did," Vucinic later told >Il Corriere dello Sport. "The fondness for [AC Milan] was a consequence."

What his coaches couldn't have anticipated at the time, however, was that the boy they had on their hands would one day score Montenegro's first ever competitive goal following the nation's independence from Serbia.

"You saw he had a talent that was out of the ordinary," his first coach, Ljubomir Petrovic, told the pink paper. "He always played in the [forward] role and scored an avalanche of goals."

By the eve of his 17th birthday, it was apparent even then that Vucinic had outgrown Niksic. "The problem we had was putting the brakes on his exuberance," Petrovic added. "He was already a leader as a boy. Perhaps if he'd stayed in Niksic too long, he would have lost himself. He needed to go to Italy early."

A youth tournament in Sardinia had brought Vucinic to the attention of Roma's academy chief and club legend Bruno Conti. Rather than take the boy on himself, he pointed him out to Pantaleo Corvino, the then director of sport at Lecce and one of Italy's great talent scouts.

Over the years, Corvino has made some great discoveries. Vucinic's international team-mate Stevan Jovetic was brought to Fiorentina by him in 2008, as was Matija Nastasic in 2011. The Balkans was where he more often than not struck gold. And so it was with Vucinic.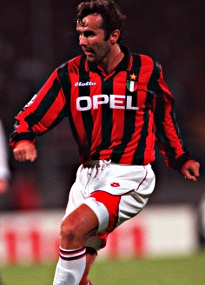 PA PhotosDejan Savicevic was one of Mirko Vucinic boyhood idols
"Corvino came to watch him in person in a friendly here," was Niksic general manager Andrja Vujovic's recollection. "That day Mirko didn't play very well but Corvino understood immediately that he was a talented kid and decided to take him to Lecce. It was a good piece of business for the club." And it worked out for the player too.

Lecce, though renowned as Italian football's yo-yo club, were thought of as a stable place for young players to get a foothold in the game over there. The understanding was they'd be given time to adjust and the chance to develop away from the sort of scrutiny expected at one of the country's bigger outfits.

It was a life changing experience for Vucinic who would really come of age at Lecce. There were some growing pains of course but Corvino, his mentor, kept him on the straight and narrow.

"I was banned in the youth championship for almost three months for a reaction against a referee," Vucinic told La Gazzetta dello Sport. "The director of sport made me open his office early in the morning every day. And when he crossed me, Corvino would spur me on by saying: 'if you don't make it as a real footballer, I'll throw you out of this window'."

Thankfully, defenestration wasn't necessary. Before long Vucinic broke into the first team. Lecce's coach at the time, Alberto Cavasin, had never seen a player so good, so young. "When I watch Vucinic it's like being in front of a Vincent Van Gogh painting every time," he said.

Not until the appointment of Zdenek Zeman, however, did a coach tap Vucinic's true potential. Having scored just once in Serie A the previous season, this 21-year-old, in tandem with Valeri Bojinov, came out of nowhere to find the net 19 times in the 2004-05 campaign.

After each one he'd celebrate in the style of a wrestler, imitating Chris Benoit, the Undertaker, John Cena and Randy Orton. "If I score against Parma and we survive, expect Triple H's," Vucinic said.

As a total, 19 wasn't enough to make him Capocannoniere that season, but Vucinic was the division's top foreign goalscorer ahead of Andriy Shevchenko, Adriano and Zlatan Ibrahimovic. He'd equalled a club record too. It remains arguably his best ever season in Serie A.

As you can no doubt imagine, Vucinic was suddenly attracting significant interest. He chose to stay another season in Lecce, where he met his wife Stefania and intends to return to live once his playing days are over.

Following Lecce's relegation, he moved to Roma in 2006. His reputation in Italy, but above all in Europe, was to be further enhanced over the next five years.

While a knee operation meant he missed much of the first half of his maiden season at the Olimpico, Vucinic scored the winner in Roma's oft-forgotten 2-1 victory over Manchester United in the first leg of their Champions League quarter-final. It was one of only three goals that campaign.

The criticism of Vucinic has tended to be that he doesn't score as much as he should. His 19-goal season at Lecce had set expectations high. It had a caveat though, which was its context: he'd been playing under Zeman, for whom football is about one thing and one thing only and that's attacking.

The thing with Vucinic, though, is that he'll guarantee a team close to 15 a season. Of them there'll be some crucial ones too, real momentum shifters.

He made a habit of showing up on the big occasions like the derbies with Lazio. There was the last minute winner he scored against Real Madrid in the Bernabeu, the one at Catania that meant Roma were champions of Italy for an hour on the final day of the 2007-08 season until Ibrahimovic rescued Inter, to say nothing of the brace he got at home to Chelsea the following campaign that had its own relative significance.

In Totti's injury-enforced absence, he carried Roma on his back for much of the 2009-10 campaign, showing the kind of maturity and decisiveness that marked him out as a top player. If Roma came agonisingly close once more to winning the title for a fourth time that season, a lot of it was down to Vucinic.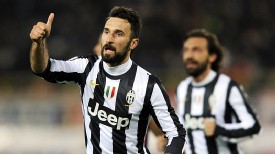 GettyImagesMirko Vucinic won the Scudetto with Juventus
"I still find it hard to digest," he recalled. "We had recovered 12 points on Inter then we threw it all away by losing at home to Samp. And to think that we were winning at the end of the first half..."

Vucinic got fed up of being a runner up. "I couldn't go empty handed any longer," he told La Gazzetta dello Sport. Hearing his wife insulted by a section of Roma supporters while she was in the stands disillusioned him too.

Offers from England and France arrived. He listened. But the one that sounded best to Vucinic was that from Juventus. He moved to Turin in 2011. Within a year, he'd win that elusive Scudetto and become the first Montenegrin to do so since his idol Savicevic picked up the last of his three Serie A titles in 1996.

With Juventus nine points clear at the top of the table at the moment, a second league championship in a row looks likely and one could make the case that Vucinic has also been more of a protagonist this season than he was last, scoring 10 goals.

He heads into Tuesday night's game against England in good form. Vucinic's name has featured on the scoresheet in each of his last two games for club and country.

As captain of Montenegro, it's his dream to lead them to their first major tournament. They missed out on Euro 2012 after a play-off defeat to the Czech Republic. Avoiding such heartache will be at the forefront of Vucinic's and his team-mates' minds as they take to the field in Podgorica this week.

If Montenegro were to beat England, they would go five points clear at the top of Group H. Qualification for the 2012 World Cup would be within reach. They'd almost be on the plane to Brazil.

If there's turbulence on the way there, those at Sutjeska Niksic know their old boy Vucinic won't be flustered. As for England, their flight in and out of Podgorica promises to be a bumpy one. Time to buckle up.