With individual brilliance, context is everything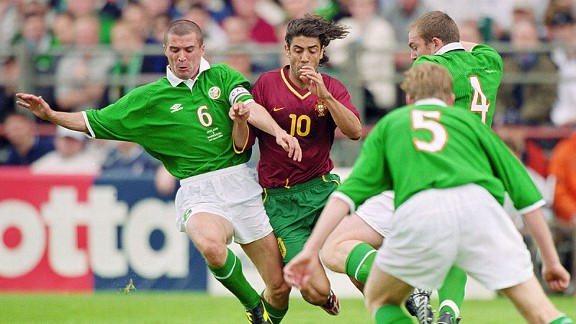 Jamie McDonald/Allsport/Getty ImagesRoy Keane (No. 6) turned in some of the best solo performances in Irish footballing history. But why do those memories get overlooked so often?
Dutch manager Louis van Gaal was angered, but also clearly impressed.

It was late 2001 and a Netherlands team featuring the likes of Ruud van Nistelrooy, Patrick Kluivert and Marc Overmars at their absolute peak had just been ousted from World Cup qualification by Ireland. Or perhaps more accurately, they had just been completely overwhelmed by a rampaging Roy Keane.

In the first minute of their September 2001 match in Dublin, the midfielder set the tone by cutting down Overmars. In the 67th, he helped set the final score with a jink around Mark van Bommel and a 25-yard charging run that saw the ball fall at the feet of Jason McAteer for the only goal.

Keane's performance in that game has gone down as one of the greatest in Irish history; it is rare to have seen an individual player so singularly impose his will on a game and genuinely condition the final result on his own.

Except, in this case, it only followed an arguably more impressive display from Keane just three months earlier. In June of that year, a superb Portuguese team arrived in Dublin and illustrated exactly why they'd reached the Euro 2000 semifinal. Rui Costa smashed the post from distance and his teammates generally tore Ireland apart. There was one reason, however, why the game ended 1-1 and not 4-0 to Portugal: Keane. At one end of the pitch, he was obsessively chasing back to cover the mistakes made by his defense; at the other, he scored the 65th-minute goal that actually put Ireland in the lead.

As if to signal that this was the kind of company Keane belonged in, the only other strike of the match was hit by the then-reigning Ballon D'Or winner, Luis Figo. Yet when it came to deciding the FIFA World Player of the Year a few months later -- an accolade eventually combined with the Ballon D'Or in 2010 to make one individual global award -- there were a few interesting aspects to the voting.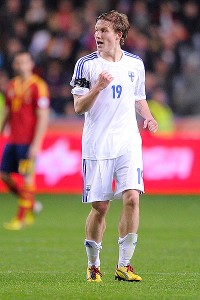 Denis Doyle/Getty ImagesAlex Ring and Finland stunned the pundits by holding Spain to a 1-1 draw last week. Yet all the headlines dissected La Roja's flaws instead of the Finns' collective cunning.

For a start, Figo won that one, too, and there was little disputing the final outcome. Keane, however, received only one vote in the entire ballot, and you can probably guess who it was from: van Gaal. By contrast, 72 other voters felt they should opt for David Beckham, who finished second.

That very outcome raises a wider point about the issue of world class players from smaller nations and how we recognise, contextualise and value performance and influence in the sport. It's also something to consider in a week of international fixtures that will see many fine performances for lesser countries go somewhat unheralded. Even after Spain's surprising 1-1 draw with Finland, there has been an understandable focus on how the world champions failed rather than how the likes of Teemu Pukki succeeded.

To return to 2001, Keane and Beckham were actually teammates with Manchester United at that point in time and enjoyed more or less the exact same achievements that year, right down to winning the Premier League together for the third time in a row and separately driving their countries to the 2002 World Cup.

However, there was absolutely no doubt as to who was the top dog at Old Trafford. As Alex Ferguson has himself stated, he's never had a more influential player than Keane. In other words, the United team probably could have gotten by without Beckham. They always struggled, however, without Keane. Yet while it was the Irish midfielder who provided the team with the gumption and grit that led to so much success, it was Beckham who often offered the glamorous touches that made it all glisten.

Cases in point were so many of the No. 7's fabulous free kicks, and it was one of those set pieces, in particular, that probably secured him second place in the FIFA World Player of the Year voting. On Oct. 6, 2001, Beckham scored a divine last-minute free kick at Old Trafford to make it 2-2 against Greece and ensure England qualified automatically for the World Cup rather than having to endure the playoffs.

As a dramatic key moment in a match involving one of the most high-profile teams, it naturally caught the attention of so many. By contrast, Keane's performance was only properly recognised by those actually watching the whole thing or directly involved -- such as Van Gaal -- given that many observers would have registered little beyond the story of Dutch demise in Dublin.

And that, really, is the point. Too often, the more obvious, flashier headline will take attention away from the truer achievement.

Consider, after all, the story surrounding those two displays. In that England game in October 2001, Beckham was playing on a side clearly superior to the Greeks, a side still far from the defensive force that won Euro 2004. What's more, the stakes were not outright elimination but simply an inconvenient demotion to the playoffs, and as it turned out, the German team that finished second to England in that group easily defeated Ukraine to qualify anyway.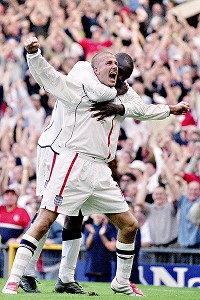 Shaun Botterill/Getty ImagesDavid Beckham was teammates with Roy Keane at Manchester United, yet his heroics vs. Greece overshadow anything Keane did for the Republic of Ireland.

In those two Irish matches across the summer of 2001, though, Keane was on a very moderate side that was clearly inferior -- in terms of talent -- to the Dutch and Portuguese teams that had both enjoyed deep runs at Euro 2000. And again, the stakes were not just qualification or a playoff place but complete elimination.

In that context, there is no real comparison. Beckham got England to conform to their general level while Keane ensured that Ireland wildly surpassed theirs. Not for the first time, however, profile trumped actual product.

That's been the case throughout the history of awards like the Ballon D'Or. The only time that fine players from smaller countries have challenged as a consequence of their international performances has been when the achievements have been so obvious that they're impossible to ignore. In 1962, for example, Josef Masopust drove Czechoslovakia to the World Cup semifinal and even ousted Eusebio.

In general, it's the games of the biggest countries that condition things like the broader footballing narrative. It is correct to a degree given that the highest recognition should go to those who fully perform at the highest level of the game. Unlike in club football, though, there are too many occasions when international players are simply confined by the context of their country's squad. Obvious examples are the likes of George Best and more recently, Zlatan Ibrahimovic. The Swede, after all, is playing on a side far removed from the talent-filled 1958 squad that reached the semifinals of that year's World Cup, or even the balanced outfit of 1994.

While that means it is always going to be difficult for Ibrahimovic to properly dominate a tournament in the manner so many demand, it cannot be said that he hasn't done his part. The big forward has scored in every European Championship he's been to, including a Euro 2008 equaliser against a supreme Spanish team that would then go on to dominate world football.

Ultimately, what deserves recognition is not always the final result, but how rousingly a player performs despite the general parameters of his team.

As a final comparison, consider the 1958 World Cup. Beyond Pele, Garrincha received rightful praise for firing Brazil to the first World Cup victory in the Selecao's history and so breaking a duck in spectacular fashion.

Along the way, Brazil defeated a Welsh team that had only got that far -- it remains the only international tournament finals appearance in Welsh history, because of John Charles. The forceful forward was actually injured for the narrow 1-0 quarterfinal defeat to Brazil, leaving Welsh manager Jimmy Murphy to lament that "with John Charles in the side we might have won."

Van Gaal, however, was left to wonder what might have been without Keane.

Miguel Delaney is a London correspondent for ESPN and also writes for the Irish Examiner, the Independent, the Blizzard and assorted others. He is the author of an award-nominated book on the Irish national team called "Stuttgart to Saipan" (Mentor) and was nominated for Irish sports journalist of the year in 2011. Follow him on Twitter @MiguelDelaney.