What we learned from World Cup qualifying
Major upsets weren't in the cards as World Cup qualifying in Europe began. Spain, Germany, the Netherlands, Italy, Portugal, England and France all avoided defeat, with only Italy and England dropping points.

Here are five takeaways, starting with unfair criticism of an old hand.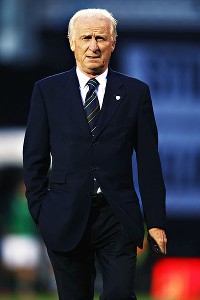 GettyImages / Paul Gilham/Getty ImagesGiovanni Trapattoni is still the right man for the job.
Too harsh on the Trap
How quickly they forget. When Giovanni Trapattoni led Ireland to Euro 2012, ending a 24-year barren spell at the regional championships, he was hailed as a messiah. But much of that was forgotten when the Irish were stomped on at the tournament itself.

Let's be clear: No matter the results in Poland, Trapattoni indeed worked wonders in getting the Irish there. Qualifying for the Euros and finishing last in the group is superior to not qualifying at all. His defensive style may not please many an Irish supporter, but without an overflow of quality or depth at his disposal, being efficient is the only way Ireland will surface in Brazil, since group rivals Germany and Sweden have much better squads.

No one needs to tell Trapattoni that scoring twice in the dying minutes to beat 142nd-ranked Kazakhstan 2-1 on Friday was too close for comfort, but the bottom line was three points gained. Away trips to Eastern Europe can be tricky affairs: The Swedes didn't blow out Kazakhstan at home Tuesday, and Ireland simply isn't comfortable taking the game to opponents. Italy, Trapattoni's homeland, toiled against 139th-ranked Malta -- at home.

Meanwhile, James McClean's Twitter rant was childish and uncalled for. McClean does offer Ireland more quality, yet introducing the Sunderland winger could lead to problems with the team's shape. How disciplined is McClean on the pitch? Being more open would leave Ireland susceptible to counterattacks. The time to experiment is in friendlies, which is what Trapattoni did Tuesday against Oman.

It's unlikely that another manager would get more out of Ireland than the hardened Trap.

Wake-up call for England
England missed a fair chunk of regulars at Wembley on Tuesday: Wayne Rooney, Ashley Young, Scott Parker, Ashley Cole, Gareth Barry, John Terry and Andy Carroll were among the absentees. It was thus always destined to be difficult against Ukraine.

Still, after thrashing Moldova on Friday, downing Ukraine in Ukraine in June, and playing at home, the Three Lions were fully expected to improve to 2-0 in the group. In the end, they were happy to take a point, with Frank Lampard's late penalty rescuing the host in the 1-1 draw.

England wrongly had a goal disallowed -- karma, the Ukrainians would say -- plus struck a post, and only Tom Cleverley knows how he failed to score from a few yards out in the first half. But this was far from a convincing performance from England. Ukraine made England look like schoolboys at times with its clever passing, and for most of the night, it won the midfield battle. Technically the visitors were far superior.

Cleverley was overrun in central midfield, and Alex Oxlade-Chamberlain was noticeable -- for conceding possession. The Ox, though, is only 19. Give him time.

The introduction of Danny Welbeck in the second half sparked England. Welbeck earned England the penalty by causing havoc in the box (after he dived trying to earn a penalty minutes earlier). A temporary blip, or will Group H turn into a struggle for England?

Another slow start for Portugal
It's the beginning of qualifying, so it comes as little surprise that the Portuguese haven't hit top form. You'll recall that two years ago, Portugal began Euro 2012 qualifying with a 4-4 home draw against Cyprus and then lost 1-0 at Norway. The results contributed to Carlos Queiroz getting the boot, and Portugal would need the playoffs to seal a spot at Euro 2012.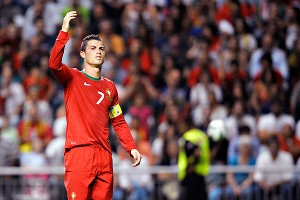 GettyImages / Miguel Riopa/AFP/Getty ImagesPortugal registered the maximum six points in the past week, but it wasn't without moments of anxiety.
Portugal registered the maximum six points in the past week, but was made to work in defeating minnows Luxembourg and Azerbaijan. Luxembourg opened the scoring in the 2-1 result, while Azerbaijan held out for more than 60 minutes and conceded two goals in the final 10 minutes to lose 3-0. Wasteful Portugal did a Liverpool and hit the woodwork on several occasions against Azerbaijan.

"We were getting a little anxious but thankfully we managed to score in the second half," winger Nani told reporters.

Portugal's clash with Fabio Capello's Russia, also 2-0, will be one of the highlights in October.

Same old Spain
Spain's first competitive game after completing an unprecedented treble was a visit to Georgia, by no means a pushover when competing at home.

All eyes were on manager Vicente del Bosque's team sheet. Would del Bosque start a recognized striker? And if so, who would that be: David Villa, Fernando Torres or Roberto Soldado?

Del Bosque did opt for a striker, and it was Soldado who got the nod over his fellow front men with bigger reputations. Chasing the game late, del Bosque kept both Torres and Villa on the bench. Bringing on Cesc Fabregas -- whose Barcelona career isn't going as planned -- in the 80th minute proved pivotal, as Fabregas set up Soldado for the lone goal in the 86th minute. Fabregas, in a Spain jersey, is flourishing.

Before concluding that needing 86 minutes to score against Georgia is a worrying development, consider that Spain has netted past the 80th minute in five of its past six competitive matches.

Next month, Spain entertains France in a battle of the top two in Group I. Les Bleus began with two wins under new boss Didier Deschamps.

Down and out
What could be more dispiriting than being out of contention with only two games played? Such is the scenario for Scotland, which had an outside chance of finishing second in a Group A that contains Croatia, Belgium and Serbia.

The Scots opened with two games at home, versus Serbia and Macedonia, and targeted six points. It managed two.

Scotland was booed off the pitch following Tuesday's 1-1 stalemate against Macedonia, and when striker Kenny Miller and keeper Allan McGregor appeared for a TV interview afterward, they looked like a duo who had just lost a World Cup final.