West Ham's biggest Olympic Stadium challenge is yet to come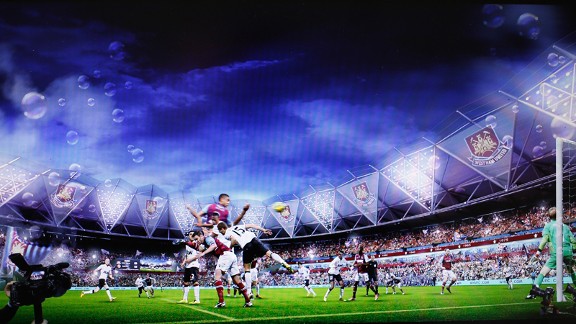 GettyImagesAn artists impression of how the Olympic Stadium will look
It has long seemed inevitable that West Ham United would be handed the keys London's Olympic Stadium, yet history may reflect that this was the day when a healthy portion of the club's soul passed away.

- Thorne: Hammers new home from home
- Hammers secure Olympic Stadium
- Brewin: The price of progress

After confirmation that the Hammers had agreed to a 99-year lease to move into the Stratford arena that stirred so many sporting emotions last summer arrived on Friday morning, the PR campaign to sell the deal began in earnest and yet there is no certainty that this audacious re-location will propel West Ham into the big league they wish to be a part of.

The idea that West Ham, a club that has been relegated from the Premier League on two occasions since the competition's formation in 1992, will waltz into a ready-made 60,000-seater stadium in the summer of 2016 and instantly start playing football of Champions League quality is fanciful indeed.

As is the notion that a club which attracts around 34,000 fans to their Boleyn Ground will invent another 25,000 supporters in time for their move to Stratford. In a crowded London football scene dominated by Tottenham, Arsenal and Chelsea, where are West Ham going to find 25,000 fresh faced followers from?

Then there is the loss of identity. Everything about West Ham's Upton Park home is claret and blue, with stands dedicated to club greats Bobby Moore and Sir Trevor Brooking part of an East End atmosphere that only comes within a stadium that has several generations of history attached to it.

Stratford's Olympic Stadium may be painted in West Ham colours in time for their re-launch, but as many Arsenal fans will confirm, moving to a sparkling new stadium may seem exciting to begin with, but the novelty quickly wears off and you begin to feel like a valued customer in a business rather than the fan you have always wanted to be.

Finally, we have the question of folklore. An Upton Park night under the lights has long been one of the most spine tingling experiences in English football, with supporters steeped in football history cheering on a team in the hope that one day the glories of yesteryear will return.

The Boleyn Ground often feels like one of the last bastions of football history, stoking a raw passion the modern game so often lacks and one former performer on the Upton Park stage is among those sceptical of this West Ham move.

"If I were a West Ham fan I would be worried right now," wrote former Hammers keeper David James in the Guardian. "I am unconvinced that the move will guarantee benefits for the club and their supporters.

"This will only stack up as value for money if the club can attract enough supporters to fill a 60,000-seat stadium. In 2016, the club could be handed the keys to their new stadium and be playing in the Championship. Are an extra 30,000 fans going to want to start attending West Ham games to witness that? I don't think so."

Unsurprisingly, current West Ham manager Sam Allardyce offers a more positive view, with a highly enthusiastic comment piece in Friday's Evening Standard newspaper leaving little doubt that he is fully behind the club's ambitious move.

"There will inevitably be some who will not want to leave Upton Park. I understand that," Allardyce wrote. "My message to the supporters who are worried that West Ham's rich history will be forgotten when we eventually move into the new stadium is that they should be re-assured that won't happen.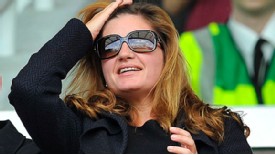 GettyImagesKarren Brady: The driving force behind the bid
"This club are rightly proud of their heritage and their footprint will be all over their new home. The past will never be forgotten, but if West Ham wants to improve in the future, the club need to move into a venue like this one. Today's announcement signals an exciting new era for West Ham United. It is a momentous day for the club, the supporters and the local area."

For West Ham's vice-chairman Karren Brady, Friday's deal was a personal triumph, as she has been the driving force behind the bid, seeing off challenges from Tottenham and Leyton Orient as she got her own way in the end. West Ham co-chairman David Sullivan has often said he 'wouldn't mess with Karren' and the events around this Olympic Stadium story confirmed his assessment was sound.

Sullivan's partner David Gold is another who has been won over by Brady, as he was against a move away from Upton Park when he bought West Ham three years ago. Having stood on the terraces at the Boleyn Ground as a fan, played for the club's academy side and with his mother's house just a stone's throw away from the ground, this was a piece of sporting heaven he wanted to preserve for eternity.

Instead, West Ham fanatic Gold will be marked down in history as one of the architects of the demise of the Boleyn Ground. I bet he never saw that entry being added to what has been a remarkable life story.

Of course, there will be positive aspects to this West Ham move. The superb transport links to the Olympic site, the sparkling new corporate facilities and the prospect of 60,000 supporters clicking through the turnstiles every couple of weeks has the potential to propel West Ham onto the game's elite list, yet potential and reality have an annoying habit of avoiding each other.

The Gold/Sullivan/Brady triumvirate may have a good track record of boosting attendances with clever marketing campaigns, cheap ticket offers and inventive proposals (West Ham are looking at introducing a safe standing are at the Olympic Stadium), but they are about to take on their biggest challenge yet by trying to find 25,000 news fans to support West Ham in the next three years.

There is a suspicion that Sullivan and Gold may be tempted to sell their shares in West Ham ahead of the 2016 move as their club has suddenly become one of the most attractive Premier League clubs on the market and if another billionaire was to emerge from the Arabian desert or the Russian wilderness to declare his undying love for all things claret and blue, the Hammers may yet benefit from the trappings of their new home.

The alternative may be a football club existing in a stadium too big for its own needs, flailing in its bid to join a commercialised world that does not welcome strays into their lair. This is West Ham we are talking about here and not Real Madrid, so here's hoping the East End club will not burst its own bubbles by walking away from its heritage.