The fading pride of Three Lions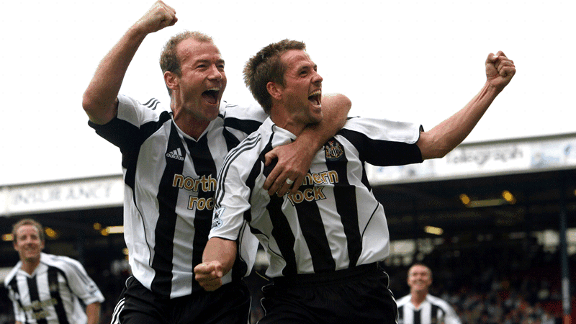 PA PhotosAlan Shearer began the current trend of international retirement. Owen never got that far
Michael Owen always was a footballer apart. He retires as a throwback to an extinct breed. There was once a time when players were known for being better for England than their clubs. Owen followed in the tradition of Darren Anderton back to Ray Wilkins and even Bobby Moore. In modern football, such a status is no longer acceptable.

- Brewin: Owen: Too much, too soon
- Owen's career in pictures


- Blog: Owen calls it a day

When Owen moved to Newcastle United in the summer of 2005, it was with England in mind. The Magpies never saw anything like the best of him. After a Christmas injury sustained in a collision with Paul Robinson, Owen played just half a game for his club before joining the England squad for Germany 2006. There he sustained the knee injury that kept him out of the game for a year. For that, he received little sympathy from his paying public. He was always known as "England's Michael Owen" from then on. It was no term of endearment.

In England, the Premier League is eating international football. Clubs rules OK. The England team may be an object of obsession for the mainstream football media, but a glance at the absentees from Roy Hodgson's squads for the double-header with San Marino and Montenegro spells out priorities.

It might be providence that Jack Wilshere is missing again. It appears sheer bad luck that there is an injury crisis among centre backs but the Rio Ferdinand saga is indicative. Ferdinand was once viewed by his club's fans as more interested in his England career than playing for Manchester United. A player who has long stated his disappointment at being omitted from Euro 2012 has now decided that his club training regime was the priority.

Ferdinand is eyeing a contract extension at Manchester United. At his advancing age, the legs need to be preserved, the aching back to be given a rest. That he has spent his downtime from football attending a One Direction concert, hanging out with heartthrob Harry Styles and having a late-night curry has caused opprobrium about his chosen mode of recovery. His spending the evening of the San Marino game as a pundit on a Qatari TV channel has twitched some suspicious noses into smelling a rat.

Ferdinand's defence is that this is normal practice and that he will be availing himself of the training facilities of Doha's Aspire Academy, but still do not look the actions of a patriot. Despite the friendly statements exchanged between Rio and Roy on Monday, there seems little chance of Ferdinand playing in the World Cup finals, should England even reach them. By Thursday, Hodgson was saying he didn't "have any serious thoughts" on Ferdinand. The player has shut the window of opportunity on himself.

The trend of English players giving up on international football to extend their club career was begun in earnest by Alan Shearer. England's captain went into Euro 2000 stating that this would be his last tournament. Six years later, he hung up his boots as a Newcastle player. Paul Scholes followed in 2004, and when he retires this summer he will have been playing nine years beyond his international retirement. Jamie Carragher followed suit in 2007, only to make an ill-starred return at the 2010 World Cup. Few would be surprised if Steven Gerrard were to hang up his international boots either next summer or should England fail to qualify for Brazil. Wayne Rooney's international career might well finish after the European Championships in 2016. It is accepted practice. The pull of a final contract is far bigger than a major tournament. Been there, done that, it seems.

Just like the FA Cup, the England team is in danger of becoming a backwater, an inconvenience. A lack of success does not help. The pride of the Three Lions has been dimmed. One of the stated aims of the Premier League back in 1992 was to make the England team even better than the squad who had reached the semi-finals of Italia '90.

England's success there had revived the game's popularity after the pallor of the 80s. Euro '96 brought football home, and crystallised a national excitement about the game not seen since the 1960s. Yet 1996 was the summer that foreign talent began to fully flow into the English game. The dilution process that has resulted in only Newcastle United's Steven Taylor being first choice for his club of any of Hodgson's available central defenders began there.

The club game has gone global ever since. The Champions League's expansion in 1998 led to continental giants being able to furnish themselves with the talent to cement their place at the top table. While the competition's group stages are often completed as tedious routine, the knock-out rounds are almost certainly the highest grade of football on the planet. In the international game, coaches cannot buy players to fill gaps in their teams. Even indomitable Spain have weaknesses. Their infamous 4-6-0 formation at Euro 2012 was built through necessity and not pretension.

The expansion of the club game seems inexorable such that a "Dream League", a World Cup for clubs, seemed plausible to Oliver Kay, the usually intractable Chief Football Correspondent of the Times. That he believed in what a conman had copied from a French spoof website reflected a resignation towards the club elite eventually dictating the terms of the game's direction. With fans, or customers as they are known these days, being seen in global terms, then the fortunes of the England team has become of little interest to the clubs. Non-qualification for Euro 2008 happened the same season two English competed in the Champions League final.

That is not to say that England can afford to miss out again. The flavour of an international tournament is unique. Even if they are the déjà vu of repeatedly going out on penalties, the shared memories of a footballing nation are those at a World Cup or European Championships. Club football may hold all the aces but it still cannot compete with that.