Serbia, Croatia meet in WC qualifier after years of conflict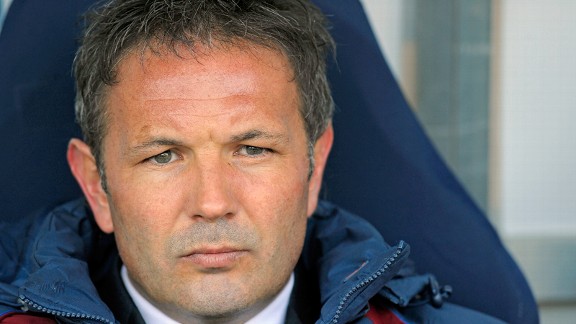 Giorgio Perottino/AFP/Getty ImagesThe memories of Yugoslavia's civil war won't be far from the mind of Serbia coach Sinisa Mihajlovic during Friday's visit to Croatia.
Sinisa Mihajlovic sports a short haircut nowadays. Had that been the case in 1987, he could easily have ended up playing for Croatia, and probably even coaching them instead of Igor Stimac, his biggest rival in the world of football. When the two face each other on Friday in the crunch World Cup qualifier in Zagreb as Serbia visit Croatia (ESPN3/WatchESPN), the wounds from 22 years ago will still be open.

Mihajlovic's story is a not an ordinary one. He was born in Vukovar, a town in Eastern Croatia, right on the border with Serbia, where roughly half the population in the time of united Yugoslavia were Croats and the other half Serbs.

His mother Viktorija is Croat; his father Bogdan, Serb. Even though Sinisa grew up in the village of Borovo, with a big Serb majority, he had no real national aspirations for either side as a child. In the 1980s, when the country was still functioning as a unit, his dream was to represent Yugoslavia.

His famous long-range shooting and passing was already outstanding when he played in the youth teams, and rumours about the talented kid were spreading fast. Zvonimir Boban and Robert Prosinecki, who played for Dinamo Zagreb in the spring of 1987, spoke very highly of Mihajlovic and had a hand in persuading the coach, Miroslav "Ciro" Blazevic, to invite him for a trial.

Ciro was impressed, but when negotiating a deal, a few issues surfaced. First, Zagreb were unwilling to immediately offer the 18-year-old a professional contract. Secondly, Blazevic made it crystal-clear that Mihajlovic would not be first choice in midfield, especially as his favourite star, Haris Skoro, was about to sign from Zeljeznicar. Third, the coach demanded Sinisa cut his long hair. Like Daniel Passarella later on, Blazevic thought it was a sign of an undisciplined footballer.

At the time, the national aspect was pretty much irrelevant to Mihajlovic. He made a decision based on his perceived development prospects and lack of chemistry with the coach. He opted to stay in Borovo, and it turned out to be very costly.

Dinamo were far from happy and asked Mirko Jozic, the Under-20 Yugoslavia national team coach, to issue an ultimatum -- the youngster would be thrown off the team if he didn't sign for Blazevic. That only made Mihajlovic angrier. He turned down the offer, and Jozic duly kept his word.

One of the best players of his generation, Sinisa watched his former team-mates lifting the U-20 World Cup in Chile in 1987, unable to stop the tears. Later, Mihajlovic chose Vojvodina Novi Sad over Rijeka, and, after winning the championship, then signed with Crvena Zvezda Belgrade.

He might not have known it at the time, but he also chose Serbia over Croatia.

The political situation deteriorated quickly in the beginning of the 1990s, and Yugoslavia was falling apart. Just as Crvena Zvezda (Red Star) were enjoying the best spell in the club's history, about to become the first Yugoslav team to lift the European Cup in May 1991, the first battles started in what was about to become one of the gravest and most terrible wars in recent history.

A few days before the last Yugoslav Cup final, between Crvena Zvezda and Hajduk Split, an incident occurred in Borovo, where Croatian forces tried to replace the Yugoslav flag with a Croatian one. Casualties were counted on both sides, and the tension in the soon-to-be-divided country grew higher.

One could hardly expect the final to be played in a quiet and friendly atmosphere in such circumstances. It turned out to be even worse.

In the beginning of the game Stimac, the tall Hajduk stopper, allegedly made some rough remarks toward Mihajlovic. According to Sinisa, Igor told him: "With God's help, we will kill all your family in the village." That prompted Mihajlovic to try to injure his rival for most of the game, until both were sent off in the middle of the second half.

Moments before that, Alen Boksic scored a great goal, and Hajduk won 1-0. Three weeks later, Crvena Zvezda captured a much more important trophy, with Mihajlovic scoring one of the penalties in the European Cup shootout victory against Olympique Marseille following the goalless draw in Bari, Italy.

About the same time, Mihajlovic became close to Arkan, the merciless leader of the Serbian paramilitary force called the Tigers. A huge Crvena Zvezda fan, Arkan greatly admired Sinisa's combative style, and took him under his wing.

The relationship turned out to be of great importance to Mihajlovic's family. With war crimes being committed on both sides in Vukovar, his parents were able to escape to Belgrade. Mihajlovic's uncle from his mother's side, a Croatian officer, had always been critical of his sister because she married a Serb. He then told her: "It's a pity that you left. You should have stayed here. That way I would have killed your husband."

In a recent interview with Gazzetta dello Sport, Mihajlovic recalled that his uncle was later captured by the Tigers, who wanted to execute him. "They called me, and I managed to save his life," Mihajlovic said. In a separate incident, Arkan also prevented the star's aunt, the sister of his mother, from being killed.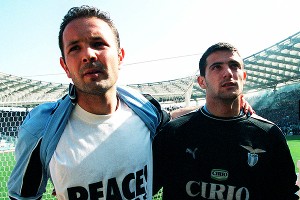 AP Photo/Plinio LepriMihajlovic, left, and Dejan Stankovic protested NATO's bombing of Serbia after a 1999 Serie A match. Mihajlovic was tainted by his relationship with Serb paramilitary commander Arkan, who was accused of war crimes before being assassinated in 2000.
"I will always be thankful for him for that," Mihajlovic said in a recent interview, refusing to distance himself from a man now known as a war criminal. When Arkan was assassinated in a Belgrade hotel in 2000, Mihajlovic -- who played for Lazio at the time, and led them to the Serie A title -- made his feelings known with a black armband, and the fans at Olimpico Stadium sympathized with him. They also stood by his side a year earlier, as he made his protests heard against NATO's bombing of his home country.

Mihajlovic has since been viewed as the most political of all Serb footballers. He has the image of a nationalist, but it is probably more correct to call him a patriot. That is why he was willing to take the national coach job when more lucrative offers were on the table.

That is also the reason behind one of his first demands from the players -- they are all obliged to sing the national anthem. Fiorentina star Adem Ljajic, of Bosnian origin, refused to do so and was never called again.

On the other hand, Mihajlovic makes all the players applaud anthems of their rivals, and will do so in Zagreb as well. In numerous interviews, he has insisted he has nothing against the Croatian people. He says it loud and clear that both sides were massively responsible for crimes during the war and there were no saints. Nobody was right, everybody was wrong.

When playing at Lazio, Croat Alen Boksic was one of his best pals; they spent time on holidays together on the picturesque coasts of Dalmatia. Another Croat, Slaven Bilic, his room-mate on Yugoslavia youth teams, remains a close friend.

If Bilic had stayed at his Croatian national team post, instead of leaving following Euro 2012 disappointment and heading for Lokomotiv Moscow, they would probably have a friendly hug before the whistle on Friday, just like Mihajlovic hugged Davor Suker, president of the Croatian Football Federation, when they met by chance in the stands.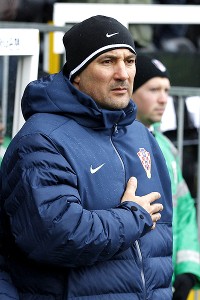 Ian Kington/Getty ImagesCroatia coach Igor Stimac, above, and Mihajlovic had a heated confrontation on the pitch 22 years ago. Neither has forgotten the incident, which occurred shortly before war broke up the former Yugoslavia.
Stimac, though, is another matter entirely. There will be no warm emotions, probably just a lukewarm handshake. Their heated confrontation might have been 22 years ago, but is not easily forgotten.

The situation wasn't helped when Stimac proposed that one of the infamous Croatian generals, Ante Gotovina or Mladen Markac -- both acquitted of war crimes after an appeal at a United Nations tribunal last fall -- take the first kick against Serbia.

Mihajlovic said it was a big mistake and he has doubts as to whether Stimac fully understood the affront to Serbs, even after taking the proposition off the table.

In 1999, Mihajlovic was part of the Yugoslav team that knocked out Croatia in Euro 2000 qualifying and he frequently recalls it as the most emotional moment of his career. Friday's match will be the first time Serbia and Croatia have met as independent states; Serbia supporters have been banned, as will Croatian supporters for the reverse fixture in Belgrade in September.

As he prepares to enter Maksimir Stadium on Friday, he knows all three points will be needed to keep Serbia's hopes of qualification for 2014 World Cup alive.

The coach has already stated that he will leave if the team fails to get the ticket to Brazil. His fate could well be decided on Friday, and having to face Stimac, of all people, will undoubtedly provide additional motivation. This game could be one to remember for a very long time.

A bit weird to think it could all be so different if Mihajlovic's hair had been shorter a quarter of a century ago.