UN conference on racism in sport has optimist tone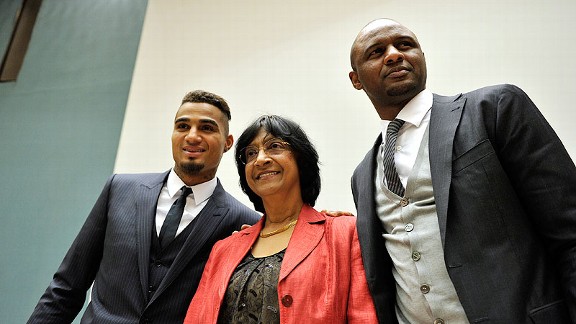 Harold Cunningham - FIFA/FIFA via Getty ImagesAC Milan 's Kevin-Prince Boateng, left, joined United Nations high commissioner for human rights Navi Pillay and former Arsenal captain Patrick Vieira for a panel discussion on racism in sport.
GENEVA, Switzerland -- Every year on March 21, the United Nations commemorates the International Day for the Elimination of Racial Discrimination. This year, I watched a panel discussion with about 300 journalists and guests at the Palace of the United Nations, convened to honor the occasion.

The panel's theme was "Racism in Sport," and it was hosted by Navi Pillay, the United Nations high commissioner for human rights. Panelists included AC Milan's Kevin-Prince Boateng; World Cup winner and former Arsenal captain Patrick Vieira; Piara Powar, the executive director of FARE network, a European organization dedicated to fighting prejudice; representatives of FIFA and UEFA; and other UN personnel.

As you might imagine, I carried more than a small amount of cynicism into the event. Questions about how to actually fight racism are not easily answerable, and to make matters worse, the powerful people in the world's game -- those capable of initiating change -- often don't seem take the matter seriously. Just look at the lopsided fines handed out during Euro 2012, when UEFA fined Nicklas Bendtner 100,000 euros for showing his sponsored underpants, but fined the Croatian Federation only 80,000 euros for the racial abuse of Italian players and the use of flares.

Before Euro 2012, UEFA talked a good game about racism being unacceptable, but when it comes time to act, the result often underwhelms. I wasn't sure how much a nonbinding meeting at the United Nations would really move the discussion forward.

But I went anyway, and you can call me an optimist or naive, but I left the discussion heartened: The panel certainly contained its share of I'll-believe-it-when-I-see-it lip service, but it was hard to sit there and not get a sense that things are starting to change, that Important People might finally be ready to deal with this issue in a meaningful way.

The panelists were each given an opportunity to read prepared statements, dealing predominantly with racism in soccer, before taking brief questions from the audience. The statements lasted roughly 10 minutes each and contained several common themes, chief among them the need for tougher official responses in the face of racial abuse from fans.

Federico Addiechi, the head of social responsibility at FIFA, made assurances that racism was something FIFA treated with the "utmost sincerity," stating that FIFA's zero-tolerance stance on racist abuse was "part of FIFA's DNA." Addiechi went on to announce that Jeffrey Webb, the president of CONCACAF, would head up a "task force" charged with addressing racism in the game. He also suggested FIFA would adopt a much tougher stance in response to documented cases of racism, including points deductions and even relegation.

"We know that fines are not, or may not be, enough," he said.

Addiechi also noted that FIFA wouldn't be able to stomp out racism alone. FIFA's jurisdiction reaches only so far, and much depends on how individual countries deal with prosecuting racist acts. "We need solidarity," he said. "If the entire football community doesn't act as one, we will fail."

All the panelists were united behind Boateng, whom they universally praised for his actions in January 2013, when he responded to racist chanting during a friendly match against a fourth-division side by picking up the ball, kicking it into the stands, and walking off the field. His teammates joined him. He was the first player on a major European side to react in such a way.

Boateng, for his part, stole the show with his eloquent, metaphor-rich statement and his often-funny responses to questions. He said that when he was younger, he thought racism was "like a headache" -- something that would eventually go away or cease to be a problem if ignored. Recently, however, he became a father, and his opinion changed.

"We cannot afford to be indifferent and passive," he said.

When a member of a group of young footballers from Geneva asked him what advice he would give them should they experience similar racial abuse, he joked, "Don't walk off the pitch, because then you'll have to sit up here."

The room erupted in laughter. When things quieted down, he went on to tell the players that walking off the pitch is not always the correct solution, and that in the face of racial abuse they should first speak with the ref, and if that doesn't work, then notify their coaches.

It was the discussion of Boateng's walking off that I found most heartening. Although Boateng told the gathered youth not to walk off, and at times said that it was "wrong," he seemed bullish about the decision at other periods. Asked if he'd have walked off during a Serie A or Champions League match, he responded by saying, "It's not important in which game, at what moment, or which situation, but I think we have to stand up against [racism] every time, if it's a World Cup final, a Champions League final, or just a friendly game."

Both Powar and Vieira were particularly supportive. Powar called Boateng's actions "the beginning of a fight back [against racism]." Vieira called them a "massive statement." I agree. If the issue in and of itself isn't enough to get FIFA, UEFA and the rest of those in soccer's power structure to act in solidarity, and with real purpose, the threat of not having a game at all might.

"If he didn't walk off, we wouldn't be here," Vieira said. I think we can all agree on that.