Robbie Rogers reaction opens door for out athletes
It was sometime past 1 a.m. when American-born but London-based pro soccer player Robbie Rogers finished writing the spare but powerfully written 400-word blog post that would change his life. Then he sent out the news Feb. 15 in Twitter and Facebook messages that included a link, but otherwise said only, "Just getting some s--- off my chest."

Then he went to sleep, never imagining what would happen next.

Rogers' greatest surprise in the five weeks since his soul-baring post hasn't been the one that he sprang that day by revealing that he is gay. It's been the surprising reaction that instantly came boomeranging back at him once he did. People from around the world wrote back to the 25-year-old Rogers, commending his honesty. Numerous athletes took to social media to support him, and a tweet from Eddie Pope, a former U.S. national team member, was typical: "Brave men like you will make it so that one day there is no need for an announcement."

But four Major League Soccer players and Hudson Taylor, a University of Maryland athlete at the same time Rogers briefly was, went even further than that.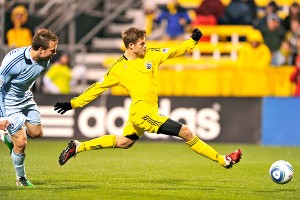 Jamie Sabau/Getty ImagesRobbie Rogers, who played for the Columbus Crew from 2007 to 2011, would be welcome on an MLS roster.
Omar Gonzalez and A.J. DeLaGarza of the Los Angeles Galaxy, Stephen McCarthy of the New England Revolution and Chris Seitz of FC Dallas, teamed up with Taylor, the 26-year-old founder and executive director of Athlete Ally, a group that fights homophobia in sports. And they strongly let Rogers know that he didn't have to "step away" from the game -- which Rogers also announced that he was doing -- if it's just because he's gay.

The players said Rogers is welcome to return to MLS anytime he wants.

"My team would be totally supportive of him playing here," McCarthy said in a phone interview this week.

"The MLS could be a league where a guy could come out and still have a career," DeLaGarza said.

"What I saw was courage in the face of adversity," Gonzalez said in an email message to ESPN.com on Tuesday, "and my reaction was to support [Rogers] any way I could. Coming out can't be easy, but it's a necessity, in my opinion. I don't think you are living life to the fullest if you are holding onto such a burden."

The day after Rogers' post, MLS commissioner Don Garber said the same thing: "I am proud to be part of a sport that has been so supportive of @robbierogers. I admire his courage and hope he stays involved in the game."

Imagine that.

This is not what we've been told for years about the climate in men's sports, particularly at the professional level. We're constantly told it would be an unfriendly or perhaps even impossible place for an out gay male athlete to have a career. The statement often goes unchallenged. It's simply taken as fact.

But there's an enormous lesson in this, you know.

There's a great hazard in making pat assumptions or underestimating people's goodness.

It gives them no opportunity to prove you wrong.

It also ignores how an infinite number of possibilities can get lost merely for the want of something left unsaid.

But Rogers decided to take the risk and say, "I am gay."

And what he discovered was an enormous community of strangers and athletes, not just friends or his soccer peers, was moved to step up, speak out, roll up their sleeves and work to reassure him, "Who cares?" and "So what if you're gay?" Then this: "You can still play."

That last piece feels new, doesn't it?


"I know he didn't expect that," Gonzalez said. "I know he was taken aback. It was really cool how quickly people came together."

The MLS players and Taylor felt compelled to support Rogers for varying reasons. Gonzalez, Seitz and DeLaGarza knew Rogers from Maryland and competed against or trained with him a bit since college. ("A really nice guy with good family values, really laid-back and fun to be around," Gonzalez said.) They count him as a friend.

But McCarthy, who is a year younger than Rogers, said, "I barely got to know him" during a two-week stint they spent on a U.S. under-20 team. He remembers Rogers more as the terrific midfielder who left college for the Dutch club Heerenveen at 19, won an MLS title with the Columbus Crew and was among the last cuts from the 2010 U.S. World Cup team before injuries nagged at him during his most recent stop with Leeds United in England.


Taylor was a freshman wrestler at Maryland the one year Rogers was there before heading to Europe. But he didn't know him at all.

Nor did any of them know Rogers was gay before his blog post.

"I remember going to the stadium for practice that morning, and my entire team was shocked," Gonzalez said.

So what moved them all to get involved?


"[Homophobia] has been an issue most of my lifetime," McCarthy explained. "I'm a religious guy, I come from a religious family … I think homosexual people should be given the same rights. To me it's so simple: Something's got to change."

Taylor said, "I was a theater major at Maryland. I watched gay friends who were coming out, and seeing their experiences and acceptance in that world, juxtaposed against the homophobia I saw in the locker room. That put this issue in a different perspective for me.

"The other thing that happened is, I put an HRC [Human Rights Campaign] sticker on my wrestling headgear. Then later I did an interview about it [with Outsports.com] in 2010. Honestly, I didn't think I was making a statement … But after the interview, I got emails from 2,000 closeted kids from across the country. What these kids said to me was, 'Hudson, I see what you're doing. Now, for first time in my life, I feel I can join a sports team' or 'For first time in my life, I feel safe to go into a locker room.'"


For Taylor, a three-time All-American who's now a volunteer assistant wrestling coach at Columbia University, that personal epiphany became a calling to address the depth of the problem.

"For me, it's about the integrity of athletics," he said. "I mean, I started wrestling when I was 6 years old. It continues to be one of the most defining and important aspects of my life. The idea that this thing that's so essential to my life may not be available to others, or that the existing climate doesn't allow them to share the same experiences I had, is really disheartening to me. And me and other athletes, we want to do something about it."

Taylor graduated from Maryland in 2010 and says Athlete Ally got its 501(c)(3) non-profit status in January of 2011. Since then, he has been a whirlwind. He has enlisted an impressive array of other athletes from the NFL (Chris Kluwe, Scott Fujita, Connor Barwin and Brendon Ayanbadejo), NBA (Kenneth Faried) and NHL (Sean Avery) to work with him. He literally co-wrote the handbook on lesbian, gay, bisexual and questioning issues that the NCAA now distributes to coaches and administrators, and makes speaking visits to about 40 colleges a year.


Homosexuality is still obviously not universally accepted. Nobody is pretending this is a fairy tale and that the support Rogers has gotten makes everything all right.

The NFL just had its issues with Chris Culliver's comments at the Super Bowl, and with team scouts reportedly asking at least three prospects "Do you like girls?" questions at the Indianapolis scouting combine, which the league is investigating.

The European soccer world where Rogers was playing most recently is demonstrably worse than what he'd likely encounter in MLS. Overt racial prejudice and hooliganism remain stubborn blights there and in many other leagues. Just last week, a 20-year-old Greek player was suspended for standing stock-still and giving a Hitler salute after a goal was scored.

Even the MLS had two incidents last season in which Garber suspended two players a total of six games for uttering homophobic slurs.

But the MLS nonetheless seems like the most openly accommodating landing spot for a gay male athlete in American pro sports. After Rogers came out, SI.com's Grant Wahl reported that 14 of the 15 MLS players he informally polled said having a gay player would be accepted in the league. And the Athlete Ally players ESPN.com spoke to feel the same way.

Gonzalez, Taylor and DeLaGarza are all 26. They see themselves as part of what McCarthy describes as a "generational shift" in thinking on diversity and homosexuality, both inside and outside sports. They eloquently speak from the heart when asked how Rogers' statement struck them.


Gonzalez said, "What I saw was a friend who was doing a very scary thing … I saw courage in the face of adversity and my reaction was to provide support any way I could … I hope that other athletes that are struggling with these issues find the strength to follow in Robbie's footsteps so they, too, can be their full selves and just enjoy every day."


DeLaGarza, who is of Mexican-American, Indian and Guamanian descent, said, "It's a personal conviction for me. Diversity is just something I grew up with -- having an opening mind, not judging people by their color, or personal beliefs, or sexuality, or gender of choice."

What all of this suggests is, at minimum, the next time we hear someone say an out gay man can't survive in male sports, we should at least challenge the point a little.

Demand a bit of updating.

Male athletes are more comfortable, as a class, about playing with a gay athlete than they're given credit for.


And all this decades-old waiting and wishing for a "gay Jackie Robinson" to come along, flashing the almost superhuman strength to stoically endure every indignity and insult that comes his lonely way, if he wants to play -- that needn't be the model anymore, either.

That, too, demands to be reimagined.

Because Robbie Rogers is not alone like Robinson was, and he's not a hoped-for abstraction who may someday walk over the hill -- he's a real-life human being in the here and now. Don't miss the enormous significance of what just happened in the past month: He admitted he is that rarest of creatures in sports -- a gay male athlete who could still be actively playing. And what he has been told is not only can you be who you are, but if you do come out, your straight male peers will actually help you make your way -- not shun you.

Sometimes, the straight jocks may even lead the way first.


This is a radically different landscape from what Robinson encountered in the 1950s, or even the experience Billie Jean King and Martina Navratilova had, after they were outed as lesbians three months apart in 1981.

This re-situates who shares the burden to make sure sports is a safe climate for everyone.

It's on all of us.

Taylor is straight and married and he says, "There is still a perception that you have to be of LGBT community to advocate for LGBT community."

But he also knows this: "There has never been a successful social justice movement without the support of the majority group."

Rogers declined to be interviewed directly for this story. He sent an email response through Taylor, saying, "I would love to comment but I can't," and then suggested he may have more to say within the next two weeks.

But Taylor, who spoke to Rogers several times in the past few days, says judging the outcome of Rogers' story on whether Rogers plays again is too limiting. Off the field, Rogers has choices. He's writing for Men's Health in the U.K. He has co-founded a clothing line.

Rogers wrote affectingly in his blog post about how, "Football was my escape, my purpose, my identity. Football hid my secret, gave me more joy than I ever imagined … [but] it's time to discover myself away from football." And that, according to Taylor, "is still where Robbie is at."


"There's more to the decision than his sexual orientation," Taylor explained. "There's the training schedule, the travel schedule, days on the road, not seeing your family and friends. To look at it any other way is a one-dimensional way of looking at it. Competing at an elite level in any sport is a difficult task, and you can't compete successfully unless your passions are in sync."

DeLaGarza, McCarthy and Gonzalez are neither the political creature nor the community organizer that Taylor already is. They're still active jocks playing in the MLS. And as much as they all wish Rogers happiness and insist only he should decide whether to stay retired, they also say the jock part of them can wish differently, can't it? Why let Rogers take all that soccer talent he has and head for the hills? Or Savile Row?

"I think [retiring] is premature. I feel like he still has so much to offer the sport," Gonzalez said.

"I think he should come back and play here in the U.S.," McCarthy added. "He's good. He's really good. Go watch a YouTube clip of him."

"He's a great player -- one of the greatest players I've ever played with," DeLaGarza added. "I look at it like this: If I'm on a soccer team and I want to win a game, I'm going to pick the best soccer players to help me win a game -- I'm not going to base it on their race or sexual preference. And Robbie is a guy that can help you win a game.

"I would love to have him on my team."

"But there's one other thing," DeLaGarza said.

Yes?

"If you know Robbie, he's going to miss it," he said. "Honestly, I think more people were shocked that he was stepping away from soccer more than saying he was gay. Because he's just so passionate about soccer. So passionate."

Rogers is gone from the soccer field, for now. But the idea of him was there in spirit five days after his coming-out blog post.

Someone who identified as being from Hamburg, Germany, posted a photo on Rogers' Facebook page of a scene the fan claimed happened in the stands at a game there. And maybe the image is doctored, maybe not. But floating in a blurred sea of fans are two huge signs with remarkably crisp lettering. One of them a rainbow-striped banner -- the colors of the gay rights movement -- that reads "Robbie Rogers."

Next to that, written in bold letters on another sign, is "Danke."

The German word for "Thanks."

Johnette Howard is an award-winning writer and author who previously worked for Sports Illustrated, The Washington Post and Newsday. She contributes general sports columns to ESPN.com and ESPNNewYork.com.