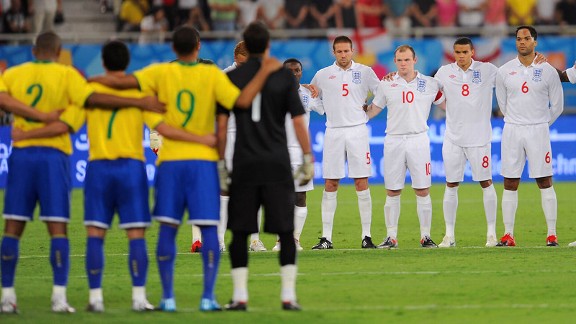 Michael Regan/Getty ImagesSince beating England in 2009, Brazil has had no success against "big" teams -- and it's got many Selecao fans worried.
On November 14th 2009, Brazil beat a depleted England team in a friendly in Doha, barely breaking a sweat, and in doing so ratified its position as favorite to lift the trophy in the 2010 South African jamboree. They were not only the back-to-back South American Champion but had also prevailed in the Confederations Cup earlier that year, a successful campaign that included a 3-0 hammering of world champions Italy. Even bookmakers would have laughed convulsively if a fictional punter put on a wager in which Brazil would not only fail in the World Cup but also pretty much forget how to beat top sides.

In fact, it sounds like a curse Stephen King himself couldn't make up. Yet it's actually the reality. More than three years later, the five-time world champions hasn't won a single "A" game against elite opposition. Instead, the Selecao has been defeated twice by Argentina (with four goals by Lionel Messi) and once by England, France, Germany and Holland. While one can argue that the hoodoo is also explained by the Brazilian FA's decision to line up friendlies against minnows such as Gabon and Iraq since 2010 -- games that brought in money but wasted precious international fixtures -- it's understandable that somebody could think the picking of feeble opposition was deliberate.

More on South America:
Bate: Colombia's on the rise
Vickery: Argentina has time to fix its defense
Malyon: Selecao stars with something to prove
Fryer: Copa Lib gives Boca Juniors hope

In any case, the truth is that Brazilians are shaken. This Thursday, the Selecao faces Italy in Geneva in a game that has many tifosi smelling blood. Without a well-defined first XI or tactical system, Brazil could be a big yellow sitting duck for an Azzuri side that excelled at Euro 2012 (its final drubbing at the hands of Spain excepted) and has so far cruised throughn a tricky UEFA qualifying group that contains Denmark, Bulgaria and the Czech Republic.

Who can blame them? As it has been pointed out before, Brazil's post-South Africa blues can be described as a combination of excessive reliance upon the talents of Neymar and his ongoing failure to perform against the big boys, while a problem with protection in midfield and the lack of a proper poacher upfront adds additional pressure.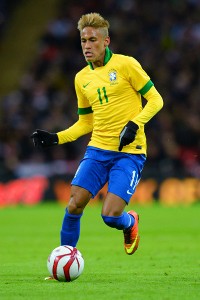 Shaun Botterill/Getty ImagesNeymar also needs to prove himself against Brazil's strongest rivals. That said, the lack of a coherent XI and tactical approach are bigger issues.

As much as friendly matches are not in any way a predicative of future success, when it comes to Brazil -- in 1981, for example, it managed to beat England, France and Germany in little more than a week yet still fell short in the following World Cup -- it is undeniable that sequences of disappointing results can undermine confidence. This is especially true in a group full of young players who have quite recently been given a new manager with less than two years until a home World Cup that is probably making some of them lose sleep.

Brazil's dry spell is the worse in its 99-year history. It leaves behind the period between 1985 and 1989, because back then the Selecao beat Spain in its opening game at the 1986 World Cup and even though La Furia was living through the pre-Iniesta years, it had narrowly lost to France in the Euro 1984 final. Although managers and players will downplay the importance of the absence of triumphs, hints have been dropped that nobody in the Selecao is comfortable with the situation.

Defender Thiago Silva has revealed that his former AC Milan teammates used to joke about Brazil's loss of magic while Bayern Munich's Luiz Gustavo remembers hearing German colleagues relishing the chances of having the better of the Selecao in 2011 friendly in Stuttgart -- they duly did and the 3-2 score flattered Neymar and Co.

During his press conference in Geneva ahead of Thursday's game, manager Phil Scolari admitted that a result against the Italians would give his side breathing space. While failing to win will not be the end of the world, neither will it be helpful to a team trying to find some much-needed rhythm. At least Italy has its own curse against Brazil: since spoiling the party for lovers of the beautiful game in 1982 when they knocked the team that boasted Zico, Socrates, Falcao out of the World Cup, they have not beaten them since.

The problem is that England was decades overdue a victory against Brazil when the two teams met last month... and we all know how that turned out.

Fernando Duarte is a UK-based Brazilian football expert who has followed the Selecao for 10 years and regularly features as a pundit for media outlets in Europe, South America and Asia. He's a Flamengo fan and can be found on Twitter @Fernando_Duarte.