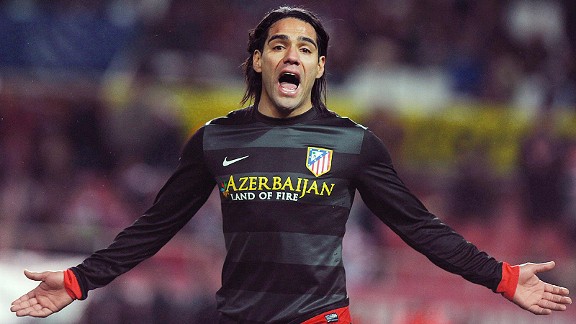 Jorge Guerrero/AFP/Getty ImagesRadamel Falcao is just one reason that expectations are high for Colombian football.
With the national team up to sixth in the FIFA world rankings, there is a buzz about Colombian football right now. Star names, stylish play and a series of impressive results have combined to raise hopes that a new team is emerging in South America that's capable of causing a stir on the world stage.

But then again, Colombian football has been celebrated before. In the build-up to the 1994 World Cup there was huge anticipation following a run of just one defeat from 34 games. Most notably they annihilated Argentina 5-0 in Buenos Aires, the Albicelestes' first-ever home defeat in World Cup qualifying. The great Pele had even predicted Colombia would triumph in the United States -- and this was back in the days when a Pele prediction wasn't necessarily greeted with widespread derision.

Duarte: Brazil's "big yellow" duck vs. world elite
Fryer: Copa Lib gives Boca Juniors hope
Vickery: Argentina has time to fix its defense

But the tragic events that followed are well-documented and shocked football. A surprise group-stage exit amid rumours of pressure from drug cartels culminated in the horrifying murder of captain Andres Escobar.

In short, it's been a long road back for Colombian football. The team has not qualified for a World Cup since 1998. There has been the occasional false dawn (the 2001 Copa America triumph on home soil provided some joy) but by the summer of 2011, Colombia had slumped to its lowest world ranking since records began.

Yet the turnaround since then has been spectacular. Not only is Colombia on course to qualify for next year's World Cup, but containing any excitement about the team's chances is proving tricky.

Since the beginning of 2012, Colombia has won seven of its nine matches while the only game it hasn't won in the current season was a creditable draw in Brazil. For the legendary 5-0 victory against Argentina in 1993, see the 4-0 drubbing of Uruguay in September. And what's more, this team boasts a genuine superstar.

Radamel Falcao is widely regarded as the greatest out-and-out striker in the game today. He has been a revelation in European club football but his performances at international level are equally impressive of late as goals in qualifying wins over Uruguay and Chile were followed by a brace against Paraguay. Falcao is not alone, either, with experience also coming in the form of goalkeeper David Ospina and veteran defender Mario Yepes.

However it's is at the other end that Colombia boasts the greatest potential with a vast array of talent to choose in Falcao's support. Jackson Martinez and the brilliant James Rodriguez are both starring for Porto while another former Dragoes favorite, Fredy Guarin, has developed into a key figure at Inter. Elsewhere, Juan Cuadrado is enjoying an impressive season with Fiorentina and Carlos Bacca is the top scorer in Belgium.

Though the players are the key, it was the arrival of former Argentina coach Jose Pekerman that provided the spark to ignite their potential. The first foreign coach of the national team in 30 years, Pekerman has a reputation for an old-school style having built his attractive Argentina side around the creative skills of Juan Roman Riquelme once upon a time. As Colombian legend Carlos Valderrama puts it, Pekerman has "given Colombian football its identity back."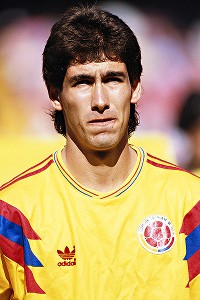 David Cannon/Getty ImagesThe last time Colombia made waves was at the 1994 World Cup, its team overshadowed by the tragic death of Andres Escobar. There has been little to cheer in the years since -- until now.

Perhaps more significantly for his and Colombia's long-term prospects, the 63-year-old also enjoyed remarkable success at youth level with Argentina, winning the FIFA Under-20 World Cup an astonishing three times. As such, it should come as little surprise that Pekerman has shown a willingness to introduce young talent to the squad. For example, highly-rated playmaker Juan Fernando Quintero had already made his senior debut by the time he starred at the South American Under-20 Championship earlier this year.

Colombia won that tournament, the first time they had done so outside of their own country, and it is this latest influx of talent providing encouragement that there is something being built to last. Recent investment in youth infrastructure -- the country even hosted the FIFA U20 World Cup in 2011 -- suggests that Colombia could finally be in a position to harness its vast potential. After all, this is a football-crazy nation of almost 50 million people -- a larger population than Argentina and 14 times the size of Uruguay.

While it's true that they're used to false dawns in Colombia, success looks like it might finally shine on the country. Former Monaco chief executive and renowned global scout Tor-Kristian Karlsen is certainly impressed. "I'm quite convinced that Colombia will become one of the dominating football nations in the years to come," said Karlsen.

Wins over Bolivia and Venezuela later this month would all but ensure qualification for the 2014 World Cup, the first in South America since 1978 and the first in Brazil since 1950. That year the hosts were upstaged by lesser-fancied South American rivals Uruguay in the final. If Pekerman can continue to develop his team, sage judges will not rule out Colombia providing the shock next summer -- and finally consigning the grim memories of 1994 to history.

Adam Bate is a football writer for Sky Sports, freelance feature writer for ESPN and regular contributor for When Saturday Comes and FourFourTwo. You can follow him on Twitter at @ghostgoal.