Michael Owen's steady decline seems inevitable with hindsight
You sort of feel that, one day, he'll be the answer to a trivia question. Who was the Premier League's top goal scorer twice before his 20th birthday and never achieved the feat again?

Or, who won the Ballon d'Or in 2001 but then never won anything the rest of his career, except for two league cups and a Premier League title in a season in which he contributed just 238 minutes?

Or who is the only England player to have scored in four major tournaments, despite making his last appearance for his country at age 28?

Michael Owen announced his retirement on Tuesday, prompting reflection on one of the more bizarre and -- with hindsight -- mismanaged tenures in the game.

The stock answer is that injuries stopped Owen from maintaining and building on what looked like an ascent into footballing lore. But that only tells part of the story of how someone who could break into the Liverpool first team at 17 and be his club's top goal scorer in each of his seven full seasons at Anfield could end up getting booed on his return to Merseyside. Or how he could end up with 131 top-flight goals in his first eight years as a professional and then notch just 32 in his next seven and a half seasons.

In Owen's case, you can't blame drinking or partying or even a lack of professionalism. By all accounts, except for a penchant for horse-racing and helicopters, he was the consummate pro, to the point where his image ranged from the bland to the nerdy.

- Press Pass analysis
- Walsh: Owen from the Liverpool perspective
- Brewin: Too much, too soon

Injuries did slow him down and the roots of that may have been in the way he was handled at youth level and in his first years at the club. He had a lot of miles on the clock at an early age and you wonder if his body received the physical attention it might have received today or, indeed, at another club.

Another issue, quite plainly, seems to be coaching-related. Owen was blessed with quickness and acceleration and his game never really progressed beyond that. A thought echoed by both coaches at Real Madrid and with England was that his movement as a striker was never quite as good as it should have been. All those runs off the ball, coming short, going wide, opening channels and drawing defenders -- it was never a feature of his game, possibly because it was never taught.

He also didn't seem to have the "eye for goal," that mysterious ability to predict where the ball was going to go or how play was going to unfold. It's a trait that, probably, can't be taught but that so many of the great goal scorers share, from Radamel Falcao to Robbie Fowler, from Pippo Inzaghi to Ruud Van Nistelrooy. If you get on the end of chances regularly, you multiply your opportunities to score. Even when he was scoring a lot, it felt that Owen worked harder than other to get his shot off, that he rarely simply "popped up" the way some of the aforementioned "natural goal scorers" did.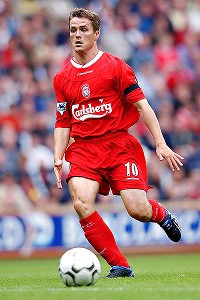 Shaun Botterill/Getty ImagesWas Michael Owen a victim of playing for coaches who put winning ahead of player development?
It blends in to another flaw: vision. Owen was never a great passer or provider, not because he was necessarily selfish (most goal scorers need to be, to some degree) but because it simply wasn't a part of his game. His touch was good, but not exceptional, he had an awareness of where the goal was, but not always where his teammates were or, crucially where they might be.

There were two areas where he did excel and, with hindsight, he was perhaps over-reliant on them. One was his absurd pace, which often papered over cracks in his game. For a guy with such quick feet, you would have thought he'd have developed enough trickery to dribble or beat opponents with a body feint or a swerve, the kinds of technical things you maintain with age. Instead, he beat players in the most basic way: knock the ball past them, chase after it and outrun them. While he had his youth and his speed, it worked a charm; once he lost it, he didn't have enough of a Plan B.

The other quality was his finishing. Which was, simply put, dead-eye stuff. He never seemed flustered, he never rushed a shot, he usually struck the ball cleanly. That, perhaps, is the one characteristic he possesses even today. The problem, though, is that great finishing isn't enough if you no longer can get into goal-scoring positions and receive the ball with a chance to shoot.

One theory doing the rounds is that, as a kid, Owen fell victim to coaches who valued results over development. It was far easier to tell him to play on the shoulder of the last defender and get someone to just lump the ball into space for him to run on to than to work with him so he could develop a well-rounded game. This allowed him to score lots of goals and it allowed his youth coaches to look extremely clever because they got results. It didn't do too much for him though when he got into the first team.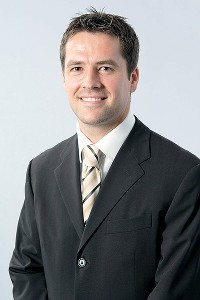 Anthony Cake/Getty ImagesTo many football fans, Michael Owen has seemed plastic and corporate.
And, in fact, when he did break into Liverpool, his managers -- Roy Evans and then Gerard Houllier -- seem to ride his strengths rather than work on his weaknesses. They may have had a valid excuse -- they needed points straight away, they weren't there to teach him -- and in the short run it may have worked. But the deficiencies were clear, even at the England level. Indeed, when you consider that for several years he overlapped with Alan Shearer in his pomp and the pair never seemed to forge a reliable partnership it becomes pretty obvious that something was wrong.

At the same time, he made some decisions that -- again with the benefit of hindsight -- he might have handled differently. Despite coming through the ranks at Liverpool, he never fully developed a rapport with the fan base in the way the likes of Fowler, Steven Gerrard or Jamie Carragher did. He seemed detached, often preoccupied with something else. When he did speak out, he felt plastic and corporate.

He didn't help matters when he let his contract run down, basically forcing Liverpool to sell him to Real Madrid for a cut-price $11 million in the summer of 2004, because he only had a year left on his deal. At Real, he scored 13 goals, many of them in garbage-time, either after coming on as a sub or as a late score in a blowout.

At the end of the season, with Real ready to move him on, he made another huge blunder. He opted for Newcastle, the only club willing to honor his enormous contract. This was a side with a passionate fanbase, but also one which had finished 14th the year before and where overspending and mismanagement were already rife. The fact that he never seemed to embrace the northeast of England did not help. The stories of him commuting by helicopter may have been untrue, but what is true is that he often made a four hour round trip commute from his home in Cheshire. Injuries and a bad team -- Newcastle were relegated in 2008-09 -- did the rest.

That summer he put out a DVD highlight his skills as a way of marketing himself to prospective employers. It felt rather pathetic.

Manchester United gave three seasons on a pay-as-you-play deal and he moved through Old Trafford like a ghost, making just six league starts. Then came this year's epilogue, at Stoke, where he has played a grand total of 70 league minutes.

He's now trying to carve out some kind of media career and has started a blog, though, frankly, he comes across as distant and anodyne. A source close to him I spoke to blames the fact that he doesn't have a "natural fan base" at any club, despite having played for three of the most popular in England. He claims Liverpool fans resent him (also because some see him as being responsible for Fowler's demise), Newcastle fans felt cold-shouldered by him and to United supporters he was about as relevant as Gabriel Obertan. If only Owen had been marketed better, he says.

But maybe that was part of the problem off the pitch. Too often he felt like someone who was being "marketed" and "packaged" as a superstar. That, added to his injuries and his one-dimensional nature on the pitch -- and his lack of improvement from the time he was 18 -- ensure you're left wondering what might have been.

For my part, I chose to remember him at his finest. I recall a game in Toulouse, England versus Romania, at the 1998 World Cup. With England 1-0 down, 18-year-old Owen came on and, in the space of 18 minutes, hit the post and notched the equalizer. Romania still won, 2-1, thanks to a dazzling run by Dan Petrescu, but I can still hear the words of a now-departed veteran journalist sitting next to me in the press box.

This was a grizzled, grumpy old ink-stained wretch. A guy who tended to bark rather than speak. A man who had been to every World Cup since 1958.

"You know I don't like this game anymore, it's just a job and every year I feel like retiring," he said afterward, taking a drag from a cigarette. "But then I see something like this kid Owen and my heart warms again. Just like it did in 1958 when I saw Pele."

His heart was, no doubt, warmed a few days later, when Owen scored that brilliant goal against Argentina. Sadly, it wasn't long thereafter that his career began to dip and continued to do so until the present.