Boca Juniors, Bianchi hoping for happiness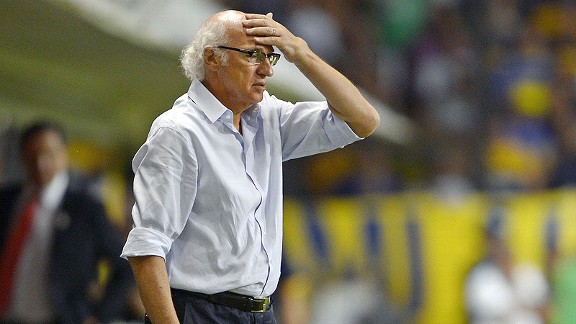 Alejandro Pagni/AFP/Getty ImagesCarlos Bianchi is back with Boca Juniors and eager to repeat his past successes. Despite setbacks in the league, his eyes are on the Copa Libertadores.
"I'm unhappy with what we produced... It was a poor game and we didn't play well."

Boca Juniors coach Carlos Bianchi was talking after Sunday's dire 1-1 draw at home to Argentinos Juniors but could well have been talking about any one of his 10 games in charge this season. His tenure (three wins, three draws, four losses) has produced as many home defeats as it has victories of any kind, with performances having been every bit as bad as the results. Six weeks into Argentina's Torneo Final and Boca sits 14th in the table, winless since the opening day of the season.

Duarte: Brazil's "big team" struggles
Bate: Colombian football on the rise
Vickery: Argentina has time to fix its defense

But a recent game may just have provided the spark to turn things around. A week ago, Boca headed to Uruguay's Nacional for a must-win Copa Libertadores clash. With barely twenty minutes played, Guillermo Burdisso carelessly chipped the ball straight to the opposition before retreating back just in time to see Chiqui Perez bundle over Juan Albin for a penalty and instantly receive a red card. It was a moment that encapsulated Boca since Bianchi's return and one that looked set to end his dreams of a fairytale comeback.

-----

It wasn't supposed to be like this.

Previous coach Julio Falcioni, wildly unpopular amongst the majority of Boca fans -- due mainly to his overtly pragmatic approach and constant bickering with Boca's undisputed king, Juan Roman Riquelme -- was shown the door in December despite having led the club to its first league title in three years and a Libertadores final.

His exit not only paved the way for the club's most beloved idol of all, Juan Roman Riquelme, to return from an eight-month self-imposed exile but just as important was the return of Bianchi, the man who presided over the most successful period in the club's history -- three Copa Libertadores titles and two world championships in the 2000s.

Club President Daniel Angelici had invested, too, ensuring that the two returning legends were joined by Juan Manuel Martinez (repatriated from Corinthians in Brazil) and Colombian destroyer Ribair Rodriguez (brought in from Siena in Italy). Perez had arrived from Belgrano to line up alongside Burdisso, arguably the finest central defender in Argentina as he helped Arsenal di Sarandi to the 2012 Clausura championship.

Not only had Riquelme returned but Martinez was set to rekindle the partnership with Santiago Silva that had brought Velez Sarsfield so much success, while Lucas Viatri had committed to the club after coming close to making a switch to Spain. It was difficult to find a better squad anywhere in the country.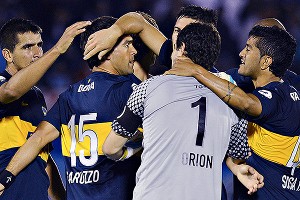 Pablo Porciuncula/AFP/Getty ImagesBoca's league form has been an undeniable disappointment but its run in the Copa Libertadores brings abundant hope.

With Bianchi's unprecedented period of success having been built upon the most solid of foundations and a compact, organised team stacked behind a talented forward line, the feeling around Boca was as positive as it had been in over half a decade since Miguel Angel Russo led it to its last Libertadores victory in 2007.

Yet the impotence of a misfiring frontline (nobody has managed to better Burdisso's total of two goals thus far) and the general sense of anarchy amongst a back four plagued by individual errors has been a huge shock -- one every bit as unexpected as when Riquelme's homecoming two weeks ago was spoiled by a 3-1 home defeat to Union de Santa Fe, a club that hadn't recorded a league victory in 26 attempts.

With just one home win in five games -- including Copa Libertadores defeats to Toluca and Nacional de Montevideo -- and shipping nine goals in the process, serious questions are beginning to surface about Bianchi. Save a five-month stint at Atletico Madrid in 2006, he'd been out of the game for almost a decade and had he been anyone else, there would be large contingents of the Boca crowd calling for his head this week.

His league form will be forgiven, however -- something Anibal Matellan, the two-time Libertadores champion under Bianchi who took his place at the heart of Argentinos' defence on Sunday, knows as well as anyone: "Boca will not fight for the league title. They have already determined that they will fight for something else."

No club has achieved a league and Libertadores double since the introduction of the short season format more than twenty years ago. Furthermore, Argentina's relegation system of averaging points totals over the previous years mean that Boca can all but ignore their domestic endeavors. It's that "something else" that they want, the thing that has defined the club, its greatest player and its greatest coach: an elusive seventh Libertadores title, one that would take them level with Independiente as the most successful club in the competition's history, has become their obsession.

-----

And so when Alonso stepped up to take Nacional's spot kick on Thursday night, half of Argentina "plus one" (so goes Boca's team motto) awaited a bulging net and the end of a dream.

Except it didn't and it wasn't. Alonso leaned back and lofted his spot kick high over the bar. Boca had a lifeline and dominated the remainder of the game. Nacional hardly had a kick; unable to get playmaker Albin on the ball, it ceded possession time and again. "If the opponent does not take the ball," said Bianchi. "Boca sets the rhythm." Riquelme proved his undoubted class by doing exactly that.

Then Andres Scotti needlessly flattened Burdisso as Riquelme's free-kick floated into Jorge Bava's hands. Riquelme converted from 12 yards to become the club's highest scorer in Libertadores history. It felt like a turning point. "The win was a mental and mathematical necessity," assured Rodriguez.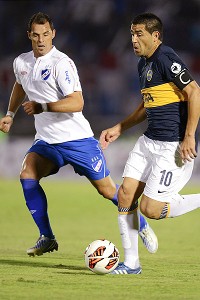 Pablo Porciuncula/AFP/Getty ImagesBoca isn't just turning back the clock with Bianchi, but with playmaker/legend Juan Roman Riquelme again wearing the blue and yellow.

That victory, coupled with the previous evening's draw between Toluca and Barcelona de Guayaquil, leaves Boca with good odds of qualifying for the knockout round. As insipid and uninspiring as the Sunday night's draw with Argentinos may have been, they've already shifted their focus to the Copa clash with Barcelona in ten days time.

"We're struggling and we're concerned," admits Bianchi. "But we have to persevere and keep working. Our next rival is in the Copa Libertadores and we can not make mistakes."

Bianchi's side have made lots since his return, far too many for any other coach to still be sitting on the bench by this point. But even he can afford few more if he is to protect his unrivalled legacy. Especially in the Libertadores, where it matters more than anywhere else.

Rupert Fryer spends most of his time searching South America for old-school enganches so you don't have to. He's a freelance football writer who has written for the likes of The Guardian, FourFourTwo and The Blizzard. You can find him on Twitter here.